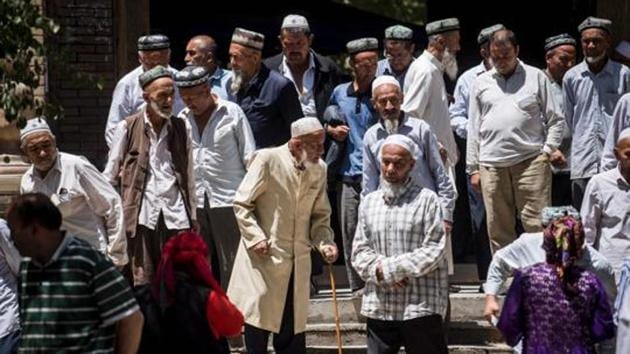 China asks mosques to raise national flag, promote patriotism
The govt-affiliated China Islamic Association also wants the religious structures to display information on the party's core socialist values, and explain it to devotees through Islamic scriptures.
Hindustan Times, Beijing | By Sutirtho Patranobis
UPDATED ON MAY 22, 2018 11:49 PM IST
Mosques in China must raise the national flag to promote the spirit of patriotism, the country's top regulatory body for Islam announced over the weekend.
The government-affiliated China Islamic Association issued a statement directing Muslim clerics to display the five-starred red flag at prominent positions in mosques. It also proposed the "four advances" campaign specifically in five regions – Ningxia, Beijing, Gansu, Qinghai and Xinjiang. This step is part of the latest efforts by the Communist Party of China (CPC) to control and "sinicise" religion in the country.
Muslims in China, like in other parts of the world, began observing the month of Ramzan last week.
According to the association's statement, displaying the national flag in mosques "further strengthens the understanding of national and civic ideals, and promotes the spirit of patriotism among Muslims of all ethnic groups".
Mosques should also publicly display information on the party's "core socialist values" and explain them to devotees through Islamic scriptures so they will be "deeply rooted in people's hearts", the AFP news agency quoted the statement as saying.
China recently released a "white paper" on religion, directing the faithful to support the CPC's leadership and remain subordinate to the interests of the nation and its people. The document, titled 'China's Policies and Practices on Protecting Freedom of Religious Belief', said that the country's 200 million believers should "actively guide religions in adapting to socialist society…"
The country has around 20 million Muslims spread across 10 ethnic minority groups, it added.
Echoing the same principles, the statement urged the Islamic community to "take socialist core values as their guide" and carry the core values of the socialism through the work of interpreting (Islamic) scriptures. "The traditional virtues promote and complement each other. It is necessary to educate and guide the broad masses of the Muslim people to learn from the fine traditional culture of China, further strengthen their cultural confidence, and strengthen their cultural identity," it said, adding that people of all ethnic groups were "united as one like pomegranate seeds" for the purpose of rejuvenating the nation.
According to the AFP report, the statement directed mosque staff to hold classes on the Chinese constitution and other relevant laws – particularly the new religious regulations. "They should also study Chinese classics and set up courses on traditional Chinese culture while being sure to focus only on Muslim sages of Chinese rather than foreign origin," it said.
China officially recognises five religions: Buddhism, Catholicism, Protestantism, Taoism and Islam. As the white paper reiterates, the country's constitution guarantees religious freedom and protects it by law.
Close