China slams 'some Western media' on Covid coverage: 'Hype, smear, manipulation'
Jan 19, 2023 01:29 PM IST
Covid In China: The move in December to end mass testing and quarantines led to a sharp rise in cases, with some hospitals and crematoriums overwhelmed with victims.
China on Thursday accused "some Western media" of bias, smears and political manipulation in their coverage of China's abrupt ending of its strict "zero-COVID" policy, as it issued a vigorous defense of actions taken to prepare for the change of strategy.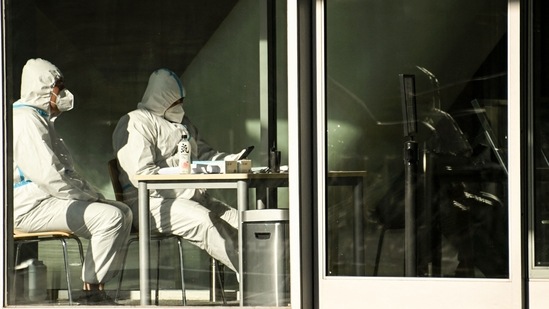 The move in December to end mass testing and quarantines led to a sharp rise in cases, with some hospitals and crematoriums overwhelmed with victims.
Read more: Gita Gopinath's message on world economy from Davos: 'Tough year ahead, but...'
An editorial in the ruling Communist Party mouthpiece People's Daily outlined what it called China's "optimization and control measures" and blasted reports by media outlets they didn't identify as "completely biased hype, smear and political manipulation with ulterior motives."
Since the initial wave of new cases, life in much of China has largely returned to normal, although officials have expressed concern about a further spread of the virus into the countryside during the Lunar New Year travel rush now underway.
Despite that, the editorial said many localities have "passed the peak of the epidemic, and production and life are speeding up to return to normal."
"Zero-COVID," as the strategy came to be known, sought to track and isolate every case of infection, along with those who had contact with them and even third-hand contacts. It confined millions of people in cities such as Shanghai to their homes for two months or longer, with many suffering from food shortages and lack of access to health care.
China strongly defended the policy but began dismantling it under economic pressure and after highly rare street protests broke out in Beijing and other major cities denouncing the ruling party and its leader, Xi Jinping. On Jan. 8, it took the further step of eliminating the requirement that those arriving from abroad undergo lengthy and expensive quarantines.
Read more: Qantas flight to Fiji from Sydney suffers midair mechanical issue, 2nd in 2 days
China rejected both foreign and domestic criticism of the policy's excesses, denouncing earlier calls from the World Health Organization for it to adjust to changes in the nature of the virus, calling them "irresponsible."
That made the abrupt mid-winter shift to a policy of merely seeking to prevent the most serious cases all the more jarring for the population, many of whom have defied censors to express anger online. Virtually overnight, testing stations where people had stood in long lines disappeared, while field hospitals used to quarantine millions simply packed up.
China also ceased publishing figures on new cases and deaths, which it had long been suspected of underreporting, leading to further complaints from the WHO and foreign nations about a lack of transparency. Unconfirmed estimates now put numbers of new cases at tens of thousands a day, with up to 85% of the population in some provinces having become infected.
China has also rejected calls to release more data and provide more information about the origin of the virus, first detected in the central Chinese city of Wuhan in late 2019, accusing those making the requests of "politicizing" the issue.
Topics