China's crematoriums, hospitals 'packed' as Covid cases rise | Top 10 points
Dec 20, 2022 11:24 PM IST
According to one estimate, over 70 per cent of Beijing's population has been hit by the virus, which confined millions of people to their homes.
China is reportedly registering a massive surge in coronavirus or Covid-19 cases in the wake of the Chinese government's sudden decision last month to lift nearly three years of lockdowns, quarantines and mass testing.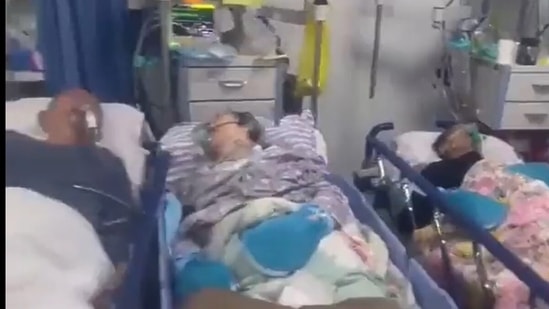 Eric Feigl-Ding, an epidemiologist and health economist, claimed that hospitals in China are completely overwhelmed.
Top 10 points on Covid-19 spurt in China:
1. Eric Feigl-Ding estimates that more than 60 per cent of China and 10 per cent of Earth's population are likely to be infected over the next 90 days with deaths likely in the millions.
2. Crematoriums are straining to deal with an influx of bodies, as the country battles a wave of Covid cases that authorities have admitted is impossible to track, news agency AFP reported.
3. In Chongqing - a city of 30 million where authorities this week urged people with "mild" Covid symptoms to go to work - one crematorium told AFP they had run out of space to keep bodies.
4. China said only Covid-19 deaths from "respiratory failures" will be included in the official death toll. Beijing, which is hit by the BF.7 variant of the Omicron strain, has announced five more deaths in addition to the two on Monday, the first official fatalities since the government abandoned its stringent anti-virus controls.
5. The clarification follows media reports that many more died after becoming infected amid rising demand at funeral homes and crematoriums, Hong Kong-based South China Morning Post newspaper reported.
6. According to one estimate, over 70 per cent of Beijing's population has been hit by the virus, which confined millions of people to their homes.
7. Anhui Biochem Pharmaceutical's self-developed Covid-19 treatment medicine has passed the clinical trial stages and professional reviews, and is waiting for regulatory approval to enter the market, said a statement released by China's eastern Hefei government in Anhui province on Tuesday.
8. Meanwhile, the central government on Tuesday urged all states and Union territories to gear up the whole genome sequencing of positive samples to keep track of emerging variants amid the spurt in cases in Japan, South Korea, Brazil, China and the US.
9. The US expressed concerns that China's runaway Covid-19 outbreak might spawn new mutations of the virus. In a statement to Bloomberg News on Monday evening, China's US embassy spokesman Liu Pengyu said China has adopted "scientific and precise prevention and control measures" in order to minimize the impact of the virus on China's population and economy.
10. The outbreak has grown following the government's decision to lift a raft of strict restrictions, including quarantine and isolation protocols, that had largely insulated China's 1.4 billion people from the worst impact of the Covid-19 pandemic.
(With inputs from agencies)