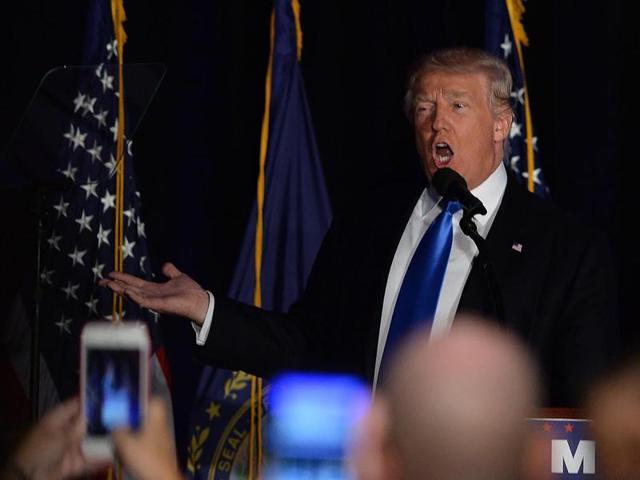 Donald Trump to address Hindu Americans at New Jersey rally
Republican nominee is scheduled to address Hindu American supporters at a rally in New Jersey next month.
Hindustan Times | By Yashwant Raj
, Washington
UPDATED ON AUG 26, 2016 01:09 AM IST
Just two days before the first presidential debate next month, Republican nominee Donald Trump is scheduled to address Hindu American supporters at a rally in New Jersey.
It's the first such outreach to the community, and most possibly the larger cohort of increasingly influential Indian Americans, by the presidential nominee of a major US party ever.
"Trump will be with us for nearly four hours," Shalabh Kumar, an Illinois businessman whose year-old outfit Republican Hindu Coalition (RHC) is hosting the event, told Hindustan Times.
The event, titled "Humanity united against terror", is scheduled for September 24 at a venue in New Jersey, which has a heavy concentration of Indian Americans, that can seat 17,500 people.
From Kumar's telling, Trump was easily persuaded to do the event when the two met in July, sometime before the Republican party convention in Cleveland — "he agreed immediately".
"He told me India was a great country, he liked Indian people," Kumar said recounting their conversation, "and he said he found Hindus to be peace-loving people."
And with that, Trump was on board.
About 2 million Americans identify themselves as Hindus. And while most of them are of Indian descent, others are from Nepal, Sri Lanka, Bangladesh, the Caribbean and Afghanistan.
The number of Indian Americans, however, is estimated to be around 3 million — with only a third of them said to be voters. And of them, most vote Democratic, overwhelmingly.
That is despite the fact that the only two Indian Americans ever elected governors — Nikki Haley in South Carolina and Bobby Jindal in Louisiana — were both Republicans.
While proud of them — at least of Haley (Jindal has angered the community for trying to distance himself from it) — they have been slow to follow them to the fold.
But GOP is courting them actively, and Hindus. Former Speaker Newt Gingrich is the honorary chairman of RHC, whose inauguration in 2015 was attended by many senior leaders.
But can they find enough Hindu Americans to pack the hall on September 24? Trump does not like empty stands, and his campaign has sought space for 200 TV cameras.
"Oh there will be plenty of people don't worry," said Kumar, "we will be flooded." He may not find room, however, for all the cameras that the campaign is expecting.
RHC also plans to parade some Bollywood stars at the show, which was fine with Trump, a one-time owner of beauty pageants — "he said Indian people are beautiful".
Amar D Amar, a New Jersey professor who co-founded and heads Indian Americans for Trump 2016, a political action committee, told HT he will be attending too.
He said he was working with RHC and the Republican party to "to do it the right way". As head of a political action committee, he cannot work directly with the Trump campaign.
Close