G20 Summit highlights: PM Modi meets Rishi Sunak, discusses ways to increase trade
Nov 16, 2022 11:57 PM IST
The G20 Summit in Bali, Indonesia is a two-day event beginning Tuesday where the member nations will gather to attend the annual conference of world's major economies.
The annual two-day G20 Summit which began on Tuesday entered the second day of the conference with increased political tensions over a missile strike in Poland that killed two people. US President Joe Biden convened an 'emergency meeting' with world leaders to discuss the matters of the deadly explosion which has put Poland military on alert in the wake of possible escalation of the Russia- Ukraine tensions.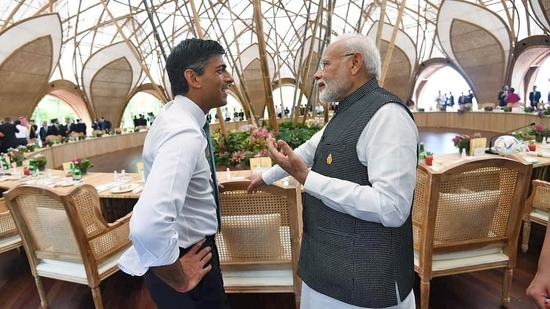 A gathering of the world's major economies, the event was attended by Prime Minister Narendra Modi, China's President Xi Jinping, US President Joe Biden and British Prime Minister Rishi Sunak among other heads other than the European Union which formed the group.
Follow all the updates here:
Nov 16, 2022 04:34 PM IST

PM Modi emplanes for India from Bali, Indonesia

Nov 16, 2022 03:50 PM IST

PM Modi meets Sunak at G20, discusses ways to increase trade

Prime Minister Narendra Modi said on Wednesday said that he met British counterpart Rishi Sunak at the Group of 20 (G20) summit in Bali and discussed ways to boost trade between the two countries.

Nov 16, 2022 03:21 PM IST

German Chancellor Scholz Says G-20 unity shows Putin more isolated

German Chancellor Olaf Scholz said that the "astonishingly clear words" Group of 20 leaders agreed on in their joint statement Wednesday shows that Vladimir Putin is increasingly isolated over the war.

Nov 16, 2022 02:36 PM IST

PM Modi holds bilateral meet with Australian counterpart Anthony Albanese

Prime Minister Narendra Modi held bilateral talks with Australian counterpart Anthony Albanese on the sidelines of the G20 summit in Bali.

Nov 16, 2022 02:23 PM IST

'UK remains committed to trade deal with India, but…': Rishi Sunak at G20 Summit

British Prime Minister Rishi Sunak on Wednesday said he was also committed to a trade deal with India. Speaking at a news conference on the sidelines of the G20 Summit in Bali, Sunak also said he was confident Britain and the United States could deepen their economic relationship but that he had not spoken specifically about a trade deal with US President Joe Biden, news agency Reuters reported.

Nov 16, 2022 02:18 PM IST

German Chancellor Scholz calls for Poland missile strike probe

German Chancellor Olaf Scholz said on Wednesday a missile strike in eastern Poland near the Ukrainian border, in which two people were killed, should be fully investigated before conclusions are drawn.

In his closing statement following the G20 summit in Bali, Scholz called it a positive sign that the United States had offered to assist Poland with the probe.

Nov 16, 2022 02:10 PM IST

New Delhi G20 Summit scheduled on September 9-10

The next summit of G20 nations will be held under India's presidency in New Delhi on September 9-10.

Nov 16, 2022 01:51 PM IST

PM Modi holds bilateral talks with Italian counterpart Giorgia Meloni

PM Narendra Modi and Italian counterpart Giorgia Meloni engaged in bilateral talks in on the margins of Summit in Bali, Indonesia on Wednesday.

Nov 16, 2022 01:46 PM IST

'India taking G20 charge when world is dealing with many challenges': PM Modi at closing session

"India is taking charge of the G-20 at a time when the world is simultaneously grappling with geopolitical tensions, economic slowdown, rising food and energy prices, and the long-term ill-effects of the pandemic," said PM Modi at closing session of G-20 Summit in Bali on Wednesday.

Nov 16, 2022 01:26 PM IST

Sunak-Jingping G20 meeting cancelled due to 'scheduling issues'

A planned G20 meeting between British Prime Minister Rishi Sunak and President Xi Jinping of China has been cancelled. A Downing Street spokesperson cited "scheduling issues" as the reason, reported Reuters on Wednesday.

Nov 16, 2022 01:11 PM IST

PM Modi holds bilateral talks with German Chancellor on margins of G20 Summit

Nov 16, 2022 01:06 PM IST

PM Modi holds bilateral talks with Singapore leader

Nov 16, 2022 12:56 PM IST

PM Modi emphasises on women-led development as 'priority' on G20 agenda

"We have to keep women-led development a priority in the G20 agenda," said PM Modi at the closing session of the G20 Summit in Bali.

Nov 16, 2022 12:47 PM IST

Bali G20 Summit ends, Indonesia hands over leadership to India

The two-day Bali G20 Summit has ended with Indonesia handing over leadership to India.

Nov 16, 2022 12:23 PM IST

PM Modi's 'era of not war' resonates deeply across all delegations, says foreign secy Kwatra

"PM Modi's message that ""era not of war" resonated very deeply across all delegations and helped bridge the gap across different parties," said foreign cecretary Kwatra on G20 Bali Declaration reflecting PM Modi's "era not of war" advice to Putin in Bali on Wednesday, reports ANI.

Nov 16, 2022 12:06 PM IST

G20 Bali declaration reflects PM Modi's 'not an era of war' advice to Putin

Nov 16, 2022 11:59 AM IST

PM Modi emphasises on 'digital solutions in fighting climate change' during G20 session on digital transformation

"Digital solutions can be helpful in fight against climate change as we saw in examples of remote-working & paperless offices during Covid," PM Modi said at G20 Summit on Wednesday.

Nov 16, 2022 11:57 AM IST

PM Modi addresses G20 session on digital transformation

"India has developed digital public goods whose basic architecture has in-built democratic principles," PM Modi said at G20 Summit on Wednesday.

Nov 16, 2022 11:53 AM IST

'Data for development will integral to India's G20 presidency theme': PM Modi

"The principle of 'data for development' will be integral part of theme of India's G-20 Presidency 'One Earth, One Family, One Future'," PM Modi said at G20 Summit on Wednesday.

Nov 16, 2022 11:52 AM IST

'Benefits of digital transformation should not be confined': PM Modi at G20

"It is responsibility of G-20 leaders that benefits of digital transformation should not be confined to small part of human race," PM Modi said at G20 Summit on Wednesday.

Nov 16, 2022 11:33 AM IST

G20 leaders' declaration adopted at summit, reports Reuters

A leaders declaration at the summit of the Group of 20 (G20) major economies was adopted on Wednesday, Reuters reported citing diplomatic officials.

Nov 16, 2022 11:21 AM IST

PM Modi holds bilateral talks with French President Emmanuel Macron in Bali

Prime Minister Narendra Modi held bilateral talks with French President Emmanuel Macron on Wednesday, and is scheduled to meet seven other world leaders of Indonesia, Spain, Singapore, Germany, Italy, Australia and the United Kingdom on the sidelines of the Summit.

Nov 16, 2022 10:57 AM IST

Most G20 countries condemn Russia's invasion of Ukraine, draft joint declaration says

Most G20 member countries have condemned Russia's invasion of Ukraine, according to draft joint declaration, Reuters reported.

Nov 16, 2022 10:42 AM IST

'Unlikely' Russia fired the missile on Poland: Joe Biden

The US President Joe Biden and G7 group said Wednesday that they will investigate the explosion in Poland before deciding next steps, with Biden saying it was "unlikely" that Russia fired the missile. The group along with other leaders engaged in an "emergency" meeting on the sidelines of the Summit in the morning.

Nov 16, 2022 10:26 AM IST

India part of Mangrove Alliance for Climate (MAC) initiative

The mangroves are crucial in the conservation of climate. India is a part of the Mangrove Alliance for Climate (MAC), an initiative led by Indonesia and the UAE under former's G20 presidency, the Ministry of External Affairs said.

Nov 16, 2022 09:53 AM IST

US Treasury Secretary Yellen meets with Chinese central bank Governor

The United State Treasury Secretary Janet Yellen met with Chinese central bank Governor Yi Gang, her first in-person talks with a senior Chinese economic official on the margins of the Summit on Wednesday, reported Reuters.

Nov 16, 2022 09:29 AM IST

NATO, G7 leaders issue joint statement on the Poland missile attack

NATO, G7 leaders issued a joint statement on the Poland missile attack in Bali on Wednesday. "We condemn barbaric missile attacks that Russia perpetrated on Ukrainian cities & civilian infrastructure on Tuesday. We discussed explosion that took place in eastern part of Poland near border with Ukraine," a joint statement by NATO and G7 Leaders on the sidelines of G 20 Summit.

Nov 16, 2022 09:27 AM IST

Hours after Modi-Sunak meeting, UK greenlights 3,000 visas for Indian nationals

UK Prime Minister Rishi Sunak has given go-ahead to a scheme that offers 3,000 visas for young professionals from India to work in the UK each year.

Nov 16, 2022 09:09 AM IST

PM Modi expected to meet Indonesia, Spain, France, Singapore, Germany, Italy, Australia and UK leaders for bilateral talks

Prime Minister Narendra Modi is expected to meet leaders of Indonesia, Spain, France, Singapore, Germany, Italy, Australia and the United Kingdom for bilateral talks on the sidelines of the Summit on Wednesday.

Nov 16, 2022 08:46 AM IST

PM Modi, other leaders visit a Mangrove forest in Bali

The global leaders are gradually arriving to plant mangroves in Bali's Taman Hutan Raya Ngurah Rai Mangrove Forest, on the sidelines of the meeting on Wednesday morning.

Nov 16, 2022 08:34 AM IST

Joe Biden convenes 'emergency' meeting on Poland missile strike in Bali

Topics

Story Saved