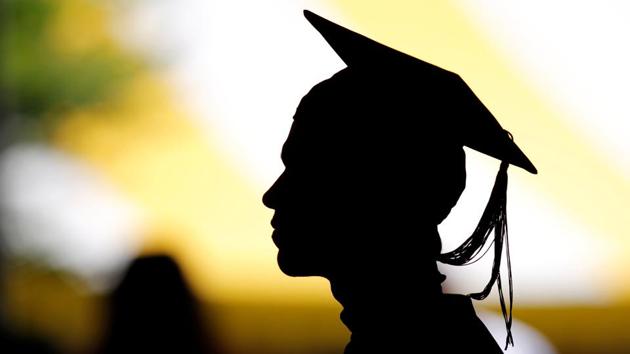 Trump administration targets foreign students overstaying visa period
Holders of F, J and M visas will be declared that they are unlawfully present in the US from "the day after" they finish their course or study programme or their optional practical training (OPT).
Hindustan Times, Washington | By Yashwant Raj
UPDATED ON MAY 12, 2018 10:47 PM IST
The Trump administration on Friday announced new measures to strictly enforce rules governing foreign college students and exchange visitors who overstay their visa duration.
In a separate announcement, the administration also unveiled increased efforts to prevent foreign workers programmes, such as H-1B visas, from being used to discriminate against Americans.
Indians are the second largest group of foreigners enrolled in US colleges and universities and 4,575 of the 98,970 of them scheduled to leave or change their status — possibly to H-1B — had overstayed in 2016.
Indians are also the major beneficiaries of the foreign workers programme, cornering more than 75% of the H-1Bs granted in 2017.
The new rules for visa over-stayers changes the way authorities calculate "unlawful presence" and they pertain to foreign students and exchange visitors on F, J and M visas and their dependents, said the US Immigration and Citizenship Service (USCIS) said in a separate announcement.
Holders of these visas will be declared that they are unlawfully present in the US, the agency said, from "the day after" they finish their course or study programme or their optional practical training (OPT), which is a work permit for foreign students after their course, which can last from one to three years.
The new rules come into effect from August 9.
Earlier, holders of these visas became illegal from the day they were discovered to be in violation.
The change is important because of what follows: 180 days of overstay during one stay could lead to the violator being barred from entering the US for three to 10 years, depending on how long they overstayed.
Individuals who overstayed for a year or more, whether during one or multiple stays, and who then tried or re-entered the US without being paroled, ran the risk of being barred permanently.
All over-stayers will not be eligible to apply for a visa, under the new rules.
"The message is clear," said USCIS director Frank Cissna in a statement announcing the change. "These non-immigrants cannot overstay their periods of admission or violate the terms of admission and stay illegally in the US anymore."
An estimated 1.5 million foreign students and exchange visitors are expected to either leave the US or change their status — to H-1B possibly, if hired by an American company — in 2016, according to the latest report on it by the Department of Homeland Security. But 5.48% of them overstayed, and 4,575 were from India.
In the other announcement, additional efforts to stop fraud in foreign workers visa programme H-1B for high-speciality jobs and H-2B for unskilled positions such as farmhands will come through increased cooperation between the US Citizenship and Immigration Service and the Department of Justice.
A new memorandum of understanding "will increase the ability of the agencies to share information and help identify, investigate, and prosecute employers who may be discriminating against US workers and/or violating immigration laws", said the USCIS in a statement.
This new effort is in line with President Trump's "Buy American, Hire American" executive order that has driven the administration's efforts to enhance scrutiny and enforcement of rules pertaining to these programmes, specially H-1B, to prevent them from being used to displace American work.
The US administration has been turning the screws on the foreign workers programme — the H-1B, most pertinently —from within days President Trump took office.
It has ordered stepped-up vigil against fraud and abuse through tip-lines and increased site visits to companies using foreign workers, redefined high-speciality professions, and changed rules for staffing companies that do outsourcing work.
The administration has also announced, in its more controversial decision on immigration yet, its intention to end a programme giving work authorization to spouses of H-1B visa holders waiting for their Green card, who are mostly from India. The aim, as it has been argued, is to prevent them from taking away jobs that would have gone to Americans.
Close