PM Modi's promise of Insaniyat needs substantive unilateralism
Hindustan Times |
, New Delhi
Vinod Sharma
Aug 10, 2016 08:37 AM IST
Prime Minister Narendra Modi's promise of bettering lives through development and livelihood opportunities isn't enough to break the ice; there's need for substantive unilateralism.
For days now, people who live in Kashmir, and know well the state, had been airing anxieties over the deteriorating situation in the Valley that's witnessing a new phase of militancy, driven "largely by religion and the belief that Muslims cannot co-exist with Hindu India".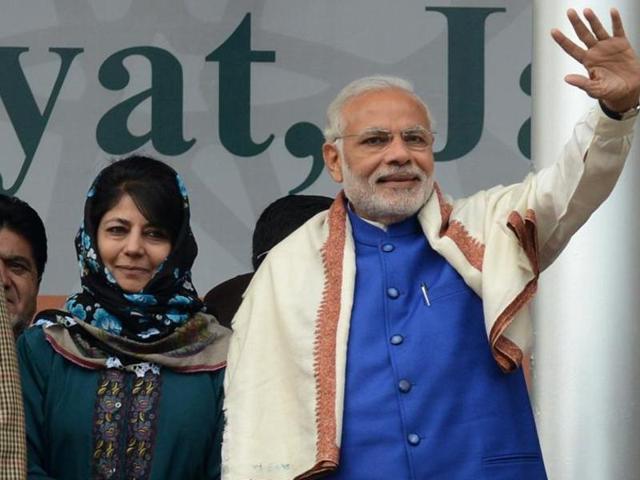 In this backdrop, Prime Minister Narendra Modi's invocation of his much venerated predecessor, Atal Bihar Vajpayee's principal of "Jamhoritya, Insaniyat aur Kashmiriyat" to deal with the Kashmir issue couldn't have been delayed. What make the overture doubly significant are reports of a Track-2 outreach to stakeholders including Kashmiri separatists. The initiative is led by organisations and individuals close to the RSS and key players at the Centre.
"So strong is the sentiment in the valley that even relatives of important PDP ministers have tended to join protests to save their homes and hearths from being attacked," a senior leader who worked closely with Mehbooba Mufti and her father, Mufti Sayeed, told this writer. He said deep factional divisions in the police and the state Cabinet left the administration "incapable and unwilling" to rise to the challenge.
In the police there are men and middle-rung officers owing allegiance to the Peoples Democratic Party, the National Conference and their seniors warring at the top. Then there are cabals coalesced by vested interests. The governance crisis is accentuated by rival camps headed by senior Cabinet ministers. The result: One arm of the administration is unaware of what the other is up to? Illustration: The chief minister claiming that she was clueless about the encounter that left Burhan Wani dead!
"The PM has made a general statement. What count are the specifics," remarked former deputy chief minister Muzaffar Baig. He said New Delhi should be activating back-channels with Islamabad to encourage the Hurriyat to join as and when the intra-Kashmir dialogue materialises.
Objectively speaking, the pitfalls on the way to setting up talks might not be easy to negotiate in the Valley that's on the boil. A source privy to the mood in the Kashmir countryside maintained the Patnitop conclave to draw up the Track 2 blueprint hasn't gone down well with the agitating youth. "They were badly advised. The impression that has gone out is the Modi regime's Kashmir policy isn't independent of the RSS," the source said.
Well-meaning though, the PM's promise of bettering lives through development and livelihood opportunities isn't enough to break the ice amid all-round alienation and mourning over the dead — and those crippled by pellets. There's need for substantive unilateralism — as making aggrieved sections agree to talks might take time.