How air pollution in Delhi is affecting our children
Nov 26, 2018 12:14 PM IST
Ozone pollution is dreadful news for young children because studies show that the gas alters the epithelial permeability of the lung, and it is well known that lung development continues in the postnatal period
Delhi, the capital of India and one of the largest cities in the world, is under severe stress, thanks to urbanisation, increasing population and alarming levels of pollution. Studies have proved that transportation, industrial and residential sectors are the largest polluters, and that the citizens are exposed to high levels of nitrogen oxides (NOx), ozone (O3), black carbon (BC) and particulate matter (PM).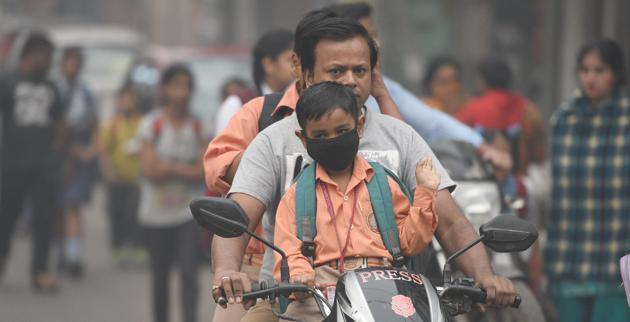 The 2015 Global Burden of Disease report attributes about 1.09 million deaths in India to PM 2.51 and identifies air pollution to be among the top 10 health risks in the country. As per the World Health Organisation, 37 Indian cities are among the world's top 100 cities with very high levels of PM10.
Ozone formation requires both oxides of nitrogen (NOx) and volatile organic compounds (VOCs), along with sunlight and warm temperature. Therefore, the ground level ozone in the city exceeds the threshold limit largely during summer months.
This is dreadful news for young children because studies show that ozone alters the epithelial permeability of the lung, and it is well known that lung development continues in the postnatal period. The seasonal variation in the concentration of pollutants shows that winter is the worst polluted season mainly because of the relatively stable meteorological conditions. Monsoon displays the lowest level of pollution due to turbulent conditions, high-speed winds and rains. Air pollution leads to pulmonary edema, pneumonitis, bronchitis, shortness of breath and coughing.
Vehicles are largely responsible for the prevalence of precursor gases that lead to ozone formation. So policy changes are required to reduce the generation of ground level ozone through controlled vehicular emissions, and to monitor its ambient levels and health effects.
There are five ways to document and control this problem:
First, monitor and track associated illnesses through a health data system similar to the Integrated Disease Surveillance Programme. This system should document the type of illness and causes of death.
Second, include documentation of effects (chronic obstructive pulmonary disease, lower respiratory infections) and lung function capacity through the National Family Health Survey.
Third, use the extensive mobile network connectivity to develop a secure, well-designed and regulated portal for licenced medical physician or clinic to voluntarily upload medical information to a centralised database, thereby helping visualise the enormity of the problem and identify hotspots of ill effects.
Fourth, involve urban designers and town planners, automobile manufacturing and transport industry, oil and natural gas industry, environment and public health specialists to tackle the problem. Building different modes of travel and incentivising industry to adopt changes help improve public health.
Fifth, the prime focus of urban planners should be developing cities that promote health and reduce multi-morbidities.
Such an approach will reduce health costs for both individuals and the state.
Meena Sehgal is a senior fellow at TERI
The views expressed are personal