India's NSG bid: Too much diplomacy, too little action
Jun 08, 2016 02:41 PM IST
Why is India seeking membership to various export control regimes taken as gospel, and not questioned?
Why is India seeking membership to various export control regimes taken as gospel, and not questioned?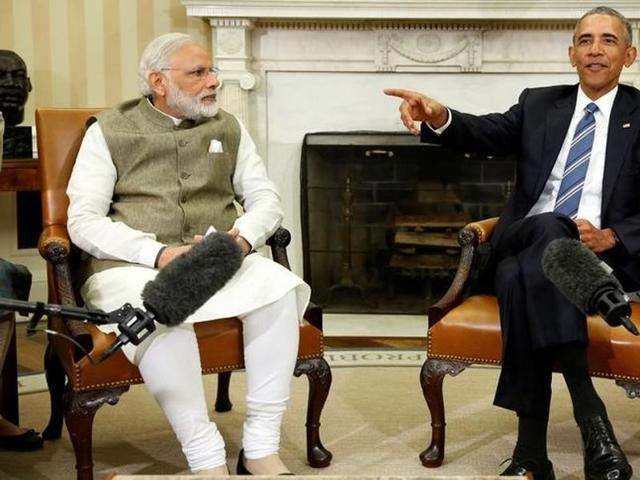 US President Barack Obama will not be calling up his Chinese counterpart to back India's application to join the Nuclear Suppliers Group (NSG) in June this year.
That much was evident at the tepid White House press meet he had with Prime Minister Narendra Modi. Mr. Obama made no mention of the NSG, while Mr. Modi thanked him for his general support for India's membership to the Missile Technology Control Regime (MTCR) and the NSG. Quite apart from China there are several States which have reservations regarding India's membership. Why then has the Modi government launched an intensive diplomatic effort to seek membership now? This has led to high decibel noise in the media, as if India's membership is imminent and the NSG is the most important agenda of Mr. Modi's visit. The charitable view, that Mr. Modi wants to make the most of the Obama presidency, is hardly convincing. You can't make the most of something that you know doesn't exist! The NSG-China story is a red herring. India is making all sorts of promises to Mr. Obama on climate change, logistics support, nuclear power plants et al. These need scrutiny, vitally missing in today's debate. Why is India seeking membership to various export control regimes taken as gospel, and not questioned?
India's Motivation
It is the Nuclear Non-Proliferation Treaty (NPT) that confers the status of a Nuclear Weapons State (NWS), and India will never join this treaty as a Non-Nuclear Weapons State (NNWS). India touted the Civil Nuclear deal with the US as a recognition of its NWS status, although its language describes India only as a state with 'advanced nuclear technology'. Now seeking membership to the MTCR (ballistic missiles related), the NSG (commerce in nuclear and nuclear related materials), the Wassenaar Arrangement (conventional weapons related dual use) and the Australia Group (chemical and biological weapons related) export control regimes, is India's way to enhance its de jure (by law) NWS status, from a de facto (by facts) nuclear armed state.
Strictly speaking, it is neither necessary to be a part of these groupings, nor damaging to stay out of them. It is better to be invited to elite clubs than petulantly argue that their rules of admission are unfair or go on a publicity blitz claiming exception to those rules. No one doubts one day India will be a member at the top table, no matter which way it is defined. That day is not today.
The Warning of the Times
The editorial in the New York Times ('No Exceptions for a Nuclear India') of 4 June, is most likely a sign that India should temper its expectations. The outrage in India over it is unwarranted. While it is true that demands the editorial makes of India before it is offered such membership or status is overstated, they stem from legitimate concerns States have regarding India's nuclear ambitions. It is India's responsibility to reassure the world. Let's address these concerns one by one:
Prohibition on Using Nuclear Weapons
In reassuring the world, India cites its resolution at the UN on prohibiting ANY use of a nuclear weapon, not just No First Use, as proof of its intentions. First introduced in 1982 and tabled every year, India never actively canvassed for it worldwide or constructively amended the resolution to gather more support and give it teeth. Despite this resolution India tested its nuclear weapons in 1998! This Indian behaviour is hardly reassuring. India continues to table this resolution which makes no mention of the NPT, the Treaty which defines non-proliferation standards in the world and is the only legal document that all NWS have signed on to committing themselves to disarm in the long run, whether you believe them or not. Clearly, the Non Use resolution is rhetorical and India 'upholds' the 'non-proliferation' regime despite pretending the NPT does not exist.
Nuclear Disarmament
India is being sued at the International Court of Justice (ICJ) for not pursuing nuclear disarmament, contrary to its claims, and actually helping an arms race. The Marshal Islands, victims of US nuclear testing, has taken all nuclear armed states to the ICJ. India accepts the mandatory jurisdiction of the ICJ, and hence, responds. The Court is considering whether Article VI of the NPT that obliges all NWS to disarm in good faith, forms a norm under Customary International Law for negotiating disarmament, thus applying to even non signatories like India. Isn't it premature then to argue that Article VI is NOT binding legally?
India's former PM Rajiv Gandhi offered an Action Plan in 1988, laying out a way of reaching nuclear zero in 20 years. India did absolutely nothing to follow up all these years, except for a Working Paper that toyed with ideas in 2006.
The General Assembly gets hundreds of Working Papers every year on all sorts of subjects. India's disarmament efforts are paper tigers, and yet, India cites this Action Plan in its defence at the International Court of Justice this year. Why should anyone believe India?
China, Pakistan, Nuclear Testing and Fissile Materials
India accuses China of behaviour contrary to the NSG's norms in helping Pakistan. If that calls into question NSG's standards, why seek to join it? Are we not guilty of the same behaviour as China, by being contrary to our paper commitments on nuclear disarmament? We refused to sign the Comprehensive Test Ban Treaty (CTBT) more out of pique than any genuine concern about subcritical testing, and we wanted to test our weapons before the window closed. We had genuine concerns that the CTBT was an arms control measure, rather than a disarmament one. When we tested in 1998 there were fears that the H bomb test was a failure. A section of our scientists demanded more tests. To assuage the world, we offered a voluntary moratorium on tests, but only when we were pushed to the wall at a point during the Civil Nuclear Deal negotiations with the US when the NSG was considering a special waiver for us. Most other NWS have signed onto the CTBT. We have even less reason today not to sign and ratify than we ever had in 1996. Our commitment to join remains an oral one that former PM Atal Behari Vajpayee made in Parliament that India shall not stand in the way of the CTBT.
Our weakest argument is that Pakistan stinks while we smell of roses on the Fissile Material Cut Off Treaty (FMCT) negotiations. The argument goes that if Pakistan were genuinely concerned about India's weapons, then it should immediately call for a halt in the production of fissile materials. This is misleading. Pakistan's concern is with the stock that has already been accumulated by various states, including India. It calls for a Fissile Material Treaty, as opposed to one that allows states to keep stocks till a 'cut off' date is chosen. This stalemate leaves both India and Pakistan free to continue to produce fissile materials. Moreover, our Fast Breeder Reactor programme is expected to greatly enhance our ability. It is not possible to write off Pakistan or India's concerns.
Indian Exceptionalism?
In other words, India is unwilling to sign onto these commitments and wants others to treat it as an exception. This is unfair to the rest of the world. Our actions and our words do not match. This time India did not even bother to participate at the Open Ended Working Group (OEWG) set up by the General Assembly to find ways forward on nuclear disarmament. In May 2016, I travelled to the OEWG in Geneva, the sole representative from civil society in India. In a speech applauded by the over 100 delegations present, I spoke of the failure of the Rajiv Gandhi Action Plan then, but the vital lessons it holds for us even today. The Chairman of the OEWG, Ambassador Thani Thongphakdi of Thailand, told me that he had never heard of this Action Plan! Clearly, Mr. Modi's personal travels, media outreach and diplomacy are insufficient. There is no substitute for action on the ground.
Vidya Shankar Aiyar is a nuclear disarmament activist and India director of Parliamentarians for Nuclear Non-Proliferation and Disarmament. The views expressed are personal
Read | From Pathankot to easy US entry: Eight key takeaways as Modi meets Obama
Read | 'Notable development': Obama-Modi meet marks big leap in India-US bilateral ties