Hardik Patel plays hardball, asks Congress to clear reservation stand by Nov 3
Hardik Patel's ultimatum came at a time when speculations are rife that he might join hands with the Congress for the two-phase Gujarat assembly elections on December 9 and 14.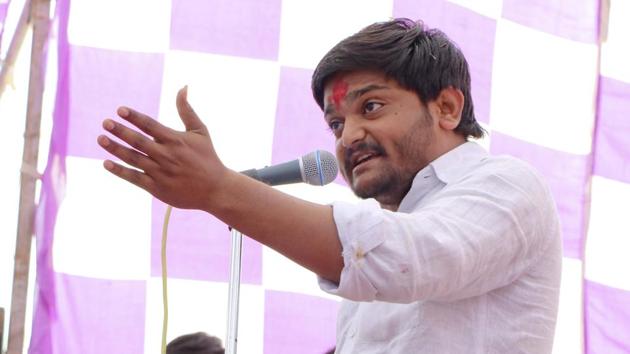 Updated on Oct 28, 2017 08:42 PM IST
Press Trust of India, New Delhi | By Press Trust of India
Patidar quota agitation leader Hardik Patel, who has put forward a set of demands before the Congress as a pre-condition for extending support to the party in the upcoming Gujarat assembly elections, has asked it to make its stand clear by November 3 on how it would ensure reservation for the community.
In a tweet on Saturday, he also threatened that the Patidar community would oppose Congress vice-president Rahul Gandhi during his visit to Surat on November 3, like it did to BJP president Amit Shah during one of his public gatherings in the city.
"3/11/2017 tak Congress Patidar ko Samvedhanik aarakshan kaise dengi, us mudde par apna stand clear kar de nahi to Amit Shah jaisa mamla Surat mein hoga (Congress should make its stand clear by November 3 on how it will provide reservation to the Patidar community under the Constitution, otherwise the Amit Shah episode will be repeated in Surat)," he tweeted.
In September last year, Shah had faced a strong opposition from the workers of the Hardik-led Patidar Anamat Andolan Samiti (PAAS) during his visit to Surat. Dozens of PAAS workers had disrupted a function which was being attended by the BJP chief.
Dinesh Bambhaniya, a PAAS convener, said the organisation and the community it represented would take a call on whether to support the Congress in the Assembly polls only after the opposition party made its stand clear on the issue.
He asserted that Hardik or anyone else from the PAAS had no plans to meet Rahul Gandhi until the Congress convinced the Patidar leaders as regards how would it ensure reservation for the community.
"First, the Congress will have to make its stand clear regarding reservation and only after that shall we talk to Rahul Gandhi...He is visiting Surat on November 3 and we can oppose him like we did to Amit Shah," Bambhaniya said.
Hardik (24) had recently met Congress' Gujarat affairs in-charge Ashok Gehlot and presented a list of demands to him, including reservation and a maximum number of poll tickets for the Patidar community members.
The Congress has so far maintained that it will offer a 20-per cent reservation to the economically backward classes (EBC), without disturbing the 49-per cent reservation given to the scheduled castes (SC), scheduled tribes (ST) and other backward classes (OBC).
Gujarat Congress spokesperson Manish Doshi said, "We have said that without touching the 49 per cent reservation for the SCs, STs and OBCs, we will offer a 20-per cent reservation to the EBCs in the state, who have been affected by the privatisation of the health sector and other institutions under the BJP rule."
"This 20 per cent EBC quota will not be a lollipop offer like the one made by the BJP, which was rejected by the high court. Our reservation ordinance will be a well thought-out one and based on a scientific survey," he added.
The Gujarat Assembly polls are scheduled to be held in two phases -- on December 9 and December 14.
Close Story