Weekly Tarot Card Readings: Tarot prediction for May 30-June 5
Published on May 30, 2021 07:40 AM IST
Weekly Tarot Card Readings: Tarot prediction for May 30-June 5. What do the cards have in store for Leo, Virgo, Scorpio, Sagittarius and other zodiac signs for this week?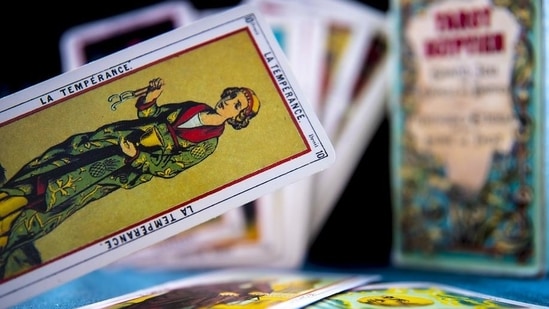 *Aries (March 21-April 20)
Love: The Magician
Mood: The Empress
Career: The Fool
This is a good week for the love front but you need to be equally cautious on the professional front as well. While cards assure you get to enjoy exclusive time with your partner; you would also need to remain tactful and diplomatic at work. Those in the advertising and event management fields may find it difficult to get through new contracts. Financial troubles for those in debt are set to be over soon. Your popularity is likely to soar on the social front. Students may crave for a break from intensive studies. Keep a low profile on the property front.
Lucky Number: 4
Lucky Colour: Dark Slate Grey
*Taurus (April 21-May 20)
Love: Devil
Mood: Three of Cups
Career: Justice
The week begins on a beneficial note. Financial gains are indicated, as good earning commences. Your success on the professional front is foretold as you manage to handle complicated situations all by yourself. Domestic front will remain tranquil and peaceful, and allow you to rest and recoup. Some of you may take up a social cause. Lover is likely to respect your decision for waiting some more to tie the knot. Students are likely to perform well under a mentor's guidance. Travelling plans may have to be shelved due to the paucity of time. A legal issue regarding an ancestral property is likely to be settled in your favour.
Lucky Number: 5
Lucky Colour: Light Green
*Gemini (May 21-June 21)
Love: Knight of Wands
Mood: The Emperor
Career: The Hanged Man
All the pending chores grab your attention this week. Those into private practice will need to boost and revise strategies to enhance business. Excessive workload in office may put paid to your weekend plans with family. Those browsing the marriage market may have to wait a little longer to find a good match. A hectic schedule may not allow you to participate in a social do. Students are likely to keep up the momentum to work hard. Precautions are a must for those planning to travel out of town. Finance wise, things are just fine. Redoing your house interiors may be on the minds of some.
Lucky Number: 6
Lucky Colour: Cream
*Cancer (June 22-July 22)
Love: Wheel of Fortune
Mood: King of Coins
Career: Knight of Swords
Your hunt for bargain is likely to get you the right price for something that you desperately need. Chances of getting into the good books of a senior cannot be ruled out for some. A little praise will be enough to raise your spirits on the academic or professional front. Some of you will succeed in shedding pettiness and focus at the larger picture on the social front. Relationship gets strengthened as you manage to spare time for lover. Good news on the family front is also indicated. A party or a celebration may have to be postponed for some time.
Lucky Number: 4
Lucky Colour: Magenta
*Leo (July 23-August 23)
Love: Temperance
Mood: Six of Swords
Career: Three of Coins
You got to work on widening your professional sphere this week. Strengthening old relationships or building new ones is likely to expand your horizons. Writers, artists and those engaged in the skilled jobs are likely to find the week promising. A family member may volunteer to share the financial burden and make things easier. Students are likely to hear from their chosen colleges/universities for the courses they are interested to take up. Homemakers may find resetting the house tedious but would not be able to let go these thoughts. Beware of smooth talkers on the property front. Take your own call after doing proper market research.
Lucky Number: 1
Lucky Colour: Yellow
*Virgo (August 24-September 23)
Love: Justice
Mood: Judgement
Career: World
Cards suggest you to keep a low profile this week. There is a possibility of your decision not being accepted by someone close. It's OK leave things on time and it shall bring the best ones for you. You may feel a bit disappointed on the financial front. Be proactive in curbing a situation that threatens to spoil your efforts at work. Those seeking love may have to double their efforts. Those in business are likely to get through something they were recently looking forward to. Be careful while travelling. Tenants may not be able to clear their dues on time.
Lucky Number: 22
Lucky Colour: Indigo
*Libra (September 24-October 23)
Love: Three of Swords
Mood: Temperance
Career: Ten of Coins
Avoid keeping hopes too high this week. There is no need to be impulsive in a matter that is not urgent. Efforts to achieve much at work seem difficult due to some unforeseen circumstances. Don't be callous on the financial front as incurring loss cannot be ruled out. Your tendency for impulse buying needs to be curbed. Getting ticked off by a parent or family elder can spoil your mood. Something you have eaten may not agree with your system. Saying things without evaluating your words may not go well with the lover. Those single may have to put in some more efforts to click with the like-minded.
Lucky Number: 3
Lucky Colour: Pink
*Scorpio (October 24-November 22)
Love: Chariot
Mood: Six of Cups
Career: Strength
Those hoping for a lucky break on the promotion front are likely to get positive feelers. A subordinate may turn out to be a big support in an ongoing project. Students are likely to fare excellently through a focussed approach. Intelligent investments on your part will help restore financial health. Your fair play will be much appreciated in a family situation. Love front has its own share of surprises. Designers and make up artists are likely to have their share of fame. A commercial property may require a touch up or renovation. Health of a near one may be a cause of concern.
Lucky Number: 6
Lucky Colour: Sky Blue
*Sagittarius (November 23-December 21)
Love: Page of Swords
Mood: Three of Swords
Career: Six of Coins
This week gives you not one but many reasons to smile! You do generally well on the academic front. A business trip is likely to bag you a good deal. Your achievement can make the family proud. Online shopping with partner will not only be pleasurable, but also enhance togetherness. Leave applied for is likely to be sanctioned. Some of you can enjoy a leisure trip with family. Romance is in the air and promises immense fulfilment. You manage to achieve perfect health through self-motivation and hard work. Time is good if planning to book or take possession of a property.
Lucky Number: 11
Lucky Colour: Cyan
*Capricorn (December 22-January 21)
Love: The Lovers
Mood: Hierophant
Career: Ten of Cups
A mixed bag can be expected this week. Focus on solving things on the academic front. You can find your senior in a happy mood. A new colleague will give you a helping hand at work. Those looking for sponsors for some event can expect a positive response. You are likely to receive good returns from an investment. You may get the chance to buy expensive items or jewellery at bargain price. Put your tongue on the leash, especially on the romantic front. Some urgency at the lover's side may require you to rearrange other planned things. Health wise, things appear to be in control.
Lucky Number: 2
Lucky Colour: Maroon
*Aquarius (January 22-February 19)
Love: The Hermit
Mood: Strength
Career: The Hanged Man
Someone may manage your affairs in your absence. You will manage to shed lethargy to raise the level of your performance on the professional front. Discussing financial matters with experts will prove an enlightening experience. A family member may require your support to execute something important. A new product line launched may not show the desired response without adequate publicity. Some of you are likely to misplace an important document if not careful. Your social life remains fertile as you go all out to woo people to join your camp. Lover may crave for your attention – make sure you do not disappoint!
Lucky Number: 3
Lucky Colour: Lemon
*Pisces (February 20-March 20)
Love: Six of Cups
Mood: Ten of Cups
Career: Two of Wands
There is much to be done, but you may find it difficult to get started! You will succeed in developing a good understanding with a colleague to smoothen things out on the work front. Romantic front is in need of excitement, so churn up some ideas that will simply floor lover! You have enough funds to indulge in a bit of luxury, so go forth and enjoy. Don't reveal your plans to someone you are not comfortable with. Students need to start practicing memory skills to stay abreast with the competition. Avoid taking shortcuts on the health front – a sincere approach is only likely to benefit!
Lucky Number: 7
Lucky Colour: Orange
Personalise your news feed. Follow trending topics