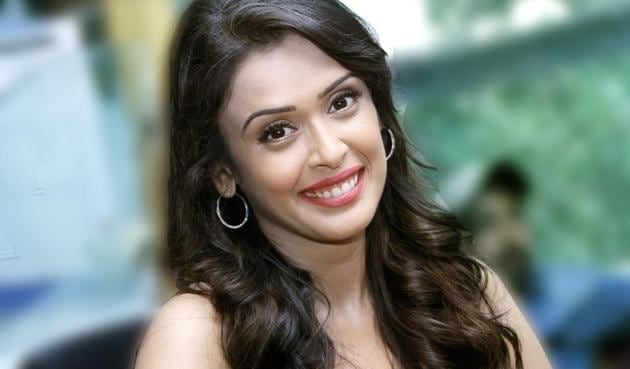 Actor Hrishitaa Bhatt says she would love to perform classical dance in Delhi
Hrishitaa Bhatt, who has recently married a Delhi-based UN diplomat, says she's getting used to life in the Capital.
UPDATED ON APR 16, 2018 05:37 PM IST
Actor Hrishitaa Bhatt's marriage last month came as a surprise to everyone, and the actor who debuted opposite Shah Rukh Khan in Asoka (2001) is presently shuffling between her maika (parents' home) in Mumbai and sasural (in-laws' house) in Delhi. Bhatt married United Nations diplomat Anand Tiwari in a private ceremony in the Capital.
In Delhi, recently, to promote her upcoming film, she said: "Every time I came to Delhi,it was only for work. But now, I'm getting used to Delhi's weather and people. It's a different city. People in Delhi and Mumbai always have this conflict – it's like two schools fighting each other. All Mumbaikars say 'we don't like Delhi', and Delhiites say 'we don't like Bombay'. I'm neutral at the moment, and am getting used to the city."
The actor, who was part of films such as Ab Tak Chhappan (2004) and Miss Tanakpur Haazir Ho (2015), shares an amusing incident when she was out enjoying a walk in the city. "One day I was walking near my house, and somebody saw me and started speculating. I heard them say, 'I have seen her somewhere'. By the time they followed me, I was out. It was a nice, sweet moment. I liked it very much," says Bhatt, adding she hasn't been to many places in Delhi, and wants to explore the city.
"I love all the cuisines [available] here. I would like to go out and explore a little, especially Delhi's food. Every time I feel bored, the first thing I always call for is the chaat from Bengali Market. Even though I'm a typical Mumbaikar, when it comes to food, I think Delhi rules over Mumbai."
Reflecting further on how the two cities differ, she says, "In Mumbai, we have a very casual approach to everything. No matter who you are, what you do, you will be simple, like walking out in slippers. This doesn't happen in Delhi. People love to dress up here. I think it's in the culture. To each his own, I guess."
The actor, whose last Bollywood film was Junooniyat (2016), has received training in classical dance. "I have been learning Kathak since I was seven. I'm looking forward to good scripts but also want to keep up with my dance," she says.
"I have done a couple of shows in Mumbai and other cities, and would also love to perform in Delhi, which is the hub of culture. So, the minute I feel it's the right time, I would love to get on the stage," she adds.
Interact with the author at Twitter/@HennaRakheja

Close