I found Mira very self-assured: Shahid Kapoor
Shahid Kapoor talks about wife Mira Rajput, working with Sanjay Leela Bhansali, his favourite film, and more.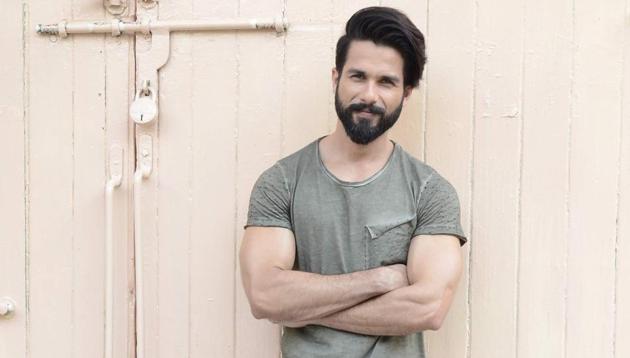 Updated on Apr 16, 2017 11:52 AM IST
Mumbai
Shahid Kapoor is in the most interesting phase of his career if his experiments with varied characters and films are anything to go by. His next film, Padmavati, will also see him in a different act. Speaking about working for the first time with Sanjay Leela Bhansali, who is directing the film, Shahid says, "The world that Sanjay sir creates is fascinating. He is phenomenal for the actors who work with him, and [it's wonderful] to participate in the world that he creates."
Shahid feels stories based on non-fictional backgrounds are intriguing for audiences. Speaking about biopics and why Bollywood is suddenly flooded with movies about personalities, the actor says, "There is something about biopics that is effective; the fact that you know that it actually happened. We become voyeuristic as a society. We love to know [things]. That's why reality TV does so well. I think that is fascinating, and it connects [with people]. But it still needs to be a good film."
Hindi cinema is undergoing a noticeable metamorphosis when it comes to the kinds of films being made and the varieties of roles actors are being offered. Shahid feels this is a good time for actors and films in general.
"The words male and female have become rather irrelevant. I think we have crossed that stage where [gender] was important to discuss. We have reached a point where [the mindset] is naturally changing in the right direction. Women had a raw deal for quite a few years. I've grown up learning to respect talent and professionalism, and that has nothing to do with being male or female. I'm glad that good actors are being empowered today," he says.
Shahid says walking into a cinema hall these days is a therapeutic experience for him. "It is like someone has given you a vitamin shot. When you see a great film or great performance, you walk out feeling driven, whether it is in Hindi, English, artsy or mainstream — it doesn't matter," he says. So when was the last time he felt driven by a movie? "La La Land — that movie was empty but so full. It was beautiful."
On asking him whom does he like from the current generation of actors, and how are they different from the old guard? "Ranbir Kapoor, Ranveer Singh and Alia Bhatt are really good actors. The latest generation of actors know how to promote themselves. I don't think the previous generation had that skill. It is a skill we are learning from them," he says.
It is said that a film is the director's vision on screen. Ask Shahid if he likes to give his inputs during film-making process, and he says, "You have to learn to engage with the director's vision and submerge yourself in it. At the same time, you must also voice your opinion whenever necessary or when you do not understand something."
So, is it natural for every actor to go through a moment, at some point, where he or she may not be on the same page as the director? "Everybody has that moment when there is a difference of opinions. You have to be convinced of what you're doing. However, the director is the captain of the ship. The final call is his. You have to try your best to understand (what he does). But if you don't, and the director still wants things in a certain way, you have to do it," says Shahid.
Prod Shahid about what connected him to Mira when they first met, and, he says, "We could speak very easily. So, I thought we could be friends in spite of not having anything in common. We were able to connect as people. It felt easy, nice and normal. I found her to be self-assured and not at all affected by the fact that I am an actor."
When asked if marriage brings changes in a person's life, the actor agrees. "Marriage changes you for sure. Jab tak insaan samajhta hai ki mujhme kya kya change hua hai (till the time a person understands what all has changed in him), it's too late to go back," says Shahid.
Close Story
Personalise your news feed. Follow trending topics