Kabir Singh trailer inspires hilarious memes, Twitter doesn't spare Ranveer Singh, Ranbir Kapoor
May 13, 2019 07:37 PM IST
The first trailer for Shahid Kapoor and Kiara Advani's upcoming film, Kabir Singh, has inspired hilarious memes on social media. Check them out here.
After the release of the first trailer for Shahid Kapoor's upcoming film Kabir Singh, fans have taken to Twitter to share jokes and memes about his 'rebel with a cause' character. Kabir Singh is a Hindi remake of the hit Telugu film Arjun Reddy, about an alcoholic doctor whose live spirals out of control following a bitter breakup.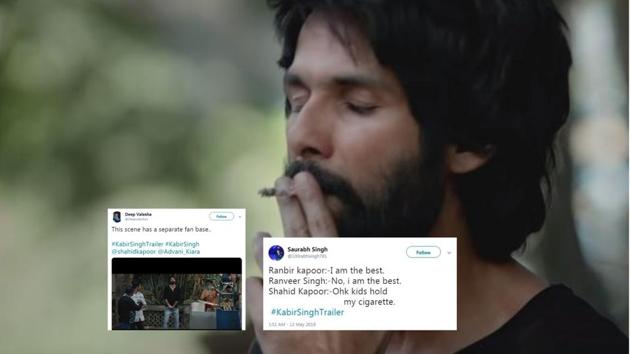 Fans joked about everything from Shahid's rugged look, to some of the film's more over-the-top scenes of drug abuse and violence. Shahid has spoken about how deeply the role affected him, and forced him to smoke dozens of cigarettes a day. One Twitter user compared Shahid's dedication to Ranbir Kapoor and Ranveer Singh's methods.
The 'Nahi aunga matlab nahi aunga, bola na nahi aunga' line was very popular among memesters. Several of them quoted the line in reference to the ongoing Lok Sabha elections, the Indian education system, and even human psychology.
See more reactions here
Speaking at the trailer launch event of the film, Shahid said, "To me, watching a film like Kabir Singh will help understand that when you allow yourself to be affected by those things, it can take you on the path of destruction. It can warn you from going in that route. For people who might've been there, it can be therapeutic. Cinema acts as a medicine. If you see something you relate to, it helps you have catharsis of sorts." Kabir Singh, also featuring Kiara Advani, is slated to release on June 21.
Follow @htshowbiz for more