Kabir Singh trailer: Shahid Kapoor teaches Kiara Advani lesson in human anatomy
May 13, 2019 01:50 PM IST
Shahid Kapoor plays a rebel with a cause in Kabir Singh. Watch the first trailer for the Arjun Reddy remake, also starring Kiara Advani.
The first trailer for Kabir Singh, the upcoming romantic thriller starring Shahid Kapoor and Kiara Advani in lead roles, has been released. Shahid plays a 'stubborn, self destructive and very, very angry' young man, who reacts to a bitter breakup by turning to drugs and alcohol. The film is an official remake of Vijay Deverakonda's runaway Telugu hit Arjun Reddy.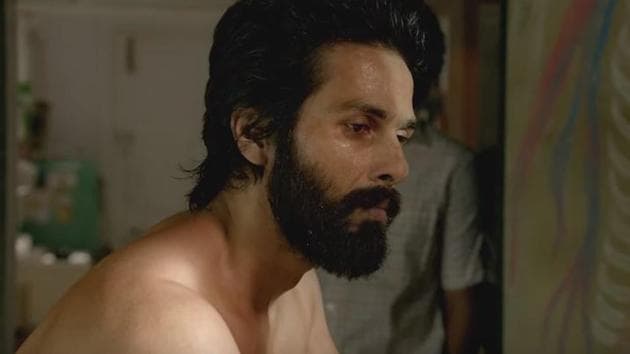 The trailer shows Kabir both before and after the heartbreak, where he goes from being a tenderhearted lover to (bearded) smoker of bongs and chaser of housemaids. "Kabir, what do you like in me?" Kiara's character asks him. "I like the way you breathe," he says.
We then see glimpses of the couple dancing in snowy mountains, lazing beside a bonfire and taking lovely bike rides together. One of such trip, they're involved in an accident. But they shrug it off by kissing next to the wreckage. That's the power of their love.
So when the breakup happens, Kabir punches a couple of people, grows a thick beard, and throws his life down the drain. Things get so bad that Kabir even overdoses and ends up in the hospital.
Earlier, talking about Arjun Reddy, Shahid called it "very raw and very honest". The actor told PTI, "I don't think there was anything in the film that was for effect. I just felt it said things as it is and was a brazen journey of a character who goes through an emotional arc which is extreme. The honesty of the film connected with the audience. Otherwise, for a film like that, there would be a limited audience. But it was loved across the board. The idea is to do it all over again."
However, the Hindi film is not an absolute remake. Shahid had earlier said that while the film will be raw, there will be some differences as it will be based in north India with the character arc slightly different.
Arjun Reddy went on to break records, going ahead to become 2017's breakout hit. The film starred Vijay Deverakonda as a brilliant medical student with anger management issue who goes on a self-destructive spiral after the woman he loves is married off to another man. Kabir Singh is being directed by Arjun Reddy's Sandeep Vanga; the film is set to release on June 21.
Follow @htshowbiz for more