Priyanka Chopra is showering Nick Jonas with kisses in rare Instagram PDA. See pic
Aug 30, 2018 06:11 PM IST
Priyanka Chopra is head-over-heels in love with fiance Nick Jonas in new pic posted on her Instagram stories.
Never the one to indulge in online displays of affection, Bollywood actor Priyanka Chopra has finally broken her own code. After making her engagement official with American singer Nick Jonas on August 18, Priyanka has posted a swoon-worthy picture of her fiance on Instagram.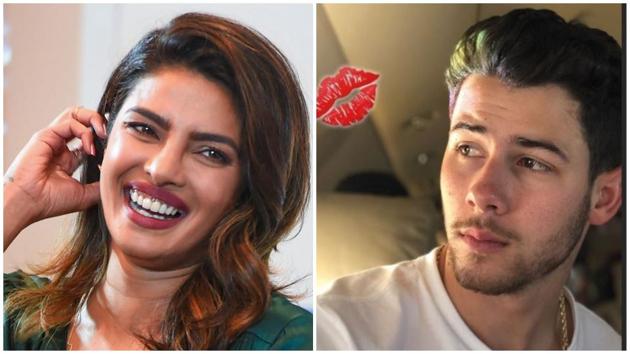 Priyanka shared Nick's photo on her Instagram stories on Wednesday and plastered a 'kiss' sticker right next to him. In the picture, Nick is seen wearing a white T-shirt with 'Namaste' embossed on it. Check it out:
Priyanka flew to Los Angeles earlier this week and posted pictures of the beaches and delicious drinks. We assume she made the trip to spend quality time with her to-be husband. However, Priyanka also posted a picture of the stunning pink skies of Mexico as she said 'hola' to the country on Wednesday.
The actor is not just showing Insta affection to her fiance but also to his family. Her to-be mother-in-law, Denise Jonas posted a video from Priyanka and Nick's engagement party on Tuesday in which she is seen dancing with Priyanka's mother, Madhu Chopra. In the video, we see Madhu point at Denise and call her 'Munde di maa'. Priyanka also caught on to the cute title and wrote it as a comment on the video. She also commented 'Love!' on the video.
"What an amazing day of celebration for @nickjonas and @priyankachopra engagement and Indian culture," the singer's dad and Denise's husband, Kevin Jonas Sr, had also commented.
Nick arrived in India on Friday, August 17 with his parents. On Saturday, the couple made their engagement official with a traditional Hindu roka ceremony and threw a huge party for their friends and family at night. The following day, both the families paid a visit to an orphanage in Mumbai.
After the engagement, DNA caught up with Madhu Chopra for her review of her to-be son-in-law. "Nick enjoyed the prayers during the puja. It was a new thing for him and he took it seriously. He followed what our panditji said, and chanted the Sanskrit mantras accurately. Both he and his parents did it beautifully. They are nice people," she said.
Priyanka and Nick met for the first time at the 2017 Met Gala. It was in May 2018 that paparazzi began spotting them together on dates and less than three months later, they announced their engagement.
Follow @htshowbiz for more