Priyanka Chopra, Nick Jonas' moms dancing to 3 Peg at the roka are all Punjabi moms ever. Watch
Aug 29, 2018 01:45 PM IST
Watch Priyanka Chopra and Nick Jonas' moms Madhu and Denise dance together at their roka ceremony and the video is now out.
If this video does not remind you of your mom and aunts dancing at any random Punjabi wedding, we don't know what would. American singer Nick Jonas and Bollywood actor Priyanka Chopra recently got engaged at a traditional Hindu roka ceremony and it looks like it was followed by a traditional Punjabi dance party.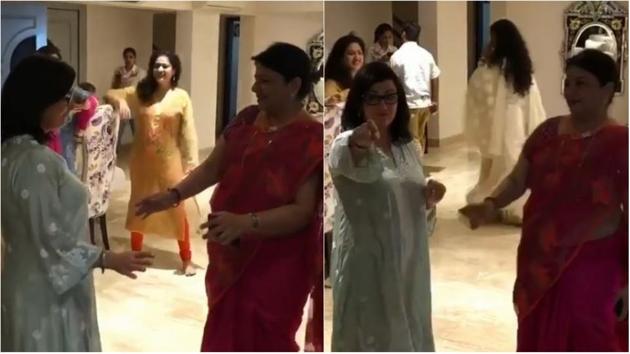 In a new video posted by the singer's mother Denise Jonas on Instagram, she is seen taking over the dance floor with Priyanka's mother, Madhu Chopra. "Thank you @madhumalati for being patient with my lack of dance skills! I miss you. #engagementparty," she captioned the video in which the two are seen dancing to Sherry Mann's hit Punjabi number 3 Peg. Earlier, Nick Jonas and Priyanka Chopra's dance video from their engagement party had found its way to internet.
Denise in seen in her pretty baby blue kurta from the engagement ceremony while Madhu is seen in her beautiful pink saree. Both the ladies flash big smiles, groove to the peppy beat and at one point, Madhu points at Denise and calls her 'Munde Di Maa (Mother of the Groom).'
Nick arrived in Mumbai on August 17 with his mother and father. They went out for dinner with Priyanka's family on the night before the engagement and partied the night away after the ceremony. The following day, both the families paid a visit to an orphanage in Mumbai.
Talking about Nick, Priyanka's mother Madhu Chopra later told DNA, "Nick enjoyed the prayers during the puja. It was a new thing for him and he took it seriously. He followed what our panditji said, and chanted the Sanskrit mantras accurately. Both he and his parents did it beautifully. They are nice people."
"I told [Priyanka] that I want to meet Nick's family," Madhu Chopra said, adding, "They are nice people." Priyanka and Nick were seen together in Los Angeles on Monday as Priyanka returned to the US after finishing her commitments in India. They are expected to attend a wedding together in Italy later, according to reports.
Nick and Priyanka met at the 2017 Met Gala where they both represented Ralph Lauren. The two were spotted together on dinners and dates from May 2018 and less than three months later, they announced their engagement.
Follow @htshowbiz for more