5 tips to stay cool, healthy in this blistering heatwave
Updated on Apr 29, 2022 11:00 AM IST
Northern India is likely to witness a dust storm on Friday, causing a drop in temperature from May 1.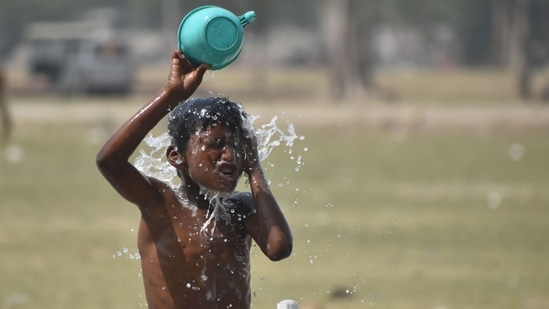 Written by Kanishka Singharia | Edited by Chandrashekar Srinivasan
, New Delhi
National capital Delhi and large parts of north and central India will suffer through a scorching heatwave for the next five days, the India Meteorological Department (IMD) said. Similar warnings were issued for east India for the next three days. Temperatures in Delhi and other areas crossed 40 degrees Celsius, with a maximum of 45 degrees in Rajasthan. A 'yellow' alert has been sounded for several districts and an 'orange' alert (one degree higher) has been issued for parts of Rajasthan and Madhya Pradesh. Temperatures could fall after three to five days, the IMD said. The weather department also said rain/thunderstorm, with lightning/gusty winds, is likely to continue over areas in northeast India.
EXPLAINED: Weather dept issues 'yellow' alert for heatwave. What it means
For the plains, a heatwave is declared with the maximum temperature expected to be over 40 degrees Celsius and at least 4.5 degrees above normal.
Brutal heatwave in India, mercury past 45-mark amid power crisis: 10 points
The temperature at the Safdarjung Observatory - Delhi's base station - is also expected to touch 44 degrees Celsius by Friday, the weather office predicted.
Heatwave bakes Delhi, 44.2 degrees at Siri Fort; dust storm likely
Tips to stay cool and safe during the scorching summer:
> Drink plenty of water regularly and do so often, even if you don't feel thirsty.
> If you go outdoors protect yourself from the sun by wearing a wide-brimmed hat, sunglasses, and by putting on sunscreen
> Avoid hot and heavy meals
> Cover windows with drapes or shades
> Wear lightweight, light-coloured and loose-fitting clothing that helps protect against heat. Change clothing if it gets completely saturated.
With input from agencies