Overnight showers help Delhi bridge Jan deficit
Jan 31, 2023 05:24 AM IST
A western disturbance refers to an area of "disturbed" or reduced air pressure, moving from the west to the east, carrying with it moisture associated with rainfall, snowfall and fog in northern India
The Capital recorded 20.4mm of rain between Sunday and Monday, clocking 0.7mm more than Delhi's January's average monthly rainfall of 19.1mm in a single day. India Meteorological Department (IMD) attributed the rain to a western disturbance influencing northwest India and forecast that mainly clear skies and strong winds are now expected in Delhi in the next three days.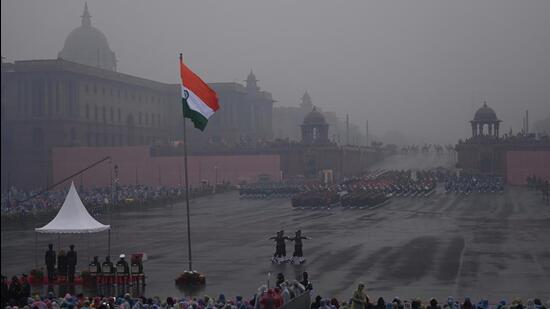 "Now that the western disturbance is beginning to withdraw, wind speed will pick up in the region and cold northwesterly winds will return, leading to a drop in the minimum temperature by 1-2 degrees over the next two days," said Kuldeep Srivastava, scientist at IMD, adding Delhi will see clear skies during the day, while wind speed could oscillate between 25 and 35 km/hour over the next three days.
A western disturbance refers to an area of "disturbed" or reduced air pressure, moving from the west to the east, carrying with it moisture associated with rainfall, snowfall and fog in northern India.
ALSO READ: Delhi exceeds January's normal mark in a single day with 20.4mm rainfall
According to Met data, Safdarjung, which is considered representative of the Capital's weather, recorded 20.4mm of rain between 8.30am on Sunday and 8.30am on Monday, Palam recorded 26.1mm, Lodhi Road 23.7mm, Ridge 21.5mm and Ayanagar 28.2mm. Prior to this, on January 12, Delhi recorded "trace" rainfall at the Safdarjung observatory.
On January 12, Delhi also broke a 91-day streak of no rain. Before that, Delhi had not received rain since October 12, 2022, when it clocked 0.4mm of rain. Data shows Delhi recorded a similar dry spell in 2018, when no rain was recorded for 72 days between January 24 and April 7, 2018. Before that, Delhi had gone 82 days without rain between September 17 and December 9, 2011.
According to Met data, Delhi has recorded surplus rainfall every January since 2019. Last year, Delhi received 88.2mm of rain in January, an all-time record for the month in 122 years. In January 2021, Delhi recorded 56.6mm of rain, in January 2020, it recorded 48.1mm and in January 2019, it recorded 54.1mm of rain. The last time Delhi had a rain deficit in January was in 2018, when only 4.4mm of rainfall was recorded.
In terms of temperature, Delhi recorded a maximum of 18.9 degrees Celsius – three degrees below normal, but 1.7 degrees higher than Sunday. The minimum was recorded at 10.2 degrees Celsius – one degree below normal and 3.8 degrees higher than Sunday's low.
ALSO READ: Rain fails to dampen Beating Retreat spirit: 10 points
The rain also led to Delhi's air quality improving slightly, dipping back to the "poor" category with a reading of 207 according to Central Pollution Control Board's daily national bulletin. In comparison, Delhi's AQI reading was 331 (very poor) on Sunday. Forecasts show Delhi's AQI is likely to remain in the "poor" category on Tuesday.
An AQI reading between zero and 50 is considered "good", 51 and 100 "satisfactory", 101 and 200 "moderate", 201 and 300 "poor", 301 and 400 "very poor", and 401 and 500 "severe".
"Delhi's AQI will be in the 'poor' category on January 31 and while it will improve on February 1 and 2, it will still be in the 'poor' category," said the Early Warning System (EWS) for Delhi, a forecasting model under the ministry of earth sciences.