Particles from smoke, garbage burning cause max air pollution in last 3 months
Jan 31, 2023 12:14 AM IST
Delhi government data shows secondary inorganic aerosols account for 33% of the particulate matter 2.5 pollution in the Capital, and garbage burning had a share of 24%
Particles formed due to smoke from industries and various other sources and burning of garbage were the two main contributors to air pollution in the last three months (till January 29), according to preliminary findings of the Delhi government's ongoing real-time source apportionment study.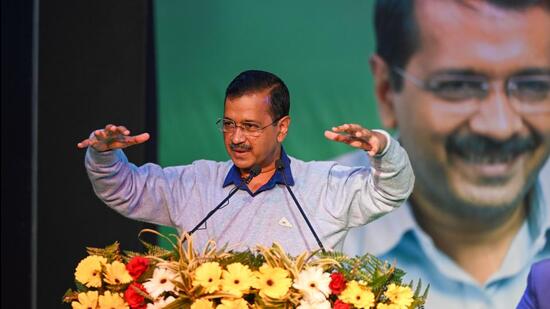 According to the government data analysed at the "Supersite" set up for conducting the source apportionment study, secondary inorganic aerosols account for 33% of the particulate matter 2.5 pollution in the Capital. These aerosols are particles which form in the atmosphere due to interaction of gases released power plants, refineries, brick kilns, vehicles and biomass burning.
Scientists involved in the study said it was found that more than 70% of these secondary aerosols are likely to be coming from outside Delhi.
The data collated between November 1 and January 29 also showed that burning of biomass (mostly municipal solid waste) accounted for 24% and vehicles exhaust led to 17% PM2.5 pollution in Delhi's air. PM2.5 and PM10, which are ultra fine particles that can lead to a variety of pulmonary and other diseases, are the primary pollutants in Delhi's air.
The study was led by IIT-Kanpur findings of which were released on Monday during the launch of a Supersite and a mobile van for real-time monitoring of sources by Delhi chief minister Arvind Kejriwal.
ALSO READ: Kejriwal unveils study, devices to help combat air pollution in Delhi
Experts from IIT-Kanpur, IIT-Delhi and The Energy and Resources Institute (TERI) analysed the data at the Supersite set up at the Sarvodaya Bal Vidyalaya at Rouse Avenue in central Delhi.
Mukesh Sharma from IIT-Kanpur, who is heading the project, said that secondary aerosols have been found to be contributing more to Delhi's pollution than primary sources such as vehicles or industries, and added that this was largely on account of different gases released from combustion sources combining or reacting in the air.
"We believe over 70% of these secondary aerosols are coming to Delhi from outside Delhi, as industries and power plants are the most likely source, followed by brick kilns. Since most of these are in NCR, they are likely being formed in the air there and they can travel long distances," said Sharma, stating locally, household LPG and vehicles were a likely source, however, it was difficult to assess which primary source was contributing the most to this secondary particle creation as these gases were constantly mixing in the air.
ALSO READ: Delhi's air quality improves, enters 'moderate' category
Sharma said that biomass burning has been the second largest source of pollution since November last year, as initially, farm fires were at their peak, while later, localised biomass burning increased during winters.
"We have observed that vehicles have remained a constant source, hovering around 17-18% during this period, while biomass burning is more season-specific," he said, stating the next step of the study involves a back-trajectory analysis, which will allow the government to trace the exact location from where certain particles originated. "This will then allow agencies on the ground to take action against such sources."
During this period, the other sources of pollution included coal and fly ash (including industries) at 7%, a 3% contribution from the residential or domestic sector and a 2% contribution each from waste burning and soil and road dust, the government data shows. Other pollutants, sources of which could not be attributed to any of these remaining primary sources, contributed to 12% of Delhi's pollution load during the period, indicating there were additional sources other than those being mapped.
To be sure, the study analyses the PM2.5 load contribution, while sources like the construction sector and soil and road dust impact PM10. This is largely because dust has bigger particles, which come under PM10.
Data on the R-AASMAN portal (http://raasman.com), the website where data from the real-time source apportionment study can be accessed by the public, also showed secondary inorganic aerosols were contributing to 33% of Delhi's PM2.5 load on Monday evening, followed by 28% from vehicles, while biomass burning's contribution was 9%.
In 2015 and 2016, IIT Kanpur's source apportionment study identified biomass burning as the biggest source contributor to PM2.5 in winters (26%), followed by vehicles (25%), but secondary particle formation was even higher at 30%. A subsequent source apportionment study in 2018, carried out by TERI had found industries (30%), which included thermal power plants as the biggest source of PM2.5 pollution in winters, followed closely by vehicles (28%).
Anumita Roychowdhury, executive director, research and advocacy at the Centre for Science and Environment (CSE) said that the data shows there is still widespread problem of biomass burning in the city, in addition to the contribution of crop burning for a limited period.
"Waste and plastic burning are also adding to this problem. At the same time, secondary particulates that are formed in the air through reaction of gases (like NOx, SO2) have the highest share and highlight the dominant influence of vehicles, industries and other combustion sources in addition to the ammonia sources. This demands stringent action on all combustion sources, and elimination of all kinds of burning and substitution of solid fuels with clean fuels," she said.