Train services affected on Magenta Line due to attempted cable theft: DMRC
Jan 18, 2023 03:00 PM IST
The suspected cable theft attempt occurred before the start of revenue operations, with trains having to be run manually at a restricted speed between these two stations in order to avoid bunching
Metro operations on a section of the Delhi Metro's Magenta Line were affected due to attempted cable theft, the Delhi Metro Rail Corporation (DMRC) said on Wednesday.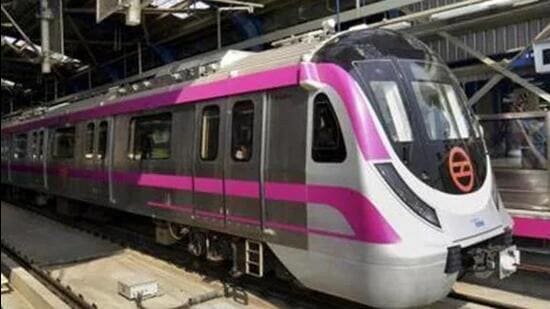 "Train services were affected between the Okhla Bird Sanctuary and Kalindi Kunj stations of Magenta Line (both up and down lines) from the start of services due to a case of attempted cable theft on this section in the wee hours leading to the damage of signalling cables", a DMRC spokesperson said.
"Since undertaking repair work on the affected section during operational hours would have resulted in stopping of all services in that section, it was decided that to avoid hardship to the passengers, trains would be allowed to operate with a restricted speed of 25 kmph during the entire day today", the statement said.
Also Read: Man commits suicide by jumping in front of Delhi Metro train, services delayed briefly
The restoration work is planned for the night after the last passenger service and access to the track will be provided to replace the cables damaged during the attempted theft.
"Replacement of cables is a time taking process that requires full access to the track without any train movement", DMRC statement added.
The suspected cable theft attempt occurred before the start of revenue operations, with trains having to be run manually at a restricted speed between these two stations in order to avoid bunching, leading to delays across the Line since the morning.
DMRC said the restoration work is only possible after the end of operations on Wednesday, as access to tracks will be required to fix the problem.
Metro operations start on the Magenta Line (Botanical Garden-Janakpur West) from around 6am onwards and the last train reaches its destination at around midnight. Repair work will only commence post-midnight, officials said.
Commuters took to social media to vent their frustration on the impact of operations in the morning, with several images of crowded Magenta Line metro stations surfacing on Wednesday.
Divya Joshi Kumar, one such commuter, shared her ordeal on Twitter.
"Usually, it takes only ₹27 for my journey but today, I had to spent ₹90 for the same route... who is responsible for the delay and extra money spent #magentaline crowd at station is swelling up." she tweeted.
Another commuter, Rajpreet, tweeted, "This is ridiculous. Boarded magenta line at 8:50am from Hauz Khas and reached botanical at 10:30am. Waited around one hour in metro. Such bad service. Missed office commute and office meetings. (sic)."
The issue has also been compounded with extra security time being taken for frisking, ahead of Republic Day.
DMRC had on Tuesday tweeted, asking commuters to allow extra time for their commute in wake of enhanced security and frisking measures.
"Additional time might be needed in view of enhanced security and frisking measures ahead of Republic Day. Please allow for some extra time in your commute. Your cooperation is kindly solicited," DMRC had said.