CM Adityanath unveils first look of Agra Metro
Published on Aug 08, 2022 10:32 PM IST
CM Yogi Adityanath also planted a tree inside Agra Metro Rail Depot, previously known as the 15th battalion PAC premises in Agra.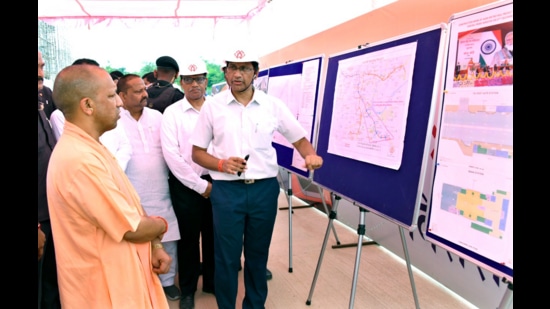 Chief minister Yogi Adityanath digitally unveiled the first look of the Agra Metro train, with yellow stripes, at the Depot premises of the Agra Metro Rail Project on Monday. Before arriving for this event, the CM flagged off an awareness rally for the 'Har Ghar Tiranga' campaign organised as a part of 'Azadi Ka Amrit Mahotsav'.
The CM ended his visit to Agra with his address at the closing function of the three-day state-level Bharatiya Janata Party Yuva Morcha (BJPYM) training camp.
CM also planted a tree inside Agra Metro Rail Depot, previously known as the 15th battalion PAC premises in Agra.
Speaking on the Agra Metro Rail Project, UPMRC managing director Sushil Kumar said, "The metro coaches are being manufactured in Savli, Gujarat. It is a big achievement in the direction of the ''Make in India'' initiative of the government of India. In total, 87 coaches will be delivered to the Agra Metro Rail Project i.e. 29 rolling stocks (Metro Trains) of 3 coaches each."
Kumar added that the trains have been designed for speeds up to 90kmph. "To save time and ensure timely delivery of rolling stocks, UPMRC had done the integrated contract for rolling stock and signalling for Kanpur and Agra Metro Rail Projects," he added.
The public relations office of UPMRC, through a press statement, informed that these coaches are equipped with ATP/ATO (Automatic Train Protection and Automatic Train Operation) mode of train operation which is ultra-modern and almost completely automatic, making the train an 'intelligent mode of transport.
"The cars are equipped with fire-retardant materials having low fire load, low heat release rate, low smoke and toxicity. These Agra Metro Rails will also have emergency evacuation facilities to ensure passengers can get out fast in case of any emergency," the press statement added.
"Metro trains will derive their energy from the third rail running parallel to the tracks. There will be no traditional OHE (Overhead Equipment) which usually gets disrupted due to bird movement, flying of kites, etc. Third Rail System will not pose any of these problems, and train operations will be more efficient," claimed Metro officials.
The metro rail project will be unobtrusive and will blend seamlessly with the aesthetics of the city. The utilities, including wires and duct pipes, will be completely hidden, and this would enhance the aesthetic value of the metro rail system, the press statement further added.
Personalise your news feed. Follow trending topics