Kasganj custodial death case: Victim's father accuses cops of intimidation
Mian said he was threatened by officials that his son's body will not be handed over to him if he spoke against police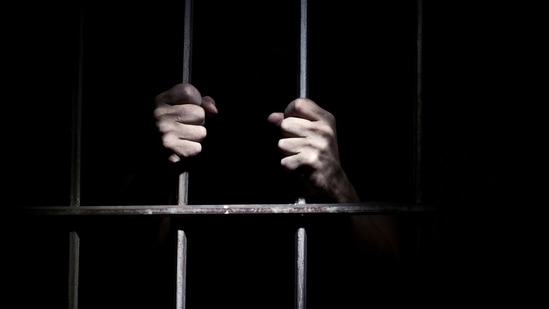 Updated on Nov 12, 2021 03:12 AM IST
The father of a 22-year-old man, who died in police custody in Uttar Pradesh's Kasganj town, denied on Thursday that he had willingly affixed his thumbprint to a document saying his son was depressed and died by suicide.
The 22-year-old, identified as Altaf, was called for interrogation at the Kasganj police station in an abduction case and died on Tuesday evening, with his family members alleging that he was killed by police personnel. But the police claimed that Altaf, who was accused of eloping with a minor Hindu girl, had strangulated himself using a string from his jacket hood in the washroom of the police lock-up
Late in the evening, police produced a hand-written note that absolved the police of all blame in the case. The note, written in Hindi, said Altaf was depressed and had the thumbprint of his father, Chand Mian. Kasganj superintendent of police Rohan Pramod Botre also referred to the note to say that the family had no complaints with the police.
But Mian said he was threatened by officials that his son's body will not be handed over to him if he spoke against the police. "I did what I was told to do by the police," he said.
He said he was illiterate and couldn't read what was written before placing his thumbprint. "I was neither in good health nor in a proper frame of mind when I gave the statement and placed my thumb impression without knowing the content on the paper. Being in an unstable condition, I did what I was asked by the police to do," he said.
Taken aback by Mian's statements, the Kasganj police avoided comment on it. "Better ask father of deceased as to why he is changing his stand from one statement to another. What can police say about this?" stated ASP Kasganj, AK Singh.
Altaf, a resident of Ahroli village of Kasganj district, worked as a tile fixer and was accused on November 8 of abduction and eloping with a minor Hindu girl by her family.
A case was registered at the Sadar Kotwali police station of Kasganj under Sections 363 and 366 (kidnapping, abduction) of the Indian Penal Code against Altaf. Police said he was taken in for questioning on Tuesday morning while family said it was on Monday evening.
"During interrogation, the accused went to the washroom at the police station, where he hanged himself to death from the tap," said AK Singh, additional superintendent of police.
"The accused was wearing a jacket with a hood and used its string which he tied to the tap in the toilet and hanged himself," he added.
Fatima, Altaf's mother, appealed to the government for a fair probe.
"There should be a Central Bureau of Investigation probe into the case as the suicide theory narrated by the police is baseless. In any case, how can a man commit suicide by hanging himself from a 3-ft-high tap. We do not trust the post-mortem report, which cites 'hanging' as the cause of death," said Fatima. HT has a copy of the postmortem report which says there were no injury marks on the body and asphyxiation as the cause of death.
Topics
Close Story