Bio-medical waste incinerator at Govandi adheres to emissions norms, says MPCB
Feb 03, 2023 09:27 PM IST
The quality of emissions from BMC's bio-medical waste incinerator at Govandi has improved substantially since September 2022 when an upgraded air pollution control system was installed, Maharashtra Pollution Control Board (MPCB) has said
The quality of emissions from BMC's bio-medical waste incinerator at Govandi has improved substantially since September 2022 when an upgraded air pollution control system was installed, Maharashtra Pollution Control Board (MPCB) has said.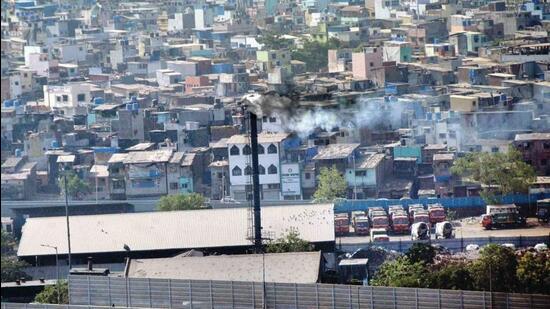 Data shows particulate matter concentration from the waste treatment plant's chimney has reduced from 277ug/Nm3 (micrograms per cubic nanometre of air) in September 2022 to 47ug/Nm3 in December 2022. The standard is 50ug/Nm3. Other key pollutants such as dioxins and furans are also within the permissible limits, MPCB has said in its compliance report sent to Central Pollution Control Board (CPCB) on February 2. HT has a copy of the report.
These assessments were carried out on the heels of multiple complaints by residents of Govandi, who have for years been petitioning authorities to relocate the plant.
"What the MPCB report fails to mention is the illegality of the plant being located in a residential area. So even if the emissions are complying with the CPCB guidelines, the plant cannot be permitted to operate," Faiyaz Alam, activist and founder of Govandi New Sangam Welfare Society, said. As per CPCB criteria, such plants should be located only in industrial zones.
An MPCB regional officer said plans are afoot to relocate the plant this year. "We have submitted a report to CPCB stating that an alternative facility at Khalapur, Raigad, is awaiting environment clearance. We are hoping that by June the new facility will be prepared," the official, who refused to be identified, said.
The Bombay high court had in October last year admitted a public interest litigation petition filed by the Govandi New Sangam Welfare Society seeking action against BMC over its failure to relocate the plant. The petition alleged that emissions from the plant were to be blamed for a high prevalence of tuberculosis cases in the locality. Citing health department data, the petition pointed out that M/E ward had seen 1,877 TB-related deaths since 2013, and reported around 5,000 cases annually.
"There is a direct relation between the emissions and the increase in number of medical cases concerning tuberculosis, heart ailments and other respiratory diseases among those who reside in close proximity to the incinerator. Therefore, in the interest of lakhs of people residing in M/E ward, it is absolutely necessary that (the plant) is permanently closed in an expeditious manner," the PIL has said.