PM Modi to inaugurate Dawoodi Bohra community's Arabic academy in Marol
Feb 01, 2023 11:28 PM IST
Aljamea-tus-Saifiyah, Arabic Academy (also known as Jamea) is a premier educational institute of the Dawoodi Bohra community whose sole benefactor is the 53rd al-Dai al-Mutlaq and head of the community, Syedna Mufaddal Saifuddin
Mumbai: The Dawoodi Bohra community is all set for the inauguration of the fourth campus of their Arabic academy in Marol by Prime Minister Narendra Modi, who has accepted their invitation for the opening ceremony on February 10.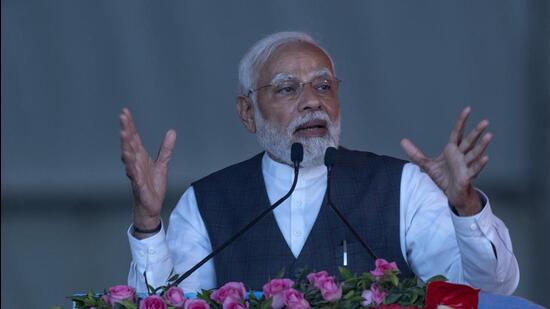 Aljamea-tus-Saifiyah, Arabic Academy (also known as Jamea) is a premier educational institute of the Dawoodi Bohra community whose sole benefactor is the 53rd al-Dai al-Mutlaq and head of the community, Syedna Mufaddal Saifuddin.
Alefiya Murtaza, a former student of the academy, said, "It is considered to be a prestigious academy in the community and I studied there. A lot of people from around the world come to Jamea for the written examination."
This will be the new campus of the academy which will be inaugurated in Marol by PM Modi. Its original campus is in Surat, Gujarat.
Alefiya said that the academy provides a well-rounded education through varied subjects.
"The teachings of our Syednas help us to serve our community and others as well, not just people but also our environment. We prepare ourselves for leadership positions which is a big part of our education here," she added.
There are a variety of subjects offered to the students at the Arabic academy, like Islamic studies, Arabic and English literature, including secondary and higher secondary levels, followed by graduate and post-graduate levels.
First established over two centuries ago in Surat, in 1810, Jamea seeks to prepare young Dawoodi Bohra men and women for leadership positions within society: global citizens who are dedicated to serving others and committed to acting in accordance with the values, principles, and ideals imparted to them over the course of their education.
Jamea has hosted several high-profile guests and dignitaries over the course of its history, including several heads of state.
Pandit Jawaharlal Nehru visited the Surat campus in 1960 during his first visit to the state of Gujarat as Prime Minister. On the occasion of the inauguration of new facilities the following year, he wrote, "I hope that this academy will continue not only to teach the wisdom and culture of the past but also the wisdom and achievements of the present age."
In 1983, the Karachi campus was inaugurated by the President of Pakistan Muhammad Zia-ul-Haq, and in 2017, the President of Kenya Uhuru Kenyatta inaugurated the third campus of Jamea in the capital city of Kenya - Nairobi.
Given the illustrious history of the academy and its prominent stature within the Dawoodi Bohra community, an invitation was extended to Prime Minister Modi, for the official opening of the fourth campus in Marol.