A Calmer You, by Sonal Kalra: Do people keep borrowing your pen?
Stop sulking, and join my mission to put an end to this shameless crime.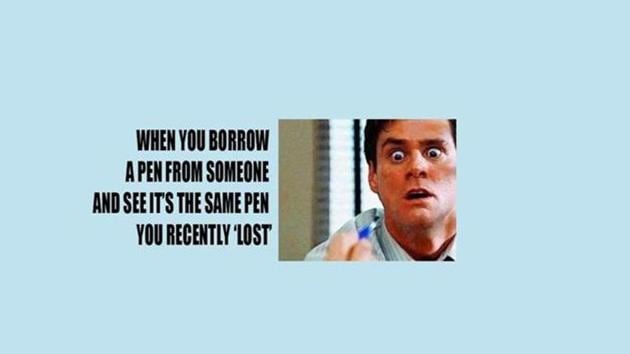 Updated on Apr 27, 2019 04:26 PM IST
There is a special place reserved in hell for those who borrow your pen and do not return it. Please write about such people," says a three-sentence mail from Jayant. The third sentence is, "I can't understand how people can afford a 50K phone in their pocket but borrow a pen from someone each time." Ouch. You know what, Jayant, I so identify with your grouse. I am the managing editor of a national daily. Being a journalist or an editor implies the might of the pen, I would say. And I have not a single pen on my desk as I type this. Sab ke sab chori ho gaye. So as frivolous as it may sound to dedicate an entire column to the plight of those from whom people borrow a pen and never return, I am going to do it. Give me a high five.
Haan, so if you are in the habit of looking around for a pen in someone else's hand each time you need to jot down something or sign a document, listen to me carefully. You are giving pain to someone who may be a pen-lover. You find it funny?...well, there ARE pen lovers in this world. And then, there is a sub category of those who love fountain pens – the ones with a nib. I have a friend who uses a beautiful old-world fountain pen. She clings to her pen as she would to her life, and why not? A lot of editor friends of mine use a fountain pen. It has so much more feel than the terribly tacky ball pen. But when it comes to borrowers, they leave neither the fancy sophisticated one, nor the cheaper, disposable versions. They just take your pen away and do not return it. Sometimes, you can even see them using it for longer than that one episode of shameless borrowing. And as you are about to remind them that the pen is yours, you notice that they have chewed its head and ruined it. Hello? Yuck. Is there a suitable punishment in the Indian Penal Code for such heartless offenders?
I decided to ask around for tips to safeguard our beloved pens from careless stealers, and found such interesting answers. But before that, an interesting observation. Everyone, almost everyone I spoke to claimed to be a victim when it came to the crime of pen-stealing. Everyone cried and said it happens to them. Sochne waali baat yeh hai ki agar sabka pen chori ho raha hai, toh churaa kaun raha hai? Anyway, back to the tips people gave me…
1) Take a permanent marker, and write on the pen 'Stolen from XXX' . Where XXX is your name. Please don't leave it as xxx, lest you get into porn trouble where I won't be able to help yah. The borrower won't be able to use it head held high, and in all likelihood, will return your pen with a gaali or two.
READ | A Calmer You, by Sonal Kalra: To feed or not to feed a stray!
2) Lend the pen without the cap. A lot of people told me that it is a sure shot way to ensure that the borrower doesn't simply put it in his/her pocket and walk away. If they do, a shirt/jeans pocket with a nasty ink stain will forever remind them of the crime. Howzzat!
3) Save your expensive, delicate pen by carrying a cheaper version ball pen with you – just for the purpose of lending it to whoever asks. Thoda punya kamao, you never know kab kaam aa jaye.
READ | A Calmer You, by Sonal Kalra: Take on the stare-o-maniacs
4) If it worries you no end that someone will borrow your fancy fountain pen and end up breaking the nib – which a lot of people do by the way, you can choose to educate them. A friend of mine gives a long lecture on the correct usage of the fountain pen, including a demonstration of the angle at which the nib is to be held – to whoever wants to borrow her pen. I don't know if it is the fear of her demonstration or what, but her plight has significantly reduced, after the word got out that she does lend you a pen, but is super sensitive about how it should be used. Some people call her a bit weird, but I see it as a win for her. In any case, a snooty tag is much better than seeing the bent or broken nib of a nice fountain pen. Any day.
5) Become a human branch of the sarkari bank and tie your pen around your wrist. Maangne waale ke saath saath chale jao. If they want your pen bad enough, they'll get you as a gift.
6) Chew your own pen. People won't take it even if you chase them to lend it. Ha!
Sonal Kalra just bought a Mont Blanc Classique fountain pen for 50,000 rupees. And has applied for a gun license to protect it from borrowers. Maang ke toh dekho. Mail your suggestions at sonal.kalra@hindustan times.com or facebook.com/sonalkalraofficial. Follow on Twitter @sonalkalra
Close Story