How tobacco, death and taxes are intrinsically linked
Updated on May 29, 2017 04:18 PM IST
Tobacco use is killing millions. It's time to connect the dots, improve law enforcement, wean cultivators and users away.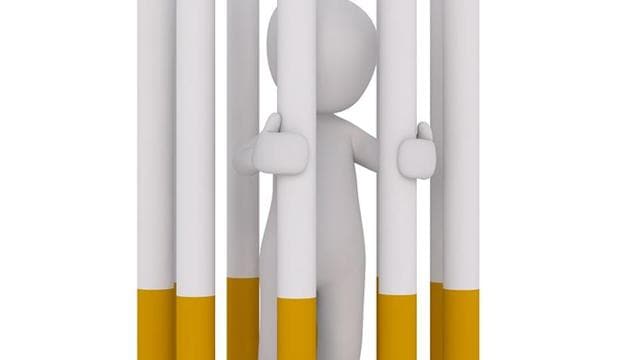 India this week banned food from being served in smoking areas in all restaurants, including hookah bars. Minors will also not be allowed inside smoking zones, which now need to carry a clear Dante-like warning at the door declaring that those entering the fumy room risk health and life.
There's reason for caution. Tobacco killed 6.4 million people in 2015, accounting for 11.4% of global deaths. It's the second biggest contributor to early death and disability, showed data from 195 countries. Smoking also kills those who don't smoke. Exposure to secondhand smoke kills 890,000 non-smokers each year, estimates the World Health Organisation.
Killer crop
That tobacco kills half its users is well established. What has changed over the past two decades is the rising economic and health impact of tobacco use in middle- and lower-income countries.
More than half of all smoking-related deaths in 2015 (52.2%) took place in just four countries — China, India, the US and Russia, reports a study in The Lancet. Based on population growth trends and current smoking patterns, annual tobacco-attributable deaths are expected to cross 10 million in a few decades. This means tobacco deaths will shoot up from 100 million in the 20th century to 1 billion in this century, with most deaths happening in low- and middle-income countries. In India, tobacco caused 1 in 20 deaths in women and 1 in 5 deaths in men in 2010, found a New England Journal of Medicine study that also put the number of adult tobacco-related deaths at 930,000 in one year.
Creating smoke-free spaces at work, at home and in public places is one of the most effective ways of reducing exposure to secondhand smoke. Here's the checklist of actions that further lowers use, addiction and early death.
Increase taxes
The Lancet Commission on Investing in Health identified raising taxes on tobacco as the most important intervention against non-communicable diseases like cancers, heart disease and lung diseases.
Higher taxes push up the price of tobacco products, which forces users to cut down and prevents people who are experimenting with smoking from becoming regular smokers. Smoking rates can be reduced by a third by doubling the inflation-adjusted price of cigarettes, which in many low- and middle-income countries can be achieved by tripling excise tax on tobacco, conclude economists in The New England Journal of Medicine. While it took the US and UK more than 30 years to halve cigarette consumption per adult, France and South Africa used tax increases to do it in less than 15 years.
Raising taxes may lead to smuggling, which has to be stopped with improved policing and international cooperation.
Cessation services
Studies from the UK, US and India show that by middle age, deaths among smokers are two to three times higher than among those who have never smoked. A smoker's lifespan is cut short by about a decade, on average. India needs more cessation clinics at community-health-centre level that, along with internet- and phone-based tobacco quit lines, should be used to help people quit addiction.
Quitting works. Those who have smoked since early adulthood but stop at 30, 40, or 50 gain about 10, 9, and 6 years of life expectancy respectively, as compared with those who continue smoking. As compared to those who continue smoking, people who began smoking as young adults but stopped before the age of 40 avoid more than 90% of the health risks over the next few decades. Even those who stop at 50 avoid more than half the risks!
Plain packaging; advertising bans
The UK, Australia and New Zealand have introduced plain packaging for tobacco products, which is the next step to pictorial warning labels used in India that cover 85% of the principal display areas of tobacco packages. India's bans on tobacco advertising, promotion and sponsorships — two decades ago, India's cricket team was sponsored by a tobacco company — have helped deglamourise smoking and lower use, especially among young smokers.
Alternative livelihoods
India is the world's second-largest producer of tobacco, with 60% of its annual production of 800 million kg being exported. The challenge is to ensure that farmers have viable substitutes for their tobacco crop to ensure they don't lose money when they switch to the cultivation of other cash crops. India took a lead in the inclusion of Article 17 in the World Health Organisation's Framework Convention of Tobacco Control, the world's first public health treaty, which mandates that all countries support economically viable alternatives for workers, growers and sellers.
Enough has not been done to identify alternatives for farmers as well as low-paid workers employed by the bidi and chewing-tobacco industry.
Close Story
Personalise your news feed. Follow trending topics