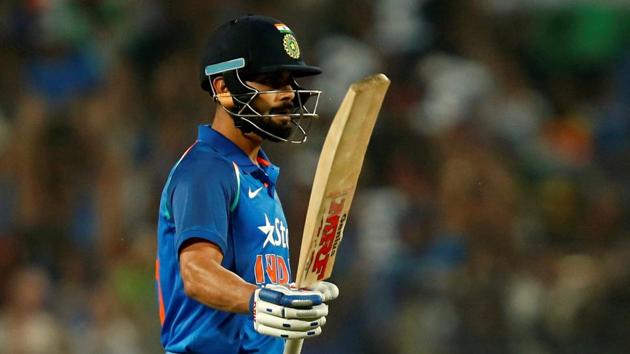 Virat Kohli surpasses Sachin Tendulkar, rallies India to win with 27th ODI ton
Virat Kohli, in his first match as full-time India ODI captain, scored his 27th ton in 93 balls as India successfully chased down England's 351-run target.
UPDATED ON JAN 15, 2017 10:56 PM IST
Virat Kohli has always revelled under pressure. The new Indian ODI cricket team captain not only soaks it but also shows his teammates the way when the chips are down. Against England on Sunday, he proved that once again with his 27th ODI ton. He equalled Sachin Tendulkar's record of 17 centuries while chasing a target, but went one better after taking the number of centuries in a successful chase to 15.
Kohli reached triple figures with a six off paceman Chris Woakes in the 32nd over. He scored the ton in 93 balls and hit four sixes and seven fours. He finally got out for 122 (105b, 8x4s, 5x6s) as India won the match by three wickets.
Kohli, in his first match as full-time limited overs captain of India, was again under pressure when England notched up 350/7 – their highest score in India – in the first of a three-match series. The situation worsened as the hosts were reduced to 63/4 with MS Dhoni, Yuvraj Singh, KL Rahul and Shikhar Dhawan back in the pavilion.
The 28-year-old Kohli saw opportunity in this crisis. Without going into a shell, he kept the scoreboard running at a steady pace and reached the half-century mark in 44 balls.
With Kohli anchoring the innings so well, Kedar Jadhav – batsman at the other end – got the courage to go freely against the England bowlers.
He spared none as he went for the big hits against spinners and seamers alike.
Kohli was involved in a 166-run stand with Jadhav at the time of his century, with the India captain being the lesser contributor (78). The fifth wicket stand ended on 200, when Kohli was caught by David Willey of Ben Stokes.
However, mere numbers can't justify Kohli's innings as he contributed in a greater way to the Indian innings.
The change in gear was crucial as the Indian team needed its most trusted player to stay on the crease for the hosts to chase one of their highest targets. And Kohli's chanceless knock was just helping India do that.
Close