CoA gets proposal for hike in top grade India cricketers' central contracts
Published on Feb 22, 2017 08:42 PM IST
Committee of Administrators (CoA) gets proposal that the top grade of the central contracts be revised from the current R 1 crore to R 5 crore to ensure playing Test cricket continues to be most rewarding despite the riches provided by the Indian Premier League contracts.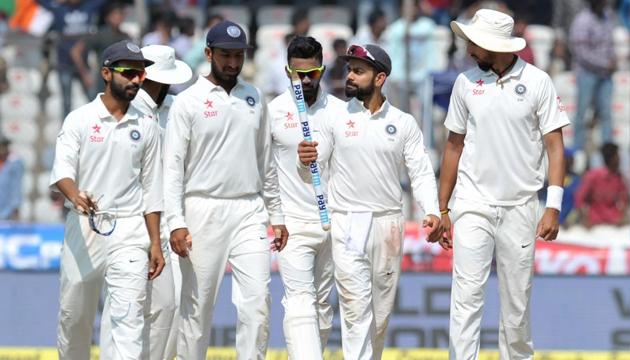 New Delhi |
Press Trust of India
The Committee of Administrators (CoA) has received a proposal to consider a five-fold hike in the central contracts of Indian players with an aim to reaffirm Test cricket's top status among new players who are enamoured by IPL's riches.
Read more | Australia hope to start series on positive note against rampaging India at home
A prominent personality, who has closely worked with the Lodha Committee on the constitutional and structural reforms in the BCCI, has sent a note to the CoA with suggestions that the top grade of the central contracts be revised from the current R 1 crore to R 5 crore.
Read more | Steve Smith hopes Australia stand up even if they don't deliver against India
As of now, the Grade A players get R 1 crore while Grade B and C players get a yearly remuneration of R 60 and 35 lakh respectively excluding their match fees which is R 15 lakh for the first XI men in the five-day games.
Some of the players like Cheteshwar Pujara or Ishant Sharma -- big stars in their own rights -- have gone unsold at the IPL auctions while uncapped players like Thangarasu Natarajan or Mohammed Shiraz got whopping contracts of R 3 crore and R 2.6 crore respectively purely based on T20 skills.
Read more | Virat Kohli warns Australian 'buddies': I know where to draw line of friendship
For the record, Pujara has more than 3000 Test runs with 10 hundreds while Ishant has more than 200 Test wickets.
"It is a novel proposal as it will mean that youngsters who are getting such massive salaries from IPL franchises realise that the real cricket is beyond the R 2 crore that they earn for 45 days. Not every cricketer has multi-million endorsement deals. The real incentive should be playing Test cricket," said a top BCCI source.
Read more | Virat Kohli seeks to deflect focus on him ahead of Australia Test series
Another aspect that has been taken into consideration while preparing the proposal is that not every top Indian player is earning a lot from the endorsement market.
"As a brand, it is Virat Kohli and Mahendra Singh Dhoni, who are marketable stars among the current players as far as TV Commercials are concerned. It is very difficult to find brands consistently for a Pujara or say an Umesh Yadav. But they are performers in their own rights. Not everyone will remain marketable once their 10-15 year career is over. If BCCI is able to provide that cushion, there is no harm," the source added.
Read more | Virat Kohli's India different, we never thought of winning 3-0 or 4-0: Gavaskar
The IPL auction at times has caused a lot of heartburn for established names. The cricketing fraternity were in a state of shock that ICC's World No.1 ranked T20 spinner Imran Tahir went unsold.
While franchises have their business interest in mind when they reject a Pujara, dubbed as Test specialist or Ishant for a high base price, but some are baffled as to how a few of the lesser known players in the R 10 crore bracket get teams.
Read more | Virat Kohli's India best ever, can win 3-0 or 3-1 vs Australia: Virender Sehwag
"There is a Delhi player, who has been picked by Gujarat Lions for R 10 lakh. It's the lowest base price. But this boy has failed to make it to the Delhi T20 playing XI post 2014. So where did he perform and make a case for himself? And what exactly is the message that you are sending to a Priyank Panchal, who has close to 1500 runs this first-class season. You are just bracketing him as a first-class player," a former support staff of an IPL franchise said.
If the COA seriously considers the proposals, some of the longer format specialists will not feel hard done by the big bad world of auction where private entities decide the worth of sportspersons.