Conflict looms between Cricket South Africa and players before MoU expiry
Agence France-Presse, Cape Town |
Agence France-Presse
Apr 19, 2018 07:04 PM IST
The South African Cricketers' Association (SACA) issued a statement on Thursday which contradicted one put out by CSA on Wednesday about the existing player contracts.
Cricket South Africa (CSA) and the country's cricketers appeared to be headed for conflict on Thursday, just 11 days before the expiry of a four-year agreement between officials and players.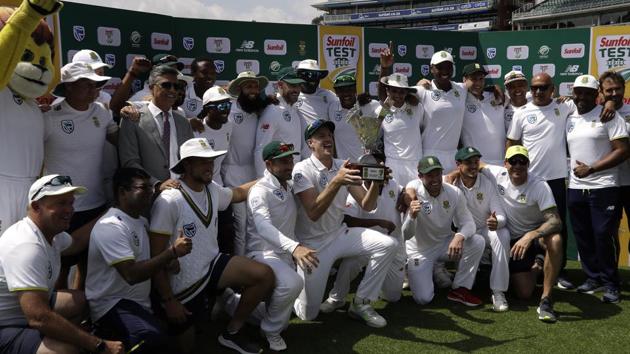 The South African Cricketers' Association (SACA) issued a statement on Thursday which contradicted one put out by CSA on Wednesday.
The official body claimed that it was seeking as a matter of urgency to conclude a new five-year memorandum of agreement (MoU) with the players.
CSA stated that it was willing to extend existing contracts if an agreement was not finalised by April 30, the expiry date of the current deal. It said it planned to have a new agreement in place by July.
READ | CSA wants interim agreement amid contract negotiations with South Africa cricketers
But SACA chief executive Tony Irish responded by saying that CSA's plans had caused consternation among players at a time when retaining players within the South African system was a matter of concern.
"We are both surprised and disappointed that CSA has seen fit to make a public statement announcing plans relating to the MOU without giving us any proper opportunity to respond to, or to deal with, these first," said Irish.
Irish said a suggestion by CSA that there had been negotiations with SACA on the MOU was incorrect. "Negotiations on the key elements have yet to start," he said.
Irish said he was concerned by the "unworkability" of some aspects of proposals by CSA. He said SACA had been trying for three months to engage with the controlling body in order for agreement to be reached by April 30.
READ | Shahid Afridi, Shoaib Malik confirm participation for T20 fundraiser at Lord's
Key elements of the MOU include contracts with national and franchise players, as well as players' commercial rights.
"The delays have created an environment of uncertainty for players and also for franchises who wish to secure their players," said Irish. "This comes at a time when South African cricket needs to do whatever it can to retain its players in the face of competing opportunities afforded to players in the emerging T20 leagues market and also in the United Kingdom."
Tensions between officials and players have been apparent since December when CSA acting chief executive Thabang Moroe said he did not see any need to consult SACA on possible changes to domestic competitions because he regarded SACA as a trade union and not a partner in the game.
In Wednesday's statement Moroe said CSA wanted to restructure the "employer/employee relationship".
READ | Pakistan Cricket Board delegation to visit India for ICC meeting
With revenue sharing likely to be a key sticking point, the potential dispute may be similar to one which led to a stand-off between players and controlling body in Australia last year. It ended with Cricket Australia backing down.
The South African men's team does not have any commitments before July when a tour of Sri Lanka is scheduled but the national women's team is due to tour England in June.