After 45 years, Ian Chappell announces retirement as TV commentator
Updated on Aug 15, 2022 09:09 PM IST
Chappell's legion of fans will miss his commentary style—blunt, incisive and clear about which direction he wants the game to move in.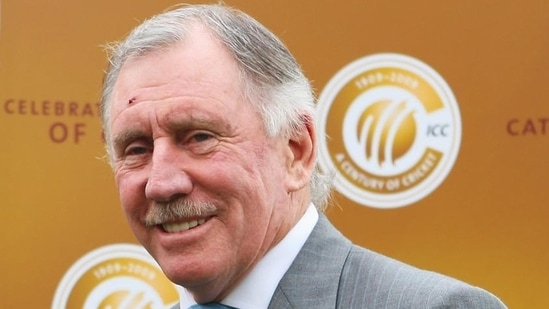 Former Australia skipper Ian Chappell, an influential and a rare forthright voice in cricket, has called time on a four-decade long career as television commentator. The 78-year-old, who was among the great leaders as Australia skipper from 1971 to 1975, told the Sydney Morning Herald that he decided to give up commentary after giving it a serious thought.
"I remember the day when I knew I'd had enough of playing cricket. I looked at the clock and it was five past 11 on a day of play and I thought, 's**t, if you're clock-watching at that time, I have to go'. So when it comes to commentary, I've been thinking about it. I had a minor stroke a few years back and I got off lucky. But it just makes everything harder. And I just thought with all the travel and, you know, walking upstairs and things like that, it's all just going to get harder," Chappell was quoted as saying.
Chappell's legion of fans will miss his commentary style—blunt, incisive and clear about which direction he wants the game to move in. Not for him describing the game like many others, which is also seen as an escape from having to take a firm stand on issues and offend any player or institution.
His media career—he has been a prolific columnist as well in cricket—was shaped as much by the prominent role he played in Kerry Packer's rebel World Series Cricket after his Channel Nine was denied the rights to telecast Australian cricket. Chappell, who retired as an Australia player in 1980, was the last of Channel Nine's four original star commentators.
The leading lights were the man Chappell looked up to, former Australia skipper, the late Richie Benaud, Bill Lawry, who led Australia to the 1969 Test series win in India, and the late Tony Greig.
Chappell, and former West Indies pace legend, Michael Holding, both resisted attempts to control their opinion on air. Cricket fans around the world held them in high esteem because of that. Not one to hold back, he once said Rahul Dravid should understand that cricket was about scoring runs and taking wickets. That was his view on the India batting great's overtly defensive approach early in his career.
He was also blunt in his assessment of Steve Waugh's Australia captaincy. When Waugh was appointed captain in 1999, Chappell said: "I think he's been a selfish cricketer… I've always felt that the things you do as a player leading up to getting the captaincy do have an effect [on] how players perceive you. I've had the feeling that a selfish player when he becomes captain… gets a little less out of his players than someone who is not selfish."
Chappell told SMH that the opinion of another prominent Australian sports commentator had convinced him to give up his TV career.
"I read what Rabbits (great rugby league commentator Ray Warren) said with retirement and it really struck home when I read the bit where he said, 'you're always one sentence closer to making a mistake'."
Chappell isn't concerned how he would be remembered as a commentator.
"It's up to other people to decide what they think of me; some will think I've been all right. Some will think I've been a pr**k. That doesn't bother me one bit."
Personalise your news feed. Follow trending topics