'Hardik needs to focus on his attitude': Former BCCI selector asks Pandya to 'trust your players'
Jan 05, 2023 04:03 PM IST
Hardik Pandya has earned plaudits for the way he has captained the Indian team whenever given a chance.
All-rounder Hardik Pandya has earned plaudits for the way he has captained the Indian team thus far. Pandya led India for a sixth time in the first T20I against Sri Lanka. The team won the match by two runs, thus keeping Pandya's unbeaten run as skipper of the Indian team.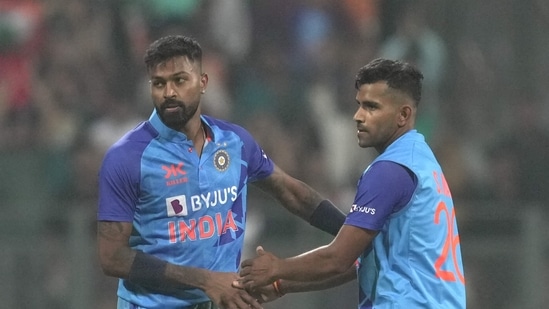 The match against Sri Lanka was also arguably the closest Pandya came to losing a match as India captain and there were moments where he could be seen getting angry at his teammates or letting tension show on his face. Former India wicketkeeper Saba Karim feels that this is an aspect of captaincy that Pandya needs to work on.
ALSO READ | 'India will be in serious trouble if something happens to him...': Gambhir wants backup of Hardik Pandya
"I think he needs to focus on his attitude. Everyone likes him as a player because of his attitude. As a captain, if you show a lot of emotions on the field, players will get fearful. I don't think that's the right thing for a team to grow. You have to trust your players," said Karim on India News.
Karim also said that he liked how Pandya was willing to put his team in a difficult position so as to ready them for similar situations in bigger matches in the future. He was also impressed with how he handled the debutant Shivam Mavi, who ended up getting a four-wicket haul in the match.
"I liked two things about captain Hardik Pandya. He said that he wanted to bat regardless of the toss. It means he knows the challenges ahead; bilateral matches are aside, but you have to learn something in every match and put your team in a tough situation," said Karim.
"The second thing is that debutant Shivam Mavi bowled in the powerplay. It means that, as a captain, he wants to lead by example." India's second T20I against Sri Lanka will be played in Pune on Thursday. A win would seal a series win for the hosts in the three-match series.