In Indian cricket, the skipper is the boss
Jun 21, 2017 10:03 PM IST
A cricket team must function with both the coach and the captain having clearly defined roles. However, the Indian cricket team seemingly has only one true boss - the captain.
If there's one thing that has emerged from the Anil Kumble-Virat Kohli saga, it's that, in Indian cricket, the captain is the undisputed boss. The team was enjoying a dream run, but the manner in which the coach was forced to step down, has left a bad taste in the mouth.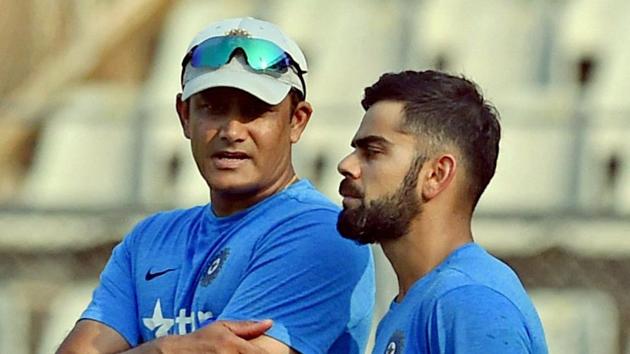 No wonder then that the response has been lukewarm to the BCCI's advertisement inviting applications for the coach's job. They have only one high-profile name – Virender Sehwag. But given how lucrative the post is, some will be tempted to put their reputation on the line. But experts feel it won't be an easy job where the captain will be calling the shots.
READ | Anil Kumble's successor to be appointed before India's tour of Sri Lanka: Rajeev Shukla
"It has set a bad precedent, the next coach has to be very adjusting and careful," Ajit Wadekar, the former India manager and captain, said. "You have to be on the same wavelength as the captain. If you miss that then there is bound to be misunderstanding. With a captain like Virat Kohli, you have to have a diplomatic approach," said Wadekar, before adding that, "Indian cricket is the loser in this. Anil Kumble is a thinker and will always do what is best for the team."
Another former India manager Madan Lal said, "The coach has to be goody-goody, he has to be in the good books of the captain or he will not survive. They need coaches who keep quiet; these things happen with every Indian coach. People like John Wright and Gary Kirsten never spoke a word, they basically handled the 13th, 14th and 15th players and didn't touch others."
READ | India's tour of West Indies 2017: Know the venues
India's spin legend Erappali Prasanna sees no point in having a coach if he is not respected and the role is not defined. "If the captain is the boss and takes the whole responsibility, where's the need of a coach. If the coach's role is not defined and respected, don't see the point in appointing a coach," he said.