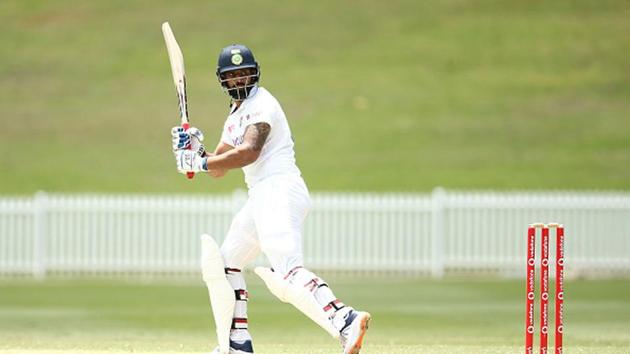 Indians vs Australia A warm-up match Highlights, Day 2: Vihari, Pant tons swell lead for Indians
Indians vs Australia A Day 2 Highlights: Follow highlights the of warm-up match between Indians and Australia A
Hindustan Times, New Delhi | By hindustantimes.com
UPDATED ON DEC 12, 2020 05:12 PM IST
Indians vs Australia A live score: Indians started second innings on day 2 of the pink-ball warm-up game against Australia A. The first day of India's pink-ball warm-up game against Australia A belonged to the bowlers. 20 wickets fell on the first Day as India A drove away the advantage thanks to all-round show from Jasprit Bumrah. He scored his maiden fifty in any format to take India A to 194 batting first and then picked up a couple of crucial wickets. Mohammed Shami and Siraj picked up three wickets apiece as Australia A were bowed out for 108.
Follow India A vs Australia highlights Day 2 here:
Stumps on Day 2! Incredible as it may sound, but Rishabh Pant has scored completed his century off the final ball of the day. He smacked 22 runs off the final over to finish on 103 at stumps. His partner Hanuma Vihari remains not out on 104 as the Indians end the day with their score reading 386/4, with a lead of 472 runs over Australia A. That's all for us today. Join us back tomorrow for the final day of this warm-up game.
Boundaries galore for Rishabh Pant and Indians. Six fours and six sixes for him as he fancies his chances to score a century today.
Century for Hanuma Vihari! He guides the ball through the vacant mid wicket region to complete a double, which brings up his hundred.
Six overs remain! Hanuma Vihari has hardly received strike in the last 5-6 overs or so. Rishabh Pant on the other hand has gone bonkers at the other end.
Fifty for Pant! A cracking square cut and the ball thuds into the fences. With that, it's a half-century for Rishabh Pant
Vihari approaching his century! Pant has hit the ball well and moved to 48 off just 36 balls with four sixes and two fours. Indians 318/4 with a lead of 404 runs.
Play has resumed after the rain delay. Rishabh Pant and Hanuma Vihari will resume Indians' innings under lights.
Rain has stopped play in Sydney with the Indians on 249/4. Lead is by 335 runs
OUT! Rahane goes. Steketee gets his wicket for 38 to leave India to 239/4
FOUR! The final session is underway and the first boundary of the session is hit by Ajinkya Rahane. He moved to 35 with the help of his 5th four. India 233/3 as the lights are on and it begins to get really overcast in Sydney.
Tea on Day 2: Indians 222/3 at the end of second session (Vihari 52*, Rahane 26) and have attained a lead of 303 runs over Australia A. Join us back for the final session shortly.
Fifty for Hanuma Vihari! This is his best returns of the tour. After falling cheaply in the first innings, Vihari has brought up his half-century off 98 balls through a boundary through deep midwicket. The partnership between him and Rahane is 47 off 78.
200 up for India! Half-volley from Steketee and Vihari eases into an on drive for his sixth boundary. Rahane is batting on 16, all of his runs so far have come in fours, Indians' lead is a commanding 286.
Boundaries to Rahane and Vihari! Ajinkya Rahane has walked out to bat looking confident. The Indian captain has driven a boundary to get off the mark, followed by a crisp slash through the covers by Hanuma Vihari. India scoring at a healthy rate of 3.79 to reach 178/3, lead by 264 runs.
OUT! Agarwal cannot believe it. He's smashed the ball from Wildermuth to deep point. Agarwal is having troubling assessing that he found the fielder in the deep there. Wide ball, outside off and Agarwal could have hit it anywhere on the off side but he finds Rowe. He goes for 61.
Swepson troubling with his spin! Leg-spinner Mitchell Swepson is in the middle of a fine spell here. There's just about enough turn to beat the batsmen outside the off-stump. Agarwal is looking good. He nicked a ball in the previous over but the ball landed short of the fielder at second slip.
FIFTY for a Mayank Agarwal! Beautiful shot from Agarwal. Just a tad shot from Swepson , that's generally his length and Agarwal taps the ball fine for a four and brings up his half-century. What a time to get among the runs. Indians 136/2
Mayank gets a life! It was a very difficult but would definitely go down as a chance at this level. Sutherland got that one to bounce off length and Mayank Agarwal who was already through with the shot could not keep it on the ground. Nic Maddinson at Gully dived to his left, got a hand to it but could not manage to hold on.
Day 2, session 2: Mayank Agarwal and Hanuma Vihari make their way out into the centre. They would look to take India A's lead past 300 and then have a crack at Australia A.
End of 1st session on Day 2: That's the end of the first session of Day 2. India have strengthened their grip on this match thanks to a fluent 65-run knock by Shubman Gill. Indians are at 11 for 2 now with Mayank Agarwal and Hanman Vihari at the crease, lead Australia A by 197 runs.
Hanuma Vihari is the new man in for India
OUT! The bowling change works for Australia A! A wicket against the run of playa and it's the big one of Shubman Gill who looked set for a big one. Swepson has struck for Australia A. It was a flatter delivery from Swepson, Gill played on the backfoot but it snuck through quickly and got just a faint inside edge perhaps. Gill did not look happy.
FOUR! A full toss from Mitch Swepson and Shubman Gaill takes full advantage of it. He hits over mid wicket to collect another boundary. Indians 108/1
Indians inching towards 100! This has been solid partnership between Mayank Agarwal and Shubman Gill and what has been impressive is the fact that both these batsmen have mixed caution with aggression unlike the first innings where they were overly aggressive. Indians 96/1 after 21 overs (Gill 56, Agarwal 32).
FIFTY for Shubman Gill! A classy cover drive and it just has enough to beat the fielder. What a way to bring up your half-century. Shubman Gill is looking a million dollars. Indians 78/1 in 16 overs.
Flurry of boundaries from Gill's bat: Gill has started from where he left off in the first innings. Some delightful stroke both off the front and backfoot by the youngster. He needs to make it count. If he gets a big one today it will enhance his chances of making a Test debut.
Gill, Agarwal steady India: After the early wicket of Prithvi Shaw, Shubman Gill and Mayank Agarwal have steadied the Indian innings.
Mayank Agarwal walks in at No.3 for the Indians!
Another failure for Prithvi Shaw! Not the start India were hoping for and certainly not the way Prithvi SHaw would have liked his warm-up game to end. No real movement from Steketee but Shaw looked to play an uppish drive and to provides a simple catch. Shaw goes for 3. India 4/1.
Shubman Gill and Prithvi Shaw walk out to open the batting for Indians in their second innings. Both these openers will be hungry for runs considering this is their last chance to stake a claim for that opener's slot for the first Test.
Hello and welcome! to the live updates of Day 2 of the Indians vs Australia A second warm-up game ahead of the Border-Gavaskar Trophy.
Close