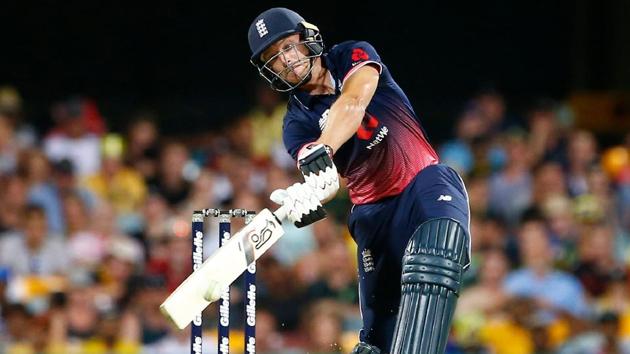 Jos Buttler dubs T20 Internationals superior to Franchise based tournaments
Jos Buttler believes playing for one's country in a T20 International is a cricketer's ultimate inspiration and that cannot be compared to the numerous league around the world.
Mumbai | By HT Correspondent
PUBLISHED ON FEB 27, 2018 12:57 PM IST
Franchise based T20 leagues have become a rage in the recent years with a number of cricketers taking retirement from international cricket to focus on cash-rich leagues taking place around the world.
However, England wicketkeeper-batsman Jos Buttler believes that International T20s deserve to be given priority over domestic leagues. In his view, international games still remain the ultimate source of inspiration for a cricketer from across the world.
Buttler's comments are in sharp contrast to the views of England coach Trevor Bayliss, who had recently said that T20 Internationals should be played only ahead of T20 World Cups for preparatory purposes.
READ | Jason Holder delighted to have Chris Gayle in the squad for World Cup qualifiers
"I wouldn't be a fan of that. I don't think that's the right way to go," he said. "I think T20 cricket is so strong, then surely the pinnacle - as it would be for guys wanting to play Test match cricket - should be playing for your international side," Buttler was quoted as saying by ESPNCricninfo.
"I think for a professional cricketer, in any form of the game, your aspirations are always to represent your country," he added.
The 27-year-old, who had earlier predicted T20 format to become the only format in cricket in 20 years, said efforts should be made to organise more than one-off T20 games on international tours.
"Some tours where there have been three T20s and three ODIs have been a really enjoyable split from the players' point of view, it gives both formats relevance and competition. If you're just going to play one T20 thrown on the end, it almost doesn't seem like there's much on it or much point to it."
READ | Pakistan fast bowler Rumman Raees reveals his 'dream' encounter with Virat Kohli
Buttler's team-mate and England captain in limited overs cricket, Eoin Morgan, had earlier said that to save Test cricket it was important to pay Test cricketers as much money as players would get in T20 leagues. While endorsing his skipper's views, Buttler said that it comes down to players' personal choices.
"There's nothing wrong with people being Test match specialists either," Buttler said. "There is no reason why a young player couldn't say 'I am going focus all my ambitions and efforts to be a Test match cricketer'.
"I think it comes down a little bit to what you're trying to get from the game and how you see yourself fitting into it. It may not be possible to do all three, but there's no reason why people can't specialise in red-ball cricket as well as white-ball."
Close