IPL 2018 highlights, Kings XI Punjab vs Kolkata Knight Riders: KKR beat KXIP win by 31 runs
Highlights of the IPL match between Kings XI Punjab vs Kolkata Knight Riders, are available here. Kolkata Knight Riders beat Kings XI Punjab by 31 runs to remain in contention for a playoff spot in IPL 2018.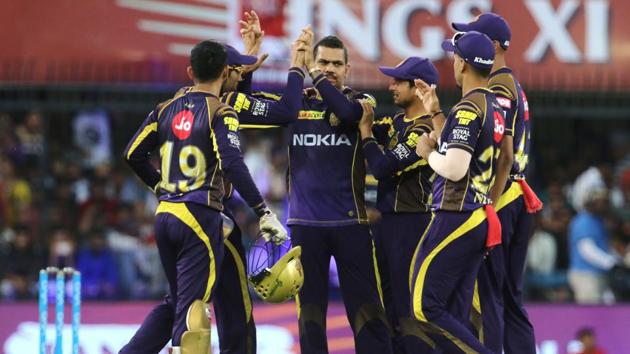 Updated on May 12, 2018 08:03 PM IST
Hindustan Times |
Himanshu Dhingra
Kolkata Knight Riders delivered a comprehensive performance to beat Kings XI Punjab by 31 runs in an IPL 2018 match at the Holkar Cricket Stadium in Indore on Saturday. Andre Russell and Sunil Narine delivered with both bat and bowl while skipper Dinesh Karthik struck an impressive half century to power KKR to the highest score in this year's IPL. In reply KXIP were never in the running to chase down the mammoth total. In-form batsman KL Rahul and charismatic opener Chris Gayle started well but soon succumbed to the increasing rate. Andre Russell took three wickets while young quickie Parisdh Krishna took two wickets. Get highlights of Kings XI Punjab vs Kolkata Knight Riders, IPL 2018 match here.. (LIVE SCORECARD |STREAMING INFO)
19:40 hrs IST: That's It! KKR win the match against KXIP by 31 runs to jump to the fourth spot in the IPL table.
19:35 hrs IST: Andre Russell concedes 18 runs off his last over, but it won't make much of a difference to the result of the match. KXIP 208/6 after 19.
19:30 hrs IST: Both teams just going through the motions, the result has been a formality for a long time now. KXIP looking to make sure that their run-rate is not badly damaged. KXIP 190/6.
19:23 hrs IST: The effort from Ashwin and Tye will at least make sure that the KXIP run rate is not as badly damaged as it might have been. Eleven runs of the 17th over. KXIP 181/6
19:22 hrs IST: KXIP just keep swinging and some come off and others don't two sixes came after the wicket of Finch in the sixteenth over. KXIP 170/6.
19:14 hrs IST: Aaron Finch, Punjab's last hope of maybe, just may be getting to the target is gone now. He tries to lap but is caught at short fine-leg. KXIP 156/6.
19:09 hrs IST: Two sixes by Finch off Kuldeep yadav over mid-on and midwicket but it may be two little too late for KXIP. KXIP 141/5 after 14.
19:06 hrs IST: Ashwin and Finch struggling to get boundaries away, the 13th over yielded just ones and twos. KXIP 126/5
19:02 hrs IST: Kuldeep Yadav comes into the attack and strikes, Axar Patel is caught on the boundary. KXIP just have to keep going. KXIP 119/5 after 12.
19:00 hrs IST: Just four singles off Sunil Narine's over, It looks like that both teams are just going through the motions as the result now looks like a formality. KXIP 105/4 after 11 overs.
18:55 hrs IST: KXIP need a lot more than just eight runs an over that thet got in the 10th over to have any chance of making it over the line. KXIP 101/4 after 10.
18:49 hrs IST: This is probably a blow that seals KXIP's fate. KL Rahul is bowled by Narine and it is hard to see a way back for Punjab from here. KXIP 93/4 after nine.
18:47 hrs IST: OUT! Andre Russell gets another, Karun Nair departs caught at long-on. KXIP 79/3.
18:39 hrs IST: KXIP are almost level with where KKR were at the seven over mark but there is still a long way to go.
18:32 hrs IST: And another one! Russell gets two in two. Mayank Agarwal holes out to square-leg and KXIP are in trouble . KXIP 58/2 after the powerplay.
18:28 hrs IST: Huge wicket! Gayle top edges a pull to Karthik and KXIP lose their best bet to chase down this total. KXIP 57/1
18:25 hrs IST: Are KXIP waiting for spinners to come into the attack as they have slowed down slightly in the last two overs. Just eight runs come off the fifth over. KXIP 51/0
18:21 hrs IST:Chris Gayle dropped by Dinesh Karthik of andre Russell! How crucial is it going to be ? KXIP are not letting the required rate get out of hand. KXIP 43/0 after four.
18:13 hrs IST: KL Rahul is looking in top form, he is striking at over 200, while Gayle is taking his time. Overall it is a very good start by KXIP. KXIP 36/0 after three overs.
18:05 hrs IST: Good over by Prasidh Krishna in the context of the match. He concedes just eight runs off the over which included a streaky boundary. KXIP 23/0
18:01 hrs IST: KXIP have begun the right bay in chasing down this total, Rahul deposits Narine for two sixes in the over. KXIP 15/0.
17:45 hrs IST: KKR have totally demolished the KXIP attack to post a score of 245 in their alloted 20 overs. It would take something magical for KXIP to haul this down. Brilliant batting by Narine and company.
17:40 hrs IST: No matter what KXIP do they just can't stop the flow of runs. If it's not the middle of the bat, it's edges. KKR 229/5 after 19.
17:32 hrs IST: Nitish Rana falls in search fro quick runs, but not before he struck a four and six in a quick-fire 11. KKR 218/5
17:25 hrs IST: OUT! a bit of a relief as Andre Russell departs but the over still yielded 15 runs. KKR won't be slowing down they will continue their march to a big-big total. KKR 205/4 after 17.
17:19 hrs IST: Another big over, 21 runs off Mujeeb's comeback over, time to take cover if you are in the crowd. Both batsman looking for maximums now. KKR 190/3 after 16. 250 is on the cards.
17:12 hrs IST: Both Karthik and Russell are warming to the task and are hitting boundaries at will, 19 runs off the 15th over, KKR look on course for a humongous total. KKR169/3 after 15.
17:12 hrs IST: Time for KXIP to squeeze in some quiet over as Karthik and Russell get their eye in, KKR will be looking to smash past 200 run mark. KKR 150/3 after 14 overs.
16:59 hrs IST: Another one gone! Tye this time gets Uthappa KXIP are fighting back. KKR 128/3
16:58 hrs IST: OUT! Much needed breakthrough for KXIP. AJ Tye strikes for the second time in the match and it's danger man Sunil Narine that departs. KKR128/2.
16:52 hrs IST: A very poor over by Barinder Sran, he is being dismantled by Sunil Narine. KXIP bowling line up needs to up their game especially if Mujeeb is unable to take any further part in the game. KKR 123/1 after 11 overs.
16:47 hrs IST: Robin Uthappa is now starting to get going, him and Sunil Narine couls spell trouble for KXIP. The Punjab side needs a wicket desperately. KKR 106/1 at the half way stage.
16:37 hrs IST: KKR look on course for a huge score, Sunil Narine looking good for a big score. KKR 71/1 after seven.
16:33 hrs IST: KKR are dented, they lose their first wicket Lynn is clean bowled by AJ Tye. KKR 59/1 after six overs.
16:28 hrs IST: Not a very good start by Barinder Sran either, both Lynn and Narine have got stuck into him. KKR 47/0.
16:24 hrs IST: Not a very good start for Ashwin as he struck for a four and six off his four balls, KKR 32/0.
16:20 hrs IST: Mujeeb is struck on his right hand and has gone off the field, captain Ashwin will complete his over.
16:15 hrs IST: Good tight over by Mohit Sharma, he concedes just four runs off the third over. KKR 19/0.
16:11 hrs IST: Mujeeb joins the attack from the other end. Six runs from his over. KKR 15/0.
16:04 hrs IST: A couple of boundaries by Chris Lynn off Mohit Sharma in the opening over. KKR 9/0.
15:55 hrs IST: Javon Searles has replaced Tom Curran in the KKR squad. KXIP make three changes.
15:45 hrs IST: A win today for KXIP will put them on the brink of the IPL 2018 play-offs, while that for KKR will make things very tight, in terms of the top four race.
15:30 hrs IST: Hello and welcome to our live coverage of Kings XI Punjab vs Kolkata Knight Riders. KXIP have won the toss and opted to bowl.
KXIP won five of their first six matches but have found the going tough since returning from a week-long break.
They have lost three of their last four matches but are in a better position as compared to KKR, who need to win their remaining three games to seal a place in the last four.
The Knights have conceded more than 160 in eight of their 11 games this season.
Their first encounter against KXIP this year turned out to be a nightmare as Chris Gayle and KL Rahul smashed 116 inside 10 overs to help their team register a nine-wicket win in a rain-curtailed match at the Eden Gardens.
Close Story