IPL 2018, highlights, Royal Challengers Bangalore vs Sunrisers Hyderabad: RCB beat SRH by 14 runs
Get live cricket score of Royal Challengers Bangalore vs Sunrisers Hyderabad, IPL 2018 match here. RCB beat SRH by 14 runs in a high scoring IPL encounter.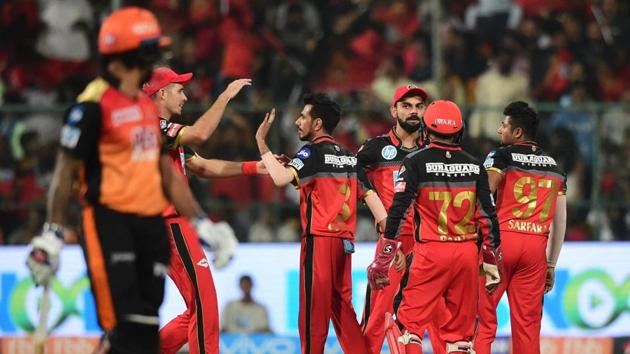 Updated on May 17, 2018 11:55 PM IST
Hindustan Times, New Delhi |
Himanshu Dhingra
Kane Williamson and Manish Pandey's half centuries went in vain as Royal Challengers Bangalore beat Sunrisers Hyderabad by 14 run in a high scoring IPL encounter on Thursday.SRH were always up against it chasing 219 in 20 overs but kept the fight going till the end. Yuzvendra Chahal was RCB's best bowler giving away just 28 runs and picking up the wicket of danger man Shikhar Dhawan. Earlier, Moeen Ali and AB de Villiers both scored half centuries and put on a 100 run stand to take RCB to a total of 218/6 in their allotted 20 overs. Colin de Grandhomme also chipped in a quickfire 40.Basil Thampi conceded the most runs in a four over spell in IPL history giving away 70 runs. The record was previously held by Ishant Sharma playing for Sunrisers against Chennai Super Kings. Get highlights of Royal Challengers Bangalore vs Sunrisers Hyderabad, IPL 2018 match here (LIVE SCORECARD | LIVE STREAMING INFO) (IPL 2018 FULL COVERAGE)
23:39 hrs IST: That's It RCB hold their nerve to win by 14 runs. Mohammed Siraj with an excellent last over in which he also took the wicket of Kane Williamson.
23:30 hrs IST: It's all come down to the last over, 20 runs needed from the final 6. Can SRH chase it down? Can RCB defend it? or will ot be a super over?
23:24 hrs IST: SRH are still in it, just about! SRH need 35 runs from last two overs, RCB are favourites as things stand but you can't rule SRH out.
23:18 hrs IST: This over may have sealed the fate of the match Tim Southee with brilliant yorkers concedes just six and the equation becomes really tough. SRH 170/2
23:12 hrs IST: From nowhere SRH have closed in on the target, RCB need to win this game to be in the hunt for a playoff spot. It could go either way this game.
23:05 hrs IST: Finally something for SRH fans to shout about. Colin de Grandhomme is plundered for 22 runs in the over and the equation seems a bit more manageable now. SRH 152/2
23:04 hrs IST: Even though Kane Williamson is doing his utmost to get SRH as close as possible, Manish Pandey looks in a rut. He has scored just six runs off 12 balls. SRH 130/2
22:54 hrs IST: Eleven runs come off the over but SRH need more they are running out of time and balls to chase this down. SRH 105/2 after 12.
22:50 hrs IST: Just three runs off Chahal's over, required run rate now very close to 14 and it's getting into improbable territory. Something remarkable needed.
22:45 hrs IST: Finally a big over for SRH, Kane Williamson takes Moeen Ali for two boundaries and a six in the over. SRH need more of the same if they are to make a decent fist of it. SRH 91/2
22:41 hrs IST: Ten runs off the over, but SRH need more than that to chase the RCB total down. SRH 74/2
22:37 hrs IST: OUT! ABSOLUTELY SPECTACULAR from AB DE VILLIERS! He takes a stunner on the midwicket boundary to get rid of Alex Hales. SRH 64/2 after 8
22:30 hrs IST: Umesh keeps score down to four in that over, required run rate is now over 12, SRH need to start going for it now or it will be too late. SRH 60/1.
22:26 hrs IST: Powerplay is over and SRH are 56/1, in terms of runs they are there and thereabouts but there is a still a long way to go. Get a feeling RCB's spin could play a crucial role here.
22:23 hrs IST:Out! Dhawan departs, in-form leftie is caught and bowled by Chahal for 18. SRH 47/1
22:22 hrs IST: Finally some impetus is provided to the SRH innings, Siraj is plundered for a six by Hales and Dhawan. SRH 47/0
22:16 hrs IST:Chahal into the attack and both Hales and Dhawan try to go after him but no luck. super bowling by the leggie in powerplay overs. SRH 32/0.
22:10 hrs IST: Alex Hales tries the long handle, hits a four and a six in the over. is almost caught by Southee on the boundary but third umpire rules it not out. SRH 28/0 after 3
22:05 hrs IST: Relatively quiet start for SRH, the run rate is over 11 now, Sunrisers can't dwell too much here. SRH 17/0 after 2
21:42 hrs IST: Like previous few overs another big over for RCB. 10 runs come off it and the Challengers finish with a mammoth score of 218/6 in their alloted 20 overs.
21:37 hrs IST: Basil Thampi concedes 19 runs in his last over to become the bowler with worst figures in IPL history, previous worst was by Ishant Sharma for sunrisers against Chennai Super Kings. RCB 208/5.
21:28 hrs IST: Despite a wicket in the over, it is another big over for RCB with 13 runs coming off the 18th over. SRH need to keep the lid on things. RCB 189/5
21:28 hrs IST: OUT Mandeep is caught by Shikhar Dhawan! RCB 176/5
21:25 hrs IST: Colin de Grandhomme looking dangerous, he hits Shakib for a six on the last ball of his spell.RCB poised for a final push here. RCB 176/4.
21:21 hrs IST: Fourteen runs off Basil Thampi's over, Colin de Grandhomme swinging from the off here, a six and four of the over. RCB 163/4 after 16.
21:12 hrs IST: Out! that's two big wickets in the over, Both Moeen Ali and AB de Villiers are scalped by Rashid Khan and the RCB juggernaut is halted. RCB 149/4
21:08 hrs IST: Big overs keep on coming for RCB, 14 runs off the 14th over. 100-run partnership between Ali and De villiers.
21:04 hrs IST: RCB have picked up the pace here, Both De Villiers and Ali are hitting fours and sixes at will. SRH treading dangerous waters here. A score of 200+ is on the cards here. RCB 130/ 2 after 13.
20:52 hrs IST: Another over where a boundary is struck, A six coming off Rashid Khan. RCB picking up the pace here and they need to. RCB 94/2
20:48 hrs IST: Unlucky there for Shikhar Dhawan and Sandeep Sharma, Moeen is caught but Dhawan can't keep his balance and crosses the boundary. RCB 84/2.
20:44 hrs IST: SRH are bowling really well. RCB haven't really gotten away from SRH here. RCB 73/2.
20:33 hrs IST: Rashid Khan is bowling very well here. He could easily have picked up a wicket in the over but luck is not on his side. RCB 51/2.
20:30 hrs IST: Five runs in the last over of the powerplay. RCB 44/2. AB de Villiers looks like the big wicket at this point of time. As other batsmen struggle, he looks serene.
20:19 hrs IST: OUT! and it's a massive wicket! Virat Kohli is castled by Rashid Khan for 12. Big wicket this. RCB 38/2
20:16 hrs IST: Good over for RCB again and it's that man AB de Villiers again. SRH need to be careful with Kohli and AB, they could soon take the match away from them RCB 34/1.
20:11 hrs IST: RCB with AB de Villiers are fighting back, The South African has already hit five boundaries.
20:07 hrs IST: Good second over for RCB, Ab de Villiers smacks Shakib Al Hasan for two boundaries to ease some pressure. RCB 17/1
20:04 hrs IST: Out! Parthiv Patel is gone in the very first over. A top edged hook is caught at the third man boundary by Sidharth Kaul off the bowling of Sandeep Sharma. RCB 6/1
19:59 hrs IST:Parthiv Patel and Virat Kohli to open the batting for RCB, Sandeep Sharma to bowl the first over
19:50 hrs IST: Sunrisers Hyderabad (Playing XI): Shikhar Dhawan, Alex Hales, Kane Williamson(c), Manish Pandey, Deepak Hooda, Shakib Al Hasan, Shreevats Goswami(w), Rashid Khan, Siddarth Kaul, Sandeep Sharma, Basil Thampi
19:36 hrs IST:Royal Challengers Bangalore (Playing XI): Virat Kohli(c), Parthiv Patel(w), Moeen Ali, AB de Villiers, Mandeep Singh, Sarfaraz Khan, Colin de Grandhomme, Tim Southee, Umesh Yadav, Mohammed Siraj, Yuzvendra Chahal
19:33 hrs IST: One change for SRH, Basil Thampi in for Bhuvneshwar Kumar. RCB have the same team that dismantled Kings XI Punjab.
19:32 hrs IST: Virat Kohli syas he wanted to bowl first as well.
19:30 hrs IST:As has been the norm, team winning the toss ops to field first. SRH have done the same.
19:27 hrs IST: Pitch looks very dry but it's quite hard. Spin or pace with the new ball?
19:25 hrs IST: SRH have won seven of the eleven games against RCB in IPL.
19:15 hrs IST: Toss will be crucial, more often than not team that has won the toss has opted to bowl first, will that change today or remain the same? Find out in 15 minutes.
19:05 hrs IST: Intriguing battle lies ahead as the likes of Virat and De Villiers face what has so far been the best bowling attack of the IPL 2018.
19:00 hrs IST: It's a must win match for Royal Challengers Hyderabad while Sunrisers are assured of a place on the top two in the IPL table.
18:53 hrs IST: Hello and welcome to the live blog of IPL match between Royal Challengers Bangalore and Sunrisers Hyderabad.
Royal Challengers are overtly dependant on skipper Virat Kohli and South Africa's AB de Villiers. The two have combined to score nearly half of the team's total runs this season but the side needs bigger contributions from the likes of Moeen Ali and Corey Anderson.
Kohli has scored 514 runs from 12 games while de Villiers has managed 358 runs in nine games.
On the bowling front, pacer Umesh Yadav has delivered for RCB, taking 17 wickets so far.
Sunrisers, on the other hand, depend quite a lot on opener Shikhar Dhawan and skipper Kane Williamson. What has been truly outstanding for the 2016 IPL champions is their diverse bowling attack.
Bhuvneshwar Kumar has been backed up by Siddarth Kaul (13 wickets), Sandeep Sharma (8), leg-spinner Rashid Khan (13) and Shakib-Al-Hasan (12).
Close Story