Rahul bhai said 'JD, this is one of the most...': Unadkat's priceless '30-second talk' with Dravid before India comeback
Jan 20, 2023 12:45 PM IST
Of the many people Jaydev Unadkat thanked, he was especially grateful to Rahul Dravid, who in these last 12 years, went from becoming his teammate to coach.
It took 12 years for Jaydev Unadkat to play his second Test for India after making his debut way back in 2010. The 31-year-old left-arm quick from Saurashtra was just 19 when he earned his India cap in South Africa under the captaincy of MS Dhoni, and although he went wicketless in India's only innings with the ball in Centurion, no one would have thought that it would take Unadkat more than a decade to next feature in an India Test XI. Unadkat, who for years has toiled in the domestic circuit for Saurashtra, conjuring one brilliant season after the other, had been knocking on the doors for long, before his dream finally came true in the Mirpur Test against Bangladesh.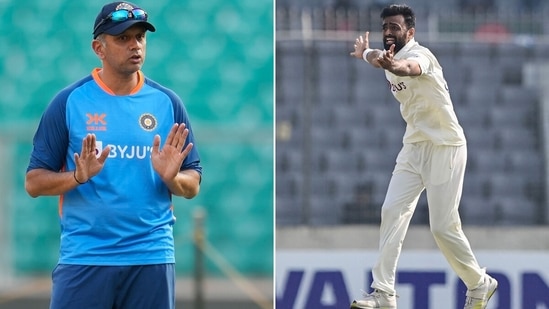 Of the many people Unadkat thanked, he was especially grateful to Rahul Dravid, who in these last 12 years, went from becoming his teammate to coach. Moments before the toss, Unadkat recalled how much pride he took in all the congratulatory messages that came his way, and mentioned a special yet short chat with Dravid.
Also Read: 'Arshdeep completely lost it...' - Brett Lee's blunt take on India pacer's 'embarrassing' no ball show, offers advice
"Everyone congratulated me, saying that it was well deserved. And even though it was repetitive I still felt a little sense of pride every time I heard that, that you deserve this call-up. On the day when the Test was starting, Rahul bhai told me in the morning: 'JD, you are a part of the XI. And this is probably one of the most well-deserved call-ups that you have got. Be very, very proud of it and enjoy your time out there in the middle.' It was just a 30-second talk," Unadkat told ESPNCricinfo.
Not only did Unadkat once again realise his dream of playing for India, he made his return count by picking up three wickets in the first innings. He dismissed Zakir Hasan with an absolute unplayable ripper to pick up his maiden Test wicket and went on to remove Mushfiqur Rahim to go with Shakib Al Hasan's prized scalp in the second innings. The BCCI chairman of selectors Chetan Sharma too had a role to play in Unadkat's big day.
"Chetan [Sharma] bhai called me and said, you don't have to go to the Ranji Trophy game, you will have to join Test squad. It was a simple call where he just told me that I'd have to pack my bags for Dhaka," Unadkat added.
"I was just thankful in that moment. I went into that trance mode, where everything becomes blurry and you just sort of enjoy the moment. We were in a car and I was with Rinny [wife], my sister and my brother-in-law, so there were screams and joy and ecstasy, which made it even more special."