South Africa vs Bangladesh, ICC World Cup 2019 Highlights: As it Happened
South Africa vs Bangladesh highlights: Bangladesh began their ICC World Cup 2019 campaign with a 21-run win over South Africa at the Oval. Bangladesh posted their highest one-day international total of 330 for six, with Mushfiqur Rahim (78) and Shakib Al Hasan (75) putting on 142 before Mahmudullah added late impetus with an unbeaten 46. Bangladesh then restricted South Africa to 309 for eight with fast bowler Mustafizur Rahman taking three wickets.(Full scorecard)
Follow South Africa vs Bangladesh World Cup 2019 match highlights here: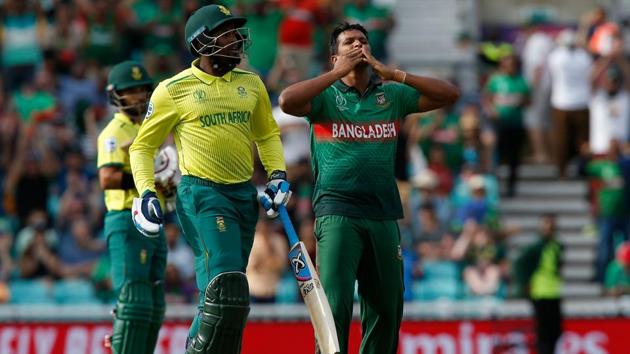 Updated on Jun 03, 2019 10:06 AM IST
23:13 hrs IST
Tough Times
This the first time in their #CWC history South Africa has managed to lose the first two games in a CWC edition.#BANvSA #SAvBAN #CWC19 #CWC2019

— Mohandas Menon (@mohanstatsman) June 2, 2019
23:02 hrs IST
Bangladesh win!
Bangladesh began their World Cup campaign with a 21-run win over South Africa at the Oval on Sunday.
The Tigers posted their highest one-day international total of 330 for six, with Mushfiqur Rahim (78) and Shakib Al Hasan (75) putting on 142 before Mahmudullah added late impetus with an unbeaten 46.
Bangladesh then restricted South Africa to 309 for eight with fast bowler Mustafizur Rahman taking three wickets.
22:45 hrs IST
The Fizz strikes
Looks like that is the end of South Africa's hopes. JP Duminy knew that he needed to increase the run rate but he ended up chopping the ball onto the stumps and Mustafizur Rahman claimed his third wicket! South Africa 287/8
22:38 hrs IST
Morris out
A low full toss from Mustafizur Rahman and Chris Morris has deposited straight into the hands of Soumya Sarkar at the boundary! JP Duminy is still out in the middle but South Africa's hopes are dying fast. SA 276/7
22:35 hrs IST
South Africa chase history
South Africa need to set a new record by a winning team batting second in a World Cup match -- currently held by Ireland with 329 for seven against England in Bangalore in 2011 -- if they were to tame Bangladesh.
22:28 hrs IST
Big Chance
Tightening the screws.....this will be a famous win for Bangladesh. It's almost there

— Harsha Bhogle (@bhogleharsha) June 2, 2019
22:21 hrs IST
Phehlukwayo out
Andile Phehlukwayo goes for another big hit but this time, he falls victim to Mohammad Shaifuddin. He was living dangerously and Shakib Al Hasan completed a good catch to dismiss him for 8. South Africa 252/6
22:15 hrs IST
Stat Attack: Der Dussen
Van der Dussen's struggles against seam bowling continues:
This is the 5th time in 10 innings he has been dismissed by a pace bowler.
Out of the 5 dismissals, 4 have been by right arm bowlers.
22:03 hrs IST
Saifuddin strikes
Mohammad Saifuddin strikes with the first ball of his new spell and Rassie van der Dussen is castled for 41. It was a wild swing by the batsman and this is not looking good for South Africa. SA 228/5
21:55 hrs IST
Duminy's lifeline
JP Duminy almost lost his wicket as the umpire gave him out LBW but the decision was reversed by DRS as the ball was missing the stumps. That seems to be the jolt that the two batsman needed as the very next over, Rassie van der Dussen slammed a six and a four off Mustafizur Rahman. SA 222/4
21:41 hrs IST
Miller out
David Miller is caught by Mehidy Hasan off the bowling of Mustafizur Rahman for 38, South Africa 202/4 in 35.1 overs. Miller tried to play the ball in the air and Mehidy made no mistake in holding on the catch at point.
21:38 hrs IST
Stat Attack: Partnership
The partnership between van der Dussen and Miller reaches 50 runs.
16th fifty+ partnership for the 4th wicket for SA at WC
2nd fifty+ stand for the 4th wicket by SA against BAN at WC. Previous was a 82-run stand between Kallis and du Plessis at Dhaka in the 2011 edition.
2nd fifty run partnership between the pair for the 4th wicket
21:31 hrs IST
SA on top
16 overs left and South Africa still need 135 run to win. With 7 wickets in hand, this is looking easy for the Proteas but a couple of quick wickets can turn this situation on its head. Bangladesh have bowled well till now and they will ruing a couple of missed chances in the field. SA 196/3
21:22 hrs IST
Killer Miller
The missed chance has not gone unpunished as David Miller is looking to up the tempo. There were a couple of mishits but on the last ball of the 32nd over, he swept Mehedi Hasan for a boundary and South Africa are 184 for the loss of three wickets.
21:14 hrs IST
Missed Catch
A mishit from David Miller but Soumya Sarkar made an absolute mess of the catch! This can be a huge moment in the game as two quick wickets would have seriously dented South Africa's chances. SA 166/3
21:07 hrs IST
Stat Attack
Faf du Plessis departs for 62:
2nd highest score by a South African batsman against BAN in WC.
Jacques Kallis scored 69 in 2011 at Dhaka
21:01 hrs IST
Faf departs
Mehidy Hasan strikes for Bangladesh! The spinner has castled Faf Du Plessis after the South Africa skipper's fifty and the Proteas are now three down. Faf made a mess of the delivery and the ball crashed straight into his middle stump. SA 147/3
20:56 hrs IST
Fifty for Du Plessis
Faf du Plessis' fifty:
33rd ODI fifty
4th against BAN
5th in WC
4th this year.
20:47 hrs IST
Massive Achievement
Shakib Al Hasan becomes the only 5th all-rounder in ODI history to do the double of 5000 runs and 250 wkts after Sanath Jayasuriya, Shahid Afridi, Jacques Kallis & Abdul Razzaq. He is also by far the quickest to do this - in just 199 games! #CWC19 #CWC2019 #BanvSA #SAvBan

— Mohandas Menon (@mohanstatsman) June 2, 2019
20:38 hrs IST
Shakib strikes
Shakib Al Hasan has done the trick for Bangladesh! A straighter one from the spinner and Aiden Markram was castled for 45 as Bangladesh are 102/2. This can be a huge wicket for Bangladesh as David Miller is the new man at the crease.
20:33 hrs IST
Stat Attack: Fifty Partnership
The partnership between du Plessis and Markram has reached 50 runs
22nd fifty+ run partnership for the 2nd wicket for SA at World Cup
1st fifty+ run stand for the 2nd wicket against Bangladesh in WC
2nd fifty+ partnership for the 2nd wicket between the pair, 3rd overall.
20:24 hrs IST
Du Plessis in the mood
Back to back boundaries off Mashrafe Mortaza followed by a brilliant punch through the covers off Saifuddin - Faf Du Plessis is looking in fine touch at the moment. He has rushed to 32 off 28 balls and this is exactly the kind of innings that South Africa needed for this run chase. SA 97/1
20:14 hrs IST
Crucial Partnership
If South Africa want to win this game, this partnership will have to play a major role. Aiden Markram is looking quite comfortable out in the middle and Faf Du Plessis has also found his touch. As a result, they need to play cautiously and a 100-run stand can make things really easy for South Africa. SA 75/1
20:04 hrs IST
Stat Attack: De Kock
Quinton de Kock is run out only for the 3rd time in his ODI career:
2nd time this year. He was run out against Pakistan at Centurion earlier in the year.
Prior to that, he was run out against India at Rajkot in 2015.
19:57 hrs IST
De Kock's struggles are over
Oh dear, what a way to depart! Flat ball on off, Quinton de Kock chops it, and then Markram calls him for a single, he responds, Markram stops, starts again, de Kock stranded, and Rahim has knocked down the stumps. Bangladesh get the wicket after a period of sustained pressure
19:51 hrs IST
Markram finding form
Clearly, he likes pace on the ball as it allows him to stand up tall and punch the ball through covers. He is looking good and now Quinton needs to be more expressive at the other end to keep the required run rate under control
19:36 hrs IST
Tight from Bangladesh so far
Mustafizur has been on the money so far and he is building sustained pressure. Mehidy has been good too and now, Markram has decided to step on the gas. A backfoot punch through covers followed by a whip through mid-wicket. Two boundaries in that over, South Africa have found momentum
19:23 hrs IST
Spin from the other end
The off-spinner Mehidy shares the new ball, it could be a good move against the left-hander, but well, he has to control proceedings here
19:16 hrs IST
Chase about to commence
Out walk Quinton de Kock and Aiden Markram to open the innings. Mustafizur Rahman will run in with the new ball. South Africa need a stellar start here, the conditions look perfect for batting. Let's go!
18:48 hrs IST
330 it is
It has been a sensational batting performance by Bangladesh, they now finish on 330 which is their highest-ever score in ODIs. Shakib and Mushfiqur led the effort with a solid partnership in the middle overs before Mahmudullah and Mosaddek applied the late flourish to power Bangladesh to 330. South Africa were not at their best with the ball, but will have to bat extremely well to breach this total
18:43 hrs IST
Mosaddek departs
Low full toss on the stumps, Mosaddek makes room and tries to skew it over covers, does not get the timing right and is caught at mid-off. He played an entertaining hand
18:37 hrs IST
300 raised
It has been a good effort by these two, Bangladesh have notched up 300 and now they need to aim for the extra 20-30 runs to put some real pressure on South Africa
18:32 hrs IST
What an innings he is playing
Mosaddek is belting them at the moment. Bowl it short, he will pull you away, bowl it full and he will carve you through covers. Bangladesh find the momentum and they should now aim for a score around 320
18:23 hrs IST
Mosaddek on the attack
2 fours to finish that over. Mosaddek has got going and will hold the key for Bangladesh along with Mahmudullah. Final 5 overs remain and Bangladesh would want to go past 300
18:14 hrs IST
Andile strikes
Not an entirely good ball, but South Africa will not care. It was short and wide, Mushfiqur comes charging down, then pauses and then scythes a cut only to find deep backward point perfectly. Phehlukwayo is pumped, South Africa have managed to pull things back and Bangladesh are stalling here
17:57 hrs IST
Mithun dismissed
The young man has walked out and played with a lot of freedom. He has taken the attack to the bowlers as Bangladesh are motoring along at the moment. And as we say, He goes for the slog sweep and misses it, Tahir has knocked over the stumps once again
17:39 hrs IST
Tahir strikes
Finally the wicket South Africa needed. Tahir bowls on full and at the stumps, Shakib shuffles across and tries to sweep, does not connect and the ball smashes the stumps. Shakib has to walk back,Tahir is off kissing his badge and pumping his arms
17:36 hrs IST
Desperate call and South Africa lose their review
That was a short ball from Rabada and Shakib went for the pull, but was beaten for pace. Quinton collects it and then goes up in an appeal. Faf decides to review, but there is no movement on the ultraedge and Shakib survives this call
17:24 hrs IST
South Africa search for wickets
Even the edges are flying across to the boundaries, Bangladesh have all the momentum here. South Africa need wickets and Rahim and Shakib are looking all set to go the distance. A score of 320+ is certainly on the cards here. This pitch is a flat one, though!
17:12 hrs IST
Bangladesh racing along
South Africa are under pressure here. Both Mushfiqur and Shakib are looking really good and Bangladesh are rollicking along. South Africa are not helped with Lungi Ngidi's fitness concerns and the spinners have not helped their cause.
17:05 hrs IST
Mushfiqur joins the party
Just like Shakib, Mushfiqur too gets to his fifty with a boundary. 38th ODI fifty for the little man and Bangladesh are motoring along.
16:55 hrs IST
50 for Shakib
The World's No. 1 all-rounder is living up to his bid. What an innings it has been and quite fittingly he brings up his half-century with a boundary.
5️⃣0️⃣ up for Shakib Al Hasan!

It's his 43rd in ODI cricket 👏 👏 👏 #SAvBAN LIVE 👇https://t.co/6wY1jYPAUQ pic.twitter.com/lqR6GWthjt

— Cricket World Cup (@cricketworldcup) June 2, 2019
16:50 hrs IST
Expensive 1st over by Duminy
Mushfiqur Rahim looks in fine touch. He starts off JP Duminy's first over with a boundary past extra cover and then ends the over with another one past cover. 10 runs from it, ominous signs for South Africa.
16:40 hrs IST
Productive over for Bangladesh
A Boundary and a couple of doubles, 9 runs coming from the 22nd over, a very good one for Bangladesh. The experienced pair of Shakib and Mushfiqur are taking Bangladesh into a solid position.
16:36 hrs IST
Markram doing a decent job
Aiden Markram completes three overs. Still can't understand the need for keeping him on but nevertheless, he has done a good job with his part-time off-spinners. He has given away 18 runs in his 3 overs.
16:30 hrs IST
Misfield
Oh no! That's so unlike Chris Morris, so unlike South Africa! He lets it slip through his leg at short-fine leg and the ball races away for a boundary. Imran Tahir does not look happy.
16:26 hrs IST
Tahir starts well
Imran Tahir gives only 3 runs from his 1st over. It is a special occasion for the leg spinner, this is his 100th ODI and he would definitely like to make it memorable.
16:20 hrs IST
100 up for Bangladesh
100 comes up for South Africa with that single. Morris sticks to the plan of bowling short. He bowls it on middle and leg, Rahim pulls it in a controlled manner to fine leg and keeps the strike.
16:12 hrs IST
Shakib hits the 1st six
SIX! Not the most convincing ways to get the first six of the game but they will take it. A very well directed short ball on the body, Shakib is early in his pull and for a moment it looks like the fine leg fielder can get it. He runs to his right but he cannot get there and the ball just goes over the ropes.
15:57 hrs IST
Morris gets Sarkar
OUT! Chris Morris brings an end to Soumya Sarkar's innings (42 off 30). He got himself into a tangle there Sarkar. It was a short ball, that Sarkar had pulling to the boundary so well throughout this match but this time he was a bit late in picking up the line, it hit the back of his bat and ballooned up in the air. De Kock takes a fine running catch. South Africa are back in it.
15:52 hrs IST
Close shave for Sarkar
NOT OUT! Umpire's call. That was very close! Could have gone either way that. A good review by South Africa, they retain it. This is on a length and around middle, comes back in. Sarkar is beaten as he looks to flick. The ball hits the pads. Phehlukwayo is almost celebrating as he appeals. The umpire though shakes his head. Andile wants it reviewed and his skipper does so. Replays show that the ball was clipping the top of leg stump. The batsmen had taken a leg bye as it rolled towards third man.
15:47 hrs IST
End of powerplay
That's the end of the powerplay. Bangladesh have rode their luck but one would have to say, they have played some bold cricket to reach 65/1 after 10 overs.
15:45 hrs IST
Shakib starts with a boundary
A cracker of a shot from Shakib Al Hasan to get off the mark. Rabada pitches it short and wide ever so slightly and that was enough for Shakib. He rocks onto the backfoot and cuts it forcefully between the point and cover fielder to collect a boundary.
15:40 hrs IST
Breakthrough for South Africa
The bowling change does the trick for South Africa. Andile Phehlukwayo strikes! What a peach of a delivery to get rid of a well-set Tamim Iqbal. It pitched just a tad short from the good length area and bounced, Tamim could not do much about it and got an outside edge to de Kock behind the stumps. Boy did South Africa need that. Ban: 60/1 after 8.2
15:35 hrs IST
How about this for a start?
These two have got Bangladesh off to a cracking start – the Tigers are 50/0 after seven overs!#RiseOfTheTigers #CWC19#SAvBAN LIVE 👇https://t.co/6wY1jYPAUQ pic.twitter.com/nWWjnYznp3

— Cricket World Cup (@cricketworldcup) June 2, 2019
15:31 hrs IST
FIFTY up for Bangladesh
Bit of aggression from Ngidi, throws the ball back at Tamim despite him being inside the crease. The Bangladesh opener lets his bat do the talking in the next ball, swivels to play the pull shot and Bangladesh bring up their fifty in the 7th over. Great start!
15:28 hrs IST
No luck for South Africa
Tamim fends to snorter of a short delivery from Rabada but the ball lands in no man's land. In the very next ball of the next over, Sarkar gets another edge and this time it goes towards the left of du Plessis for a boundary. Rabada and Ngidi have corrected their lengths but so far no luck.
15:23 hrs IST
Edged but...
What happened there? Misunderstanding between 1st and 2nd slip and the ball slides between them for the third four of the over. Full marks to Ngidi though, he changed his angle after being pulled for a couple of fours, got it up there, found the outside edge of Sarkar's bat too but Markram and du Plessis were not active enough.
15:20 hrs IST
Pull it like Sarkar!
BOOM! BOOM goes Soumya Sarkar to collect back-to-back boundaries. Ngidi drops it short with not enough pace, nor venom and Sarkar plays thunderous pull shots on both occasions. Good signs for Bangladesh.
15:14 hrs IST
Tamim looking good
A couple of very good cover drives from Tamim Iqbal. He got a couple on the first occasion and then hit it straight to the fielder, the second time. He's looking good but brave from Ngidi too, despite Tamim's attacking intent, he continued to pitch the ball up.
15:10 hrs IST
Rabada begins well
Rabada on the money as always, gets the ball to nip back in from length and troubles Tamim on a couple of occasions.
15:05 hrs IST
Sarkar is away
Not the most convincing stroke but Soumya Sarkar won't have any complains with that. A back of a length delivery from Ngidi, Sarkar tries to play the pull shot, doesn't get all of it but the ball races away after reaching the practice pitches. Bangladesh 5/0 in the first over.
14:59 hrs IST
We are all set
Lungi Ngidi with the new ball for South Africa and he will bowl to Tamim Iqbal. Here we go!
14:52 hrs IST
Minutes away from start
The players have made their out into the centre and they are lining up for the national anthems. Bangladesh's national anthem to be played first followed the one of South Africa.
14:44 hrs IST
Playing XIs
Bangladesh (Playing XI): Tamim Iqbal, Soumya Sarkar, Shakib Al Hasan, Mushfiqur Rahim(w), Mohammad Mithun, Mahmudullah, Mosaddek Hossain, Mohammad Saifuddin, Mashrafe Mortaza(c), Mehidy Hasan, Mustafizur Rahman
South Africa (Playing XI): Quinton de Kock(w), Aiden Markram, Faf du Plessis(c), Rassie van der Dussen, Jean-Paul Duminy, David Miller, Andile Phehlukwayo, Chris Morris, Kagiso Rabada, Lungi Ngidi, Imran Tahir
14:40 hrs IST
What the captains said
Faf du Plessis: we would like to attack the Bangladeshis in the first 15 overs. Important to take the learnings from the previous game. We did really well to restrict the strong England line-up to 300ish, and we were one partnership away from a really close chase.
Mashrafe Mortaza: We are confident, had a good preparation. South Africa losing that day doesn't matter, it doesn't really give us much. We have to play hard. It was a used wicket, and it really depends how we bat on this wicket.
14:38 hrs IST
Team news Bangladesh
There's a surprise, Mashrafe Mortaza informs 'everyone's fit to play.' That means Tamim Iqbal will open the batting for Bangladesh.
14:35 hrs IST
Team news South Africa
Faf du Plessis informs there's no Hashim Amla and Dale Steyn. David Miller and Chris Morris come into come into the side.
14:32 hrs IST
Toss update
South Africa won the toss and opted to bowl first against Bangladesh at The Oval.
14:26 hrs IST
Pitch report
Ian Bishop: A really good surface early on, a bit of rolling, watering, and it's been shaved on the top. There will be some carry and bounce to the 'keeper. There are some bowler's footmarks, and that's a good area for Mustafizur to exploit with his signature cutters. Otherwise, however, it's a fantastic surface for the batsmen.
14:20 hrs IST
Last-minute preparations
The final preparations are underway at The Oval ahead of 🇿🇦 v 🇧🇩

Do you think we'll witness the #RiseOfTheTigers today or will some #ProteaFire light up South London?#SAvBAN LIVE 👇https://t.co/6wY1jYPAUQ pic.twitter.com/4wxJ7vLzng

— Cricket World Cup (@cricketworldcup) June 2, 2019
14:15 hrs IST
Stat speaks
282: Average 1st innings score at Kennington Oval, extrapolated over last 5 completed 1st innings at this ground in ODIs.
77: Hashim Amla requires 77 runs to complete 8000 runs in his ODI Career. Having played 172 innings so far, if he achieves this feat in his next innings against Bangladesh on 2nd June, he will become the fastest to reach 8000 runs in ODI's. (Read full story here)
6/10: Q de Kock has scored 50+ runs in 6 innings out of last 10 innings that he has played.
18/19: Lungi Ngidi has managed to take a wicket in 18/19 matches that he has played in his ODI career. (Except for his Debut match vs India in 2018)
78: David Miller needs 78 more runs to complete 3000 runs in ODIs for SA.
1: Kagiso Rabada is the highest wicket taker among pace bowlers since 2015 WC with 108 wickets in ODI's.
2: Kagiso Rabada (13 wkts) needs 2 wickets to be the leading wicket taker against Bangladesh
since 2015 WC. Currently, Tim Southee is the leading wicket taker (14 wkts) against Bangladesh since 2015 WC.
19.58: Bangladesh has lowest batting average against South Africa among the World Cup 2019 playing teams (min 20 matches played). (Afghanistan have not faced South Africa in ODI's yet.)
1: Shakib al Hasan needs 1 wicket to complete 250 wickets for Bangladesh in ODI's.
14:04 hrs IST
Who are you rooting for?
Which captain are you backing today?

1) #FafDuPlessis
2) #MashrafeMortaza#CWC19 #SAvBAN #ProteaFire #RiseOfTheTigers pic.twitter.com/OgzL3Yu6TN

— Cricket World Cup (@cricketworldcup) June 2, 2019
13:48 hrs IST
'Century' for Tahir
Imran Tahir is set to play his 100th ODI for South Africa. The 40-year-old will become only the second specialist spinner for South Africa after Nicky Boje to achieve this feat. 
As Imran Tahir gets ready for his 100th ODI cap today, here's a look at five of his best spells 🔥 😍 💥

Which one is your favourite?https://t.co/iPRmqoUg2S

— Cricket World Cup (@cricketworldcup) June 2, 2019
13:40 hrs IST
Weather forecast
It is expected to be cloudy on Sunday at London. However, the chances of rain are slim so expect it to be hot and humid, Bangladesh certainly won't mind that.
13:31 hrs IST
In the news
Dale Steyn: The South African speedster has not been included in the side for today's game despite making good progress, mainly because of precautionary measures.
Tamim Iqbal: The talented Bangladesh opener has been ruled out of this match with a finger injury he picked during the warm-up games. Bangladesh Cricket Board revealed there is no fracture but he was certainly not in shape to take the field on Sunday.
13:20 hrs IST
Quotes of the match
Imran Tahir: Whenever I get an opportunity again like that, you know, I won't be the guy who is saying, no to my captain, because I like challenges. I like to think that my captain can give me a ball in any situation and I will be the first guy to say yes.
Mashrafe Mortaza: Suddenly we see pace bowlers have got some wickets in the first few matches but tomorrow might be different match. Maybe the wicket will be flat, and maybe spinners will play a role.
13:02 hrs IST
Hello and Welcome
So we are 87 minutes away from the toss of South Africa vs Bangladesh game and what a contest it promises to be. Speaking of contests, we surely need one in this World Cup. All the four matches so far have been one sided and the Asian sides have been on the receiving end, finding it hard to cope with the bounce and swing. Can Bangladesh change that? We'll have to wait to find out.
Close Story