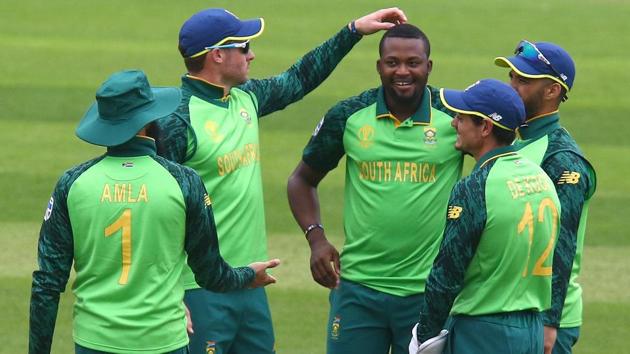 Sri Lanka vs South Africa, ICC World Cup Warm Up Match Highlights: South Africa win by 87 runs
Highlights: Andile Phehlukwayo picked up figures of 4/36 as South Africa beat Sri Lanka by 87 runs. The Sri Lankans were bowled out for 251 runs. Earlier, South Africa ended their innings at 338/7 in 50 overs. Faf du Plessis top scored with 88 while Hashim Amla chipped in with 65. Suranga Lakmal and Nuwan Pradeep scalped two wickets each but proved to be expensive.
Follow SA vs SL highlights below -
UPDATED ON MAY 24, 2019 10:56 PM IST
22:49 hrs IST
South Africa win by 87 runs
Tahir traps Lakmal LBW in the 43rd over as the South Africans win by 87 runs. The Sri Lankans put up a listless performance in this warm-up match. They are bowled out for 251 runs.
22:37 hrs IST
Siriwardana and Vandersay fall in quick succession
Siriwardana and Vandersay fall in quick succession as Sri Lanka lose nine wickets. The South Africans are inching closer to victory.
22:21 hrs IST
Mathews goes for 64
Mathews goes for a big shot and gets out for 64 runs. Duminy picks up his first wicket as the Sri Lankans lose their seventh wicket for 235 runs.
22:14 hrs IST
Jeevan Mendis goes for 18
Jeevan Mendis nicks a delivery off Andile Phehlukwayo and goes for 18 runs. David Miller takes a simple catch behind the stumps as SL lose their sixth wicket for 220 runs.
21:59 hrs IST
Mathews scores fifty, De Silve out
Mathews tucks a delivery from Shamsi to long-on and brings up a half-century. However, a few deliveries later, Phehlukwayo bowls Dhananjaya de Silva out for five runs. SL: 199/5 in 35.2 overs.
21:30 hrs IST
Karunaratne departs for 87
Karunaratne mishits a delivery from Rabada and gets out for 87 runs. The Sri Lankans are losing hope at the moment as they still need 169 more runs to win. SL: 170/4 in 29.3 overs.
21:24 hrs IST
Karunaratne nears hundred
Karunaratne is playing a gem of an innings for Sri Lanka. He has struck 11 boundaries in his 86-ball 82-run innings. Sri Lanka need 178 more runs to win from 22 overs.
21:02 hrs IST
Karunaratne scores fifty
Karunaratne guides a delivery off Pretorius to the fine-leg boundary and brings up a half-century. Sri Lanka move to 114/3 in 22 overs.
20:50 hrs IST
Karunaratne and Mathews power SL on
Karunaratne and Mathews have steadied Sri Lanka's innings. They are looking to string a big partnership at the moment as SL move to 98/3 in 20 overs.
20:20 hrs IST
Phehlukwayo dismisses Mendis
Phehlukwayo strikes Mendis' pads and goes up for an appeal, the umpire raises his finger as Mendis goes for 37 runs. The Sri Lankan was looking good, but couldn't last long at the crease. SL: 72/3.
20:05 hrs IST
Kusal Mendis finds his groove
Kusal Mendis is starting to find his groove in this match. He has played some great shots as he moves to 28 runs from 22 balls. SL: 53/2 in 10 overs.
19:47 hrs IST
Mendis and Karunaratne struggling
Mendis and Karunaratne are struggling against South Africa's bowling attack. They are playing and missing deliveries as SL reach 19/2 in 6 overs.
19:29 hrs IST
Thirimanne departs for 10 runs
Thirimanne plays a confident shot on the off-side, but strikes the ball straight to Miller. Ngidi strikes again as Sri Lanka lose their second wicket for 10 runs.
19:21 hrs IST
Ngidi strikes for South Africa
Kusal Perera tries to play an expansive shot and hits the ball straight to David Miller at cover. Lungi Ngidi picks up a wicket in the first over! SL: 1/1 in one over.
18:50 hrs IST
Innings over
South Africa end their innings at 338/7 in 50 overs. The partnership between Dwaine Pretorius and Chris Morris was worth 52 off 25 deliveries and they helped them post this total after a poor show in the middle overs. Faf du Plessis top scored with 88 while Hashim Amla chipped in with 65. Suranga Lakmal and Nuwan Pradeep scalped two wickets each but proved to be expensive.
18:42 hrs IST
Expensive over from Lakmal
Suranga Lakmal bowls an atrocious over and gives away 18 runs including three boundaries from Pretorius. South Africa will now look to score as big in the final over of the innings.
18:36 hrs IST
SA go past 300
Chris Morris hits couple of boundaries in the over from Nuwan Pradeep as he gives away 12 runs in the over. With that, Proteas have also crossed the 300-run mark in the innings. The batsmen will now look to add as many runs as possible in the last two overs.
18:30 hrs IST
Another player gets injured
After Avishka earlier in the innings, Udana is now walking off the pitch after being hit a by a deliveries in his follow up while bowling. Pretorius hit the ball straight at him and in trying to stop , he hurt his finger. Not a good sign this for the Islanders.
18:23 hrs IST
Seventh heaven for SL
Andile Phehlukwayo had hit a huge six two ball earlier in the over but then in trying to do the same, he is dismissed by Nuwan Pradeep for 45. He top edged the delivery and Vandersay took a good high catch at mid wicket. South Africa have lost their seventh wicket now.
18:15 hrs IST
Phehlukwayo leading SA's charge
Andile Phehlukwayo hits his third boundary of the innings off Suranga Lakmal as the Sri Lanka pacer concedes 8 runs off the over. The southpaw needs to hit few more such blows to take the score over the magical 300-run mark.
18:07 hrs IST
Islanders finishing strong
Sri Lankan bowlers have completely changes the flow of the match and have stemmed the flow of runs. Seven overs left in the innings and all eyes are on Andile Phehlukwayo if he can take the score past the 300-run mark.
17:58 hrs IST
Duminy falls
Suranga Lakmal picks his second wicket of the day as gets rid of JP Duminy for 22. The southpaw glouved the ball into the hands of the keeper and the Proteas are six down now. Dwaine Pretorius joins Andile Phehlukwayo in the middle now.
17:50 hrs IST
Good over from Lakmal
Suranga Lakmal concedes 6 runs off the over and it was another economical one from the pacer. He has bowled 6 overs so far today and has concedes just 39 runs.
17:43 hrs IST
Phelukwayo makes intentions clear
Andile Phelukwayo hits a boundary towards mid wicket for his first boundary of the innings and South Africa need more of such blows to score anywhere near 350, which seemed a normal score after the start that they had. But quick wickets have meant SA are on the back foot at the moment.
17:36 hrs IST
SA lose half their side
Nuwan Pradeep dropped the ball short and van der Dussen went for the pull shot. Dhananjaya , who was fielding at mid-wicket, took a brilliant diving catch to remove the batsman. South Africa lose their fifth wicket as Andile Phelukwayo joins JP Duminy in the middle.
17:27 hrs IST
Partnership needed
Van der Dussen has held the innings on one end and he leading Proteas' charge in the innings after the fall of the top order stalwarts. But he needs a stable partner on the other end and will hope JP Duminy is that guy. So far, the duo have put together 14 runs off 20 balls.
17:20 hrs IST
Unlucky Miller
Uadana drops the ball short and Miller hits the ball towards short mid wicket. Karunaratne moves towards his right and takes a good catch to dismiss the southpaw for 5. South Africa have lost their fourth wicket now.
17:12 hrs IST
SA cross 200
Rassie van der Dussen and David Miller have put together 25 runs for the fourth wicket and have steadied the Proteas ship after the fall of two quick wickets. South Africa have also crossed the 200-run mark.
17:05 hrs IST
Dussen on the attack
Rassie van der Dussen takes the attack to Jeevan Mendis and he hits him for a six and four to break the shackles a bit. 13 runs came from the over from Medis as then Proteas look to get over the quick dismissals of Amla and du Plessis.
16:57 hrs IST
SA captain falls
In trying to hit a six too many, South Africa captain Faf du Plessis is caught out at the long-off region by Suranga Lakmal off Dhananjaya de Silva. The Proteas have lost two wickets in quick succession as David Miller now joins Rassie van der Dussen in the middle.
16:50 hrs IST
Amla departs
Jeevan Mendis foxes Hashim Amla with a wrong one and it crashes into his stumps. Amla departs for 65 and he becomes the second South African batsman to head back into the hut. Rassie van der Dussen comes out to bat now.
16:42 hrs IST
SA skipper goes berserk
After a slow start, Faf du Plesssi is dealing in boundaries now and Jeffrey Vandersay feels the brunt of it. He started the over with a boundary and then hit two sixes subsequently to make 18 runs from the over. South Africa have been scoring runs at 7 RPO at the moment.
16:35 hrs IST
Du Plessis goes past 50
Faf du Plessis too goes past the fifty-run mark and he completes his half-century off 53 deliveries. He hits back to back boundaries off Jeevan Mendis to complete his half-century. The South African skipper has hit 5 boundaries and one huge six in his innings thus far.
16:30 hrs IST
Fifty for Amla
Hashim Amla starts off his sojourn in UK with a 49-ball fifty against Sri Lanka here in Cardiff. South Africa have been put in a good position because of this partnership between Amla and du Plessis. So far Amla has hit 9 boundaries and will look to continue the same in the coming overs.
16:22 hrs IST
Injury concern for SL
Sri Lanka's Avishka Fernando has been taken off the field on a stretcher after he rolled his ankle while fielding at the point region. He ran towards the ball after du Plessis hit the ball towards him but ended up slipping on the grass. It doesn't look good for the Sri Lankan as he seems to be in so much pain.
16:14 hrs IST
SA cross 100
Faf du Plessis finally gets into the act and he hits Thisara Perera for a huge six down the ground for the team's first maximum of the day. He then follows it up with a boundary and with that, the Proteas have crossed the 100-run mark in the 17th over.
16:08 hrs IST
Good over from Udana
Isuru Uadana bowls a good over and concedes just three singles off it. In three overs, Udana has given away just 17 runs and has kept things tight for the Islander. With du Plessis not scoring freely, Udana has made the most of it as well.
16:00 hrs IST
Amla nears fifty
Thisara Perera bowls a bit wide and Hashim Amla hits the ball towards extra cover for a boundary. The seventh four of the innings for Amla as he is going all guns blazing towards his half-century. 11 runs off the over from Thisara Perea.
15:52 hrs IST
Partnership building
While Hashim Amla has been scoring at a strike rate of 100 (39 off 39), Du Plessis is taking his time and has scored just 13 runs off 25 deliveries and his SR reads 52. Amla has looked really positive and that bodes well for the Proteas.
15:43 hrs IST
First four for du Plessis
Pradeep drops the ball short and du Plessis pulls it behind the square fielder for a boundary. First four of the innings for the South African and that will give him immense confidence. After 10 overs, South Africa have score 63 runs and have lost the wicket of Aiden Markram only.
15:36 hrs IST
Amla going strong
Markram may have fallen but Amla is keeping things steady on the other end and he has looked really good early in the match. Meanwhile, Faf du Plessis will also look to get some runs under his belt before the World Cup gets underway.
15:29 hrs IST
Lakmal strikes
Suranga Lakmal has provided the first breakthrough of the day to Sri Lanka as he gets rid of Aiden Markram for 21. The right-hander edges the ball into the hands of the wicket-keeper as South Africa lose their first wicket. Faf du Plessis now comes out to join Hashim Amla in the middle.
15:23 hrs IST
Markram gets into the act
Aiden markram now takes the attack to Nuwan Pradeen and he hits him for couple of boundaries in the over. The Sri Lankan bowlers are struggling with line and length at the moment and South African batsmen are taking them to the task with great ease.
15:16 hrs IST
Four and four
Hashim Amla gets into the act and he his hits Suranga Lakmal for two boundaries in the over. The pacer concedes 11 runs from the over as South Africa are finally getting a move on after sedate start that saw them score seven runs from the first two overs.
15:10 hrs IST
Openers start steady
No boundaries in the opening couple of overs as Hashim Amla and Aiden Markram are looking to get their eye in the match. The two right-handers are looking suspect on the outside of the off stump and Sri Lanka bowlers will look to exploit that.
15:00 hrs IST
Match begins
Suranga Lakmal has the new ball in his hand and he will start the proceedings for Sri Lanka while Hashim Amla and Aiden Markram are opening the innings for South Africa.
14:52 hrs IST
SA skipper on WC favourites
"We are all really excited to try out this new tournament, to play every once I think is great. The way we use our resources will be vital, but every team has X-factor bowlers that will have a big say in the successes of the side. I think the bowlers will win it, the teams still in it towards the end of the tournament will be the teams that have done really well with the ball."
14:44 hrs IST
Toss update
Sri Lanka have won the toss and opted to bowl first against South Africa. Both the teams can use all 15 members from their respective squads as per their discretion.
14:37 hrs IST
Amla issues rallying cry
"Things happen that you don't anticipate and I did not anticipate how things have gone recently. But I am a firm believer that when something happens, there is some good in it. I have had time away and now I am really looking back to wearing the green and gold again," Amla was quoted as saying by the ICC. "I am hungrier than ever before, there is no doubt about that. I have been blessed to have this shirt for a while but the time off has made me want to come back stronger."
14:30 hrs IST
Hello and welcome
A very warm welcome to the live blog of the ICC World Cup 2019 warm-up match between Sri Lanka and South Africa at the Sophia Gardens in Cardiff. The teams will look to get much-needed match practice in the trying conditions of England.
Close