A village plundered by termites and orphaned by the state government
Published on Feb 19, 2017 08:33 PM IST
Elections come and go. But termites do not in the remote village of Lambari in Almora district. Changes in governments and even formation of Uttarakhand have failed to end the termite menace in Lambari.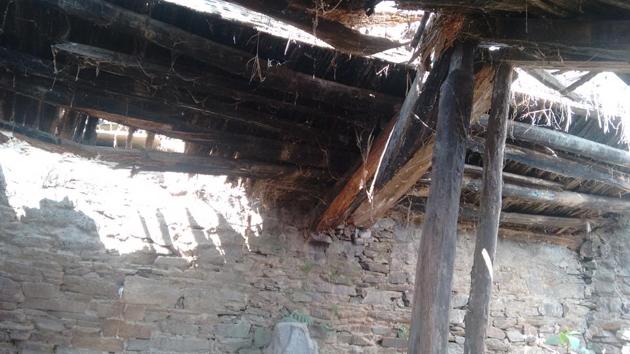 Elections come and go. But termites do not in the remote village of Lambari in Almora district. Changes in governments and even formation of Uttarakhand have failed to end the termite menace in Lambari.
For about three decades, termites have damaged wooden doors, windows, ceilings and household commodities. Lambari receives moderate to heavy snowfall which further expose the termite-infested wooden ceilings to cave-ins. Fruit bearing trees and Chir Pine forests are also affected by this tiny insect having voracious appetite for wood and for anything with cellulose.
Located about 35km from Gairsain (the proposed state capital), Lambari is a reminder of the plight of the people in the 'hill state' of Uttarakhand. "Earlier our crops were sufficient to sustain us through the year. But, nothing grows here anymore. Our homes and cattle sheds collapse frequently. Crops are destroyed every season. Whatever little grows, monkeys destroy it," farmer Ratan Singh rues.
Villagers say they are forced to carry out repair works every six-eight months. They have repeatedly written to authorities at all levels but a solution is still awaited. In 2015, farmer Maan Singh's buffalo died when his cattle shed collapsed. About two years ago, Ratan Singh's cattle shed also caved-in. Chandan Singh, Pan Singh, Lacham Singh and Rajuli Devi blame termites for the damage.
Tired of termites, about 10 families have left Lambari. Nearly 40 reside today, of which 37 are below the poverty line. Farming and cattle rearing are their source of income. "Every family has at least two cattle. Their survival is a daily struggle. Every year, we spend Rs 15,000 to Rs 20,000 in buying grass," former pradhan Padam Singh says.
So, what ails Lambari? An RTI application filed by Hindustan Times to the district magistrate's office shows that in 1994, 1998 and 2009, work plans to control termites were formulated by district officials. However, the higher administration refused funds for the plans.
In 1994, a Rs 2-lakh work plan was devised for the village to check the termite menace. Considering the poor economic condition of the villagers, the then district magistrate requested the Uttar Pradesh government to consider termite menace as 'Daiveyh Aapada' (natural disaster) and release funds under disaster relief. The request was rejected on the grounds that termite attack doesn't fall under the official definition of natural disasters. The demand was repeated in 1997 and 2008, but rejected for the same reason.
In its letters, the agriculture department accepts that insecticides it provides to villagers have only been able to reduce termites in agricultural fields and have no effect on termites inside the buildings.
A three-member team from GB Pant University of Agriculture and Technology (GBPUAT) surveyed Lambari in 1998. Based on their recommendations, a work plan costing Rs 3.6 lakh was devised. On September 13, 1999, the then DM requested the special secretary to UP chief minister for funds. The request was turned down. Another request made on January 20, 2000 met the same fate.
In 2009, scientists from GBPUAT found termites had severely damaged houses and cattle sheds and about 75% of the agricultural area was under termite attack. A work plan costing Rs 4.7 lakh was prepared. But funds were not granted. "Common pesticides become ineffective in Lambari because the population of termites is significantly high," former vice-chancellor GBPUAT Prof BS Bisht, who commissioned the 2009 team, says.
Houses in Lambari are traditionally made of wood and stones, plastered with mud and cow dung. Termites not only attack wood but even walls and floor due to rich cellulose content in cow dung. The administration has advised the people to use iron poles instead of wood and plaster the walls with cement. Villagers complain their resources are exhausted after repairs all these years. The few who can afford say there is no respite even after using cement.
"Termites have made underground colonies in the entire village. Favourable moisture content, sandy loam soil and untreated cow dung that farmers dump in the open are all conducive to their population explosion," Dr RS Bisht, a member of the 2009 team, says.
HT contacted the office of district magistrate Savin Bansal but his staff informed that he was on leave. The person officiating at present said he was unaware of the case as he is on temporary charges.
"The administration's actions lack a systematic approach. In our report, we gave a detailed work plan and suggested that instead of concentrating on individual households, the entire village should be taken as a unit," Professor BS Bisht says. "The problem won't be solved by small departmental aids. It needs to be done as a specialised project."
Personalise your news feed. Follow trending topics