Shahzad to float organisation to cut votes of BSP in Uttarakhand
Expelled Bahujan Samaj Party (BSP) leader Mohammad Shahzad on Wednesday announced to float an organisation to work politically against Mayawati-led party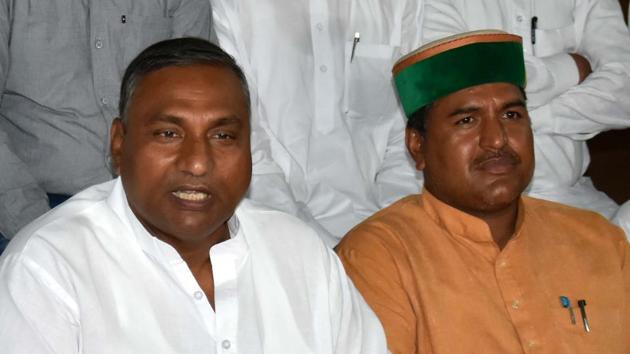 Published on Jul 18, 2018 09:57 PM IST
Expelled Bahujan Samaj Party (BSP) leader Mohammad Shahzad on Wednesday announced to float an organisation to work politically against Mayawati-led party.
Shahzad was expelled from the BSP for "anti-party activities" after chief minister TS Rawat and cabinet minister Madan Kaushik attended wedding of his son in Haridwar on July 14.
At a press conference in Dehradun on Wednesday, he said this was the third time he has been expelled from the BSP and he won't rejoin it. Instead, he would work against of the party, he said.
He also rejected speculation of joining the Congress or the BJP.
"I met Mayawati ji on June 24. She promised that she won't expel me from the party without talking to me. But, I am deeply saddened. On hearsay the direction of my expulsion was given and I won't return to them again."
"I will also make sure if the BSP contests the 2019 general election or next assembly election, I would be there to ensure its defeat," Shahzad said.
He said leaders from all parties, including the BJP and Congress, were invited for the wedding to give their blessing to the newly-wed couple.
But, Shahzad said he was disheartened how some leaders twisted the CM's visit to his home.
The visit also invited heated reaction from BJP's Laksar legislator Sanjay Gupta, who accused Rawat of ignoring developmental works in his constituency.
Shahzad, however, claimed that Gupta was fed to react against of the CM. "I know him (Gupta). He can't say such words. I can guarantee that someone fed him and asked him to talk about it," he said.
He also claimed that his expulsion was planned by some of mining mafias.
"A mining mafia of Haridwar visited Mayawati on July 10 and I know my expulsion is an outcome of that meeting. Similar alliance is being on done in Muzaffarnagar where a slaughter mafia is involved and also in Bareilly. I don't claim to win the forthcoming elections, but will cut their votes," he said.
Shahzad is positive of the local support with him. He will be announcing the name of the organisation in a convention in August-September in Haridwar.
Talking of allegations made against him with regard to Har Ki Pauri, he said, "The last political weapon is to divide people on Hindu-Muslim ground. I respect the culture and tradition of Hindus and Ganga is equally sacred to me. I can never even think of disturbing the sanctity of Har Ki Pauri either."
Close Story