Manu Sharma, who shot dead Jessica Lal in 1999, released from Delhi prison
Updated on Jun 03, 2020 12:35 AM IST
Manu Sharma, son of a Haryana politician, was allowed to surrender by the police in 1999. He was initially acquitted by the trial court but this verdict was severely criticised by the high court.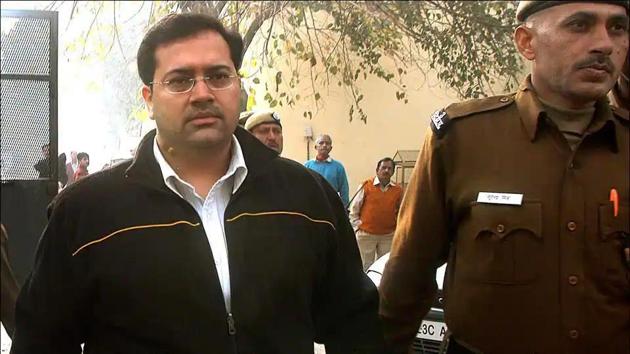 Hindustan Times, New Delhi |
hindustantimes.com | Edited by: Amit Chaturvedi
Siddharth Vashisht aka Manu Sharma, who shot dead model Jessica Lal tending an unlicensed bar at a private party in south Delhi in 1999, was released from jail on Monday evening after the government accepted the recommendation of the Sentence Review Board.
Sharma walked out of jail on Monday evening, hours after the Lt Governor Anil Baijal signed off on the recommendation of the seven-member board. Under the law, any convict who serves 14 years in prison without remission can be considered for early release if the person hasn't committed a heinous crime when he or she was out on parole.
The board had earlier rejected his release, prompting Sharma's lawyer to approach the high court to secure his release. He told the high court in November 2019 that the board had rejected his request for early release on four occasions in an "unfair and unlawful manner."
Watch | Manu Sharma, who killed Jessica Lal in 1999, released from Delhi's Tihar jail
The court had asked the board to consider Sharma's case for release at its next board meeting. This meeting took place on May 11.
Manu Sharma was accused of violating his parole conditions when he was released for two months in 2009, ostensibly to attend to his ailing mother in Chandigarh. A huge controversy erupted when his ailing mother was seen addressing a press conference in Delhi while the son was spotted in a Delhi nightclub where he got into another brawl. This one, involved the police commissioner's son. As per his parole conditions, he should have been in Chandigarh.
Sharma eventually returned to Tihar to serve the remainder of his life term 12 days before his parole was to end.
Jessica Lal murder case
Manu Sharma had pulled out his gun and shot Jessica Lal after she refused to serve another drink at the Qutub Colonnade party well past midnight in April 1999. He left with his friends soon after.
Sharma eventually surrendered to the police about a week later amid massive outrage against the police and his father Venod Sharma, then a Congress leader. It was alleged that his father had exerted pressure to go soft on Manu Sharma.
Sharma was acquitted by the trial court in February 2006, triggering sharp protests across the country. There were suggestions that some police officers had botched up the probe.
The Delhi High Court, which in an unusual move, took up appeals against the conviction on its own to respond to the nationwide outrage. In a hard-hitting verdict that didn't spare the trial court either, the high court reversed the acquittal and pronounced Manu Sharma guilty in December 2006.
Justices RS Sodhi and PK Bhasin held that the trial judge's reasoning for acquitting Manu Sharma was "immature", "positively perverse", "totally wrong" and the "result of non-application of mind". The Supreme Court upheld the order in 2010.
Moved to open jail in 2018
Manu Sharma was moved to an open jail in 2018 that allowed him to work with a NGO outside the jail premises in view of his good conduct. Open-jail inmates are allowed to step out of prison gates and work every day. They cannot leave the city or spend time anywhere but the place of work mentioned in the transfer order.
Forgiven, says Jessica's sister
Jessica Lal's sister Sabrina who had led fronted the legal battles for justice, told HT last month that she had forgiven Manu Sharma.
"It has been 21 years [since the incident].My fight was always for justice. He has served time for what he did. Now if he is free, it does not bother me much. It is fine. There comes a time when we have to move on. I have clearly moved on. One can only hope that he(Sharma) does not ever repeat what he did 21 years ago," he said.
Personalise your news feed. Follow trending topics