Farmer langars treat the poor, homeless on Delhi border points to a full plate
Hindustan Times, New Delhi |
Anvit Srivastava and Kainat Sarfaraz
Dec 07, 2020 06:49 AM IST
The langars are not just feeding the farmers camped at the border-- they have also come as a boon to several underprivileged people in the vicinity of the blockade.
Ten-year-old Rubiyal and his sister Masuma, 8, have not gone to make-shift school since Wednesday. They live with their parents, both of them scrap collectors, in a shanty close to Singhu border (Delhi-Haryana border), where hundreds of farmers have been camping since the past 10 days to protest against the Centre's farm laws. The children say if they go to school, they'll miss out on the food from the farmers' langar ( community kitchen).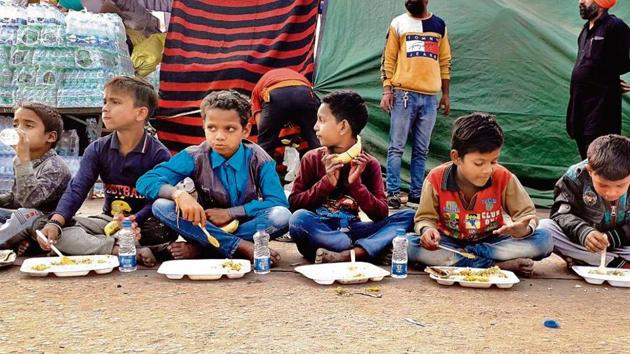 The langars are not just feeding the farmers camped at the border-- they have also come as a boon to several underprivileged people in the vicinity of the blockade as well as countless homeless people who otherwise would have struggled for even one square meal a day.
The langars now treat them to three square meals daily and tea -- served three times a day -- fruits, kheer and sweet rice as prasad (offering) and snacks. Most of the beneficiaries of the farmers' goodwill are scrap collectors and the used paper plates and plastic items from the langars also ensure them their daily livelihood, without them having to go scouting for discarded items.
"We come here around 9am. Today, there was tea, mattri (snack), biscuits and oranges for breakfast, followed by a sumptuous lunch of chapattis and vegetable rice. In the evening, they gave us sugarcane and bananas," said Rubiyal, who attended the langar with Masuma and their toddler brother.
He studies in class three informal school set-up by activists and NGOs but has been skipping classes since Wednesday to enjoy the meals. "Mostly, we have dinner at home, cooked by my mother, as my parents do not allow us to venture out after dark," he said. Both his parents are scrap collectors and Rubiyal helps them when he is not at school.
Sheikh Rahim, 14, who is also a regular at the langars, said he daily carries away sacks full of used paper plates, thermocol tumblers and plastic spoons to further sell them as scrap and earn a living. His father died a few years ago and he lives with his mother in a shanty nearby.
"I do not go to school. I work with my mother. For the past one week, we have collected enough waste from the protest site and the famers take care of our daily meals," the teenager said.
With the protest against the Centre's farm laws entering its 10th day at the SInghu border and other border points, several langars are being organised throughout the day by farmers camped at these places. The farmers have come prepared for a long standoff -- they have with them kilos of vegetables, rations, spices and other items; enough to last them for at least four to five months.
Lakho, 13, who works at a small roadside shop run by her family, was among those who received fruits, food packets, and a cup of tea on Saturday at the Ghazipur border. "The food is tastier than what we regularly eat. During the Covid-19 lockdown, we did not have enough food for our family. The farmers are giving us a one-time meal which is quite helpful," she said.
Jasveer Singh, senior pradhan, Bhartiya Kaisan Ekta, who has come from Sidhupur, Punjab, said many people apart from farmers eat at their langars and some even take food home. "All are welcome and we are here to do sewa (social service). We have trolleys full of rations and vegetables to survive for at least six months. We hold langars several times a day to ensure that no one is left without food," said Singh, who is camping at Singhu border.
He added that on Saturday he and the other farmer leaders have advised their langar in-charges to go to other borders areas where farmers from Madhya Pradesh, Uttar Pradesh and Uttarakhand are camped and to offer them food as a token of their solidarity.
Topics