Idol makers get busy ahead of Ganesh Chaturthi
Despite heavy rain, artisans in South Delhi are busy finishing orders for the festival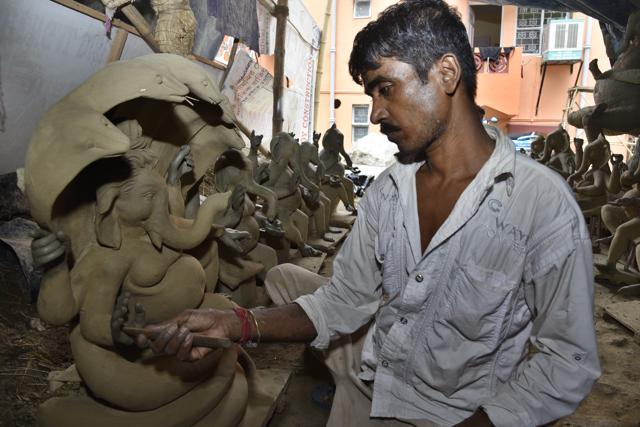 Updated on Jul 28, 2016 10:19 PM IST
On the side of a busy road near Tughlakabad village sits Sukhlal, spraying pink colour on a 6ft tall Ganesh idol. A few steps away, his brother draws eyes on more than 30 elephant-headed idols while their sister decorates them with silver and gold adornments. When the beautiful idols are ready, Kumar places them at a sunlit spot on the footpath behind a bus stand.
Meanwhile, near Jasola Apollo Metro station on Mathura road, preparations for Ganesh Chaturthi are on in full swing. Two men give final touches to several Ganesh idols. The sight of a 9ft tall Ganesh idol attracts commuters, who stop their vehicles momentarily to seek his blessings.
The Idol Makers of Tughlakabad, Jasola
As only few weeks are left to go before the country celebrates Ganesh Chaturthi, this is the busiest time of the year for idol makers. They eke out a living by making hundreds of idols for Ganesh Utsav. They mostly live in Tughlakabad village, Jasola, Madanpur Khadar and Aali village. They work under difficult circumstances, battling harsh summer and heavy rain, to create the idols in time for the festivities.
"I learnt the craft from my father. He came to Tughlakabad from Rajasthan 20 years ago. To others this may look like a profession, but for us it feels like being close to the god," says Ravi Singh.
The process begins five months before the festivities when people from Defence Colony, Lajpat Nagar, Chirag Enclave, Jasola, Badarpur and Sarita Vihar place their orders. The cost of the idols varies, depending on size and design. While smaller idols cost Rs500-1,000, bigger ones come for anything between `6,000 and `20,000.
Jagdish Singh, an idol maker from Jasola who is giving final touches to an 8ft Ganesha idol made-to-order for community celebrations in Badarpur, says, "The idol costs Rs 20,000. Most of our orders come from Badarpur, Okhla, Lajpat Nagar and Sarita Vihar. People also come from Gurgaon and Faridabad to place orders. Customers come a day before Ganesh Chaturthi to get the idols. Since the festival is on September 5 this year, we are expecting a huge rush next month. They take back the smaller idols in their vehicles; however, tempos have to be hired for bigger statues." They said customers prefer PoP idols because these are more attractive and weigh less.
Why is the Lord Mostly Sitting?
Saroj, another artisan, explains: "In Ganesh Chaturthi, Lord Ganesh comes into one's house as a guest. And we always offer a seat to our guests, don't we? So every Ganesh idol is made in a sitting position. This is also good for us, since the entire weight of the idol comes on the feet, which might break if the idol was in a standing position."
The CR Park Artisans
Compared to the artisans working on the roadsides in Tughlakabad and Jasola, the working conditions of idol makers in Chittaranjan Park is much better. They have been provided a working space in the Kali Mandir complex.
A small group of idol makers have especially been called from West Bengal. They have been tirelessly working for the past several weeks to create idols out of clay. Govind Nath says that their average day starts with them braving the heat to work on the idols. When the idols have to be dried, they place them at a sunlit spot outside the tent, drawing attention and admiration of the passersby, thus setting the mood for the festival. But difficulty arises if it starts raining. Then all idols have to be rushed inside the tent for cover.
Dwindling Demand
According to the artisans, the number of Ganesh idols being sold is decreasing every year. "Some people give orders, promise to pay later and never return. We suffer a loss of Rs 1-2 lakh. We make hundreds of Ganesh idols working in miserable conditions. Our eyesight gets affected after a while. People should respect our skills," said Saroj.
With the changing times, most of the artists feel nobody has time and respect for the crafts. Also, there is hardly any space on city's roadsides to make the idols.
Go Green
Green Ganesh are made of eco-friendly material like clay and paper mâché and are painted with natural colours.
These are biodegradable, light weight and keep the water clean. Cloth or wood can be used for decoration. Instead of immersing the idols in rivers, artificial immersion tanks can be used.
Do-it-yourself
One can buy clay from a stationery store and mix it with water to make dough. Make one large and one small round dough ball. Keep the small ball on top of the large ball, giving it the shape of a head and body. Take two dough balls and shape them to resemble hands. Attach them on both sides of the body. Take two dough balls and shape them to resemble legs. Attach them on the lower part of the body. Take another dough ball and bend it slightly to resemble the trunk. Attach this on the face. Make two dough balls and flatten them to resemble ears. Attach them on either side of the face. Shape two balls into tusks, one long and another short, and attach them to the idol. Beads can be stuck for the eyes. The eco-friendly clay Ganesh is ready.
Close Story