'The girl who was raped': How the system breaks survivors
Updated on Dec 16, 2016 07:11 AM IST
Rape is just the beginning of the ordeal for the victim, as she is constantly identified with the assault. Social mechanisms and the system ensure that she never forgets or overcomes.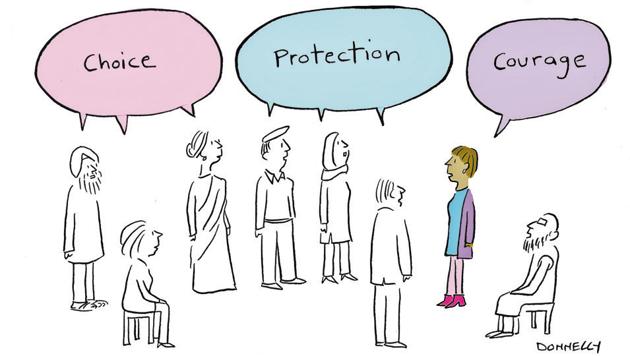 It has been a year-and-half but the memory of that day still comes back to haunt her in the most unexpected of moments. The smallest of changes in her surroundings make her jumpy. A glass falls and she wakes up from deep slumber. A few knocks at the door during odd hours are enough to make heart palpitate. Any stray desire to go out to listen to music is sternly banished.
Life for this 19-year-old changed in May last year -- she was raped by a neighbour when she stepped out to fetch water.
Since then, her parents have turned her life upside down, forcing her to quit her studies and banning any visits to her friend's houses. But she says she has embraced the change. "It is for my good. I have already let my parents down," she adds.
Her friends remember her as a strong-spirited person but now she appears meek and submissive.
Experts say such change isn't uncommon in rape survivors, for whom the actual crime is often the beginning of a harrowing experience that involves a hostile family, lascivious police investigators and insensitive court proceedings. In many cases, the woman is left feeling a feeble shadow of their former selves, courtesy the very institutions designed to protect them.
Experts say the family – which is often the first respondent in rape cases in India – ends up blaming the victim, especially because sexuality is connected to honour.
"In most cases, the women are beaten black and blue for inviting assault. Since they are already in shock, the parent's reaction breaks her. The person withdraws from reality," says counsellor Rajat Mitra.
"They may be watching TV for hours but would register nothing."
Psychologists explain that sexual assault victims start feeling diminished and under-confident because of intrusive court and police interrogation.
"The struggle starts from the time she is taken for a medical examination and is addressed as the 'rape wali ladki' by hospital staff. 'Rape wali ladki ko doosre kamre main bithao. Rape wali ladki ko andar bhejo' – thee words force her to identify herself with rape. For people, it is daily routine, but this treatement breaks the woman completely," Mitra says.
After the December 16, 2012 gang rape case, Delhi Police introduced gender sensitisation courses to train officers to be sensitive towards female complainants and not refuse registration of an FIR. This also encouraged more women to step forward and file complaints. In 2012, only 706 cases were reported while in 2013, the cases shot to 1636 and in 2015, 2199 cases were reported.
"The rise in cases of rape is not because more incidents are occurring, but because more women are coming forward to report them. This is because we hold regular gender sensitisation courses for our teams to teach them how to deal with women complainants," says special commissioner of police, crime, Taj Hassan.
A lot, however, still needs to be done, explains Mitra. "Gender sensitisation is not just about telling staff to deal with rape survivors in a sensitive way. They need to be taught what being sensitive means. There should also be special courses on how to record statements and ask questions."
Proceedings in court are often the biggest hurdle that a rape victim has to face in her quest for justice. The 19-year-old is no exception. She is restless because her court visit is coming up. She fears being subjected to uncomfortable questions before her parents.
Her fears aren't unfounded. A recent study said rape victims are made to recall their ordeal more than 17 times during the course of the legal proceedings – first before parents, then police, magistrate, lawyer and the saga goes on. If a woman is unable to recall the incident, it is seen as 'reluctance' or an 'inconsistent statement' by the police and the judicial system, which may go against her.
But experts warn that mere inconsistency does not mean the woman is lying because 90% of rape victims withdraw into a shell – but this doesn't translate to them trying to concealing information.
"They may even change their statement because many are emotionally unstable that influences their mental health too," Mitra says. "In most cases defense lawyers take advantage of the emotional instability and vulnerability of the victim. They put them under pressure and in many cases they succumb. The courts should take note of this behavior," he adds.
The victim, in India, sadly not just has to deal with her family, police and courts but also the media. In many cases, rape incidents become sensational media stories and trigger political interest. Prominent leaders make a beeline to visit the house of the victim and the media camps outside their house, defeating the purpose of concealing their identity. Everyone in the neighbourhood knows where the 'girl who was raped' lives.
"It is a very sad situation. There is already so much stigma attached to rape that the girl will never be able to forget what happened with her. The people won't let her. On top of it, the insensitive media and politicians make the situation worse," gender expert Kalpana Viswanath says.
"We should work to make the law on concealing a victim's identity more effective. Till now, it has been made a joke."
Counselling is mandated for victims but in many cases it doesn't help either. On an average, a victim should receive counseling sessions twice a week for a year but in reality, they get not more than three sessions only for a month, after which they are forgotten.
"Counselling means helping a person to get control of themselves. Most police reports write that the victim was 'hale and hearty' after two sessions, which is never the case. If a woman is not howling does not mean she is fine. She is traumatised and hence is silent," Mitra says.
This is part of the HT series, #LetsTalkAboutRape. Join the conversation and tell @htTweets what you think using the hashtag. The series features illustrations by Liza Donnelly, a celebrated New York-based cartoonist and writer best known for her work in The New Yorker Magazine.
Personalise your news feed. Follow trending topics