Sacked Delhi min's wife says he is innocent despite rape charge, sex tape
Updated on Sep 05, 2016 02:19 AM IST
Former Delhi minister Sandeep Kumar's wife has come out in his support, claiming he is innocent of the charges being levied against him.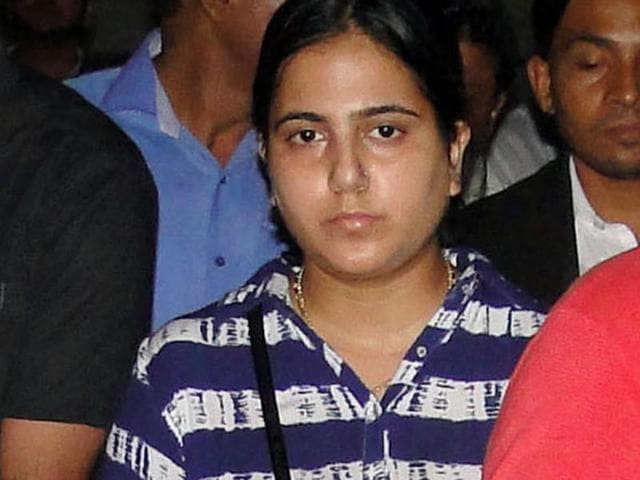 Hindustan Times |
, New Delhi
Karn Pratap Singh
Former Delhi minister Sandeep Kumar has been sacked from his ministerial post, deserted by his party members and arrested on rape charges after sex tape featuring him being intimate with two women surfaced last week. His wife, though, has stuck through it all and has thrown her weight behind him.
"I am with my husband. The truth will come out in the court. The allegations are false. We will support him," Ritu Kumar, who had come to the Sultanpuri police station to meet her jailed husband, told reporters on Sunday.
Without naming anyone, she said the CD scandal was a "conspiracy" against Kumar.
"No matter what happens, I know my husband is innocent. I will continue to support him till the end," she said refusing to comment on the Aam Aadmi Party (AAP)'s decision to sack him.
Read | Sacked minister Sandeep Kumar arrested for rape, suspended from AAP
Last week, chief minister Arvind Kejriwal fired Kumar after a nine-minute video featuring the former women and child development minister leaked to news channels.
On Saturday, one of the women seen in the video approached police and alleged that the video was of Kumar raping her 11 months ago. She claimed that she had gone to meet the former minister for his help in acquiring a ration card. During that meeting, he allegedly spiked her drink and forced himself on her. She claimed she was unaware of the act being filmed. That was the only time she met Kumar, she stated.
Based on her complaint, Kumar was arrested that night. He was booked under sections of the Prevention of Corruption Act, IT Act rape and poisoning.
Read | 'He has tarnished my image': Woman who appeared in Sandeep Kumar sex tape
On Sunday evening, he was produced before a duty magistrate at the Rohini court, and police sought custody of him for 14 days. They were, however, given just a day's custody.
An investigating officer said it appeared that MLA Kumar shot the video and shared it with one of his friends, Praveen, who may have leaked it. The officer also stated that Kumar gave misleading statements about the women on the tape.
"We have got a day's police custody. This morning, we could not quiz him and he had to be taken for medical examination. He did not say anything about the tape being stolen from his laptop or cell phone. His statement will be recorded tonight," said an investigating officer on Sunday.
A police team visited the MLA's house in Sultanpuri F-Block and spent 15-20 minutes there. Sources said the tape was recorded in one of the rooms. Police could not open a locked room as Kumar's wife was at the local police station.
"We are trying to find Praveen. A case under the IT Act could be registered against him too," an officer said.
Read more | No sex, please: Sandeep Kumar pays the price of prudish politics