Education ministers want teacher promotion based on performance
Updated on Feb 27, 2018 11:09 PM IST
he suggestions are part of an exercise to find steps to reform India's education system under the guidance of the Union human resource development (HRD) ministry and CABE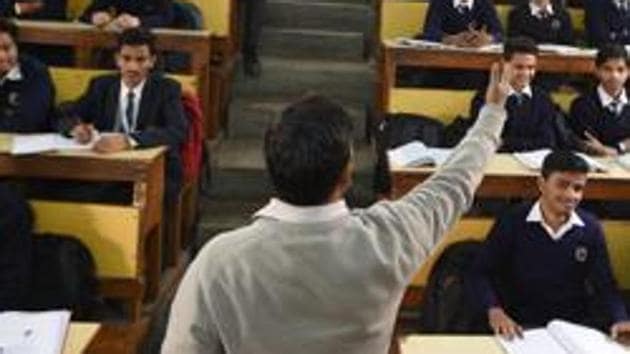 Promotion of teachers should be linked to performance and results of students, mid-day meals should cover all pupils, and education reforms are required to replace rote learning, suggested state education ministers at a meeting of the Central Advisory Board of Education (CABE) this January.
The suggestions are part of an exercise to find steps to reform India's education system under the guidance of the Union human resource development (HRD) ministry and CABE, which is the government's highest advisory body for education policies, officials who wished to remain unidentified said on Tuesday.
Union HRD minister Prakash Javadekar, who chaired the meeting, said the unequal distribution and deployment of teachers in schools across India is a major issue. Also, he acknowledged that teachers are burdened with other duties that affect their teaching.
The state education ministers underscored several measures, including performance-based promotion of teachers, the officials said.
According to the minutes of the meeting, the Uttarakhand education minister Arvind Pandey said "promotion of teachers should be linked to the learning outcomes and the performance of students".
His views were shared by the Puducherry education minister R Kamalakannan, who stated that promotion of teachers should be based on performance and results of students.
Their Odisha counterpart Badrinarayan Patra suggested that the government should put in place performance-based appraisal, without which "quality of education can be difficult to achieve".
Another suggestion made by one of the members was that the curriculum should inculcate constitutional values in students, and there has to be clear-cut strategy to achieve that goal.
They stressed that respect for teachers need to be restored to improve the current education scenario.
"To replace rote learning and effect improvement in learning outcomes, there is a need to have examination reforms. Respect for teachers should be restored through well-defined measures," reads the meeting's minute.
According to the officials, a number of members said the mid-day meal scheme should be for strengthened. There was also a suggestion that the menu for the meal should be strictly vegetarian.
The Manipur education minister T Radheshyam requested that fruits and bakery items should be included in the meal.