Sachin-Jigar open up on making Sab Farzi, Shahid Kapoor's reaction to it: 'We don't believe in remakes'
Jan 31, 2023 06:48 AM IST
Sachin-Jigar talk to HT about making the title song for Raj and DK's upcoming show Farzi and Shahid Kapoor's reaction to it.
Sachin-Jigar have come a long way from being orchestrators for Pritam to becoming an independent music composer duo who are currently making waves with their new song, Sab Farzi. The catchy number reflects the theme of the Raj and DK show Farzi which will mark Shahid Kapoor's OTT debut as a con artist. The two promise the entire song is as wacky as the short teaser. In an interview with Hindustan Times, Sachin Sanghvi and Jigar Saraiya open up about the making of the song which is an original like most of their work. The two remain vary of remakes but do claim that its hard work for those who do it. Also read: Saba Azad sings Sab Farzi as Shahid Kapoor's prints perfect fake currency notes in Farzi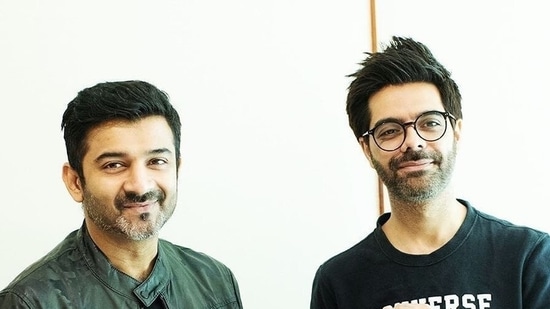 Sab Farzi teaser introduces the viewers to how Shahid is an artist who struggles to get the work he deserves. As even money lenders say no to him, he turns to making fake currency notes. Talking about the song and its essence, Jigar says, "Raj and DK had shot a couple of episodes of Farzi. They wanted to capture the emotion of the show. Sab Farzi tells you what the show is about. We run after so many things, fake friendships, fake emotions, fake materialistic things but eventually most of it turns out to be Farzi."
Sab Farzi has been sung by Saba Azad of Madboy Mink fame and has been written by Jigar's wife Priya Saraiya. Sachin opens up about working with Raj and DK and says the four of them are totally in sync with each other after having worked together for a long time. "What eventually comes out from four of us is heavily filtered by four of us. Whenever we find the right pitch, we pitch it to Raj and DK. More often, they get it. Their brief, characters or story is so wacked out, you end up doing something wacky and nice. They had a very joyous reaction," he says.
Sachin says Shahid completely loved it when he heard it, he owned it. Jigar adds, "Shahid really believed in the show in the first place. He thought the show was his thing. Raj told me when Shahid heard the song, he said 'okay, now this is exactly an extension of the show.' He is still in zone of the show and if there's anything connected to it and feels right, he loves it."
Sachin-Jigar don't usually do multi-composer albums but did one song, Bijli for Govinda Naam Mera, only for Shashank Khaitan and Karan Johar's sake. They recently composed the entire album of Varun Dhawan-starrer Bhediya, of which Apna Bana Le and Thumkeshwari were big hits. On being asked about working on such diverse songs, Sachin says, "It's a blessing. What the industry can do is typecast you. The very fact that we could deliver to such varied asks and deliver to such different script, that's a true blessing. Me and Jigar enjoy that challenge. When we were arrangers, we were working on different songs like dance songs, romantic songs, situational songs. Our school of learning has given us that adaptability. That's what Bollywood gives you – the opportunity to be versatile. The one who clears this test gets you the opportunity to compose the entire album. Not everybody can compose the whole album like AR Rahman, Vishal Shekhar and Pritam. Me and Jigar are no different – we focus on doing good work."
"It's very important to identify the audience. If you are making a love song, you know it will outrun the time of the film and will stay on the playlist for long. The litmus test is – you must like it every time you listen to it. The dance song should give you an immediate instinct that it's a hit. If you are able to identify what is being asked of you, you can deliver," he adds.
Sachin-Jigar are clearly not into remakes, except a few exceptions. Sharing their take on remakes, Jigar says, "Remake is a different business, a different kind of music. It's the responsibility of a music composer and producer to give the due credit and due money to the original creator. And it's being done in most of the cases. Are we fan of remakes? I don't think so. We don't believe in this process. There are better music composers than us who can do a better job. Whoever is doing a remake, salute to them because it's not easy to do a remake. Making everyone dance to a remake, protect the respect of the original creator, protect the asset value of the original song is a very difficult job. Me and Sachin are not very good at doing it. Whenever we had to (make a remake) for our album, like Nadiyon Paar – we tried to do it our way. I still feel it's a dedicated job and skill which we are still learning."
Sachin also explains why there are so many music composers duo and how they go on to work together. He says it only works as an advantage, "When I think about my friend Amit Trivedi, I wonder that he has to deal with the producer, keep his creative soul inspired, auger his style and creativity and also adapt to the business side of it."
He goes on, "In our case, we share the load. Afterall Amit is working on one song and we two are also working on one song. The end result is the song, if that's good– it doesn't matter who did what. Partnerships cannot be made where individuality is important. Where the result is important, partnerships are very beneficial. When we work together, Jigar hides my shortcomings and when I feel, he is getting less ideas in a song, I will push myself a little more. You see two people when you see from outside. When we both are making a song, there is only one computer. One person sits in front, the other sits behind him. The one with more idea sits in front. The one at the back has better perception and can guide the other. We are not trying to enforce our individual supremacy in the process."
Topics