Fenty Skin: Rihanna shares her skincare routine, how she maintains the glow and more
Rihanna has released a new line of skincare products, Fenty Skin, and in a promotional video for the line, she posted her entire night-time skincare routine.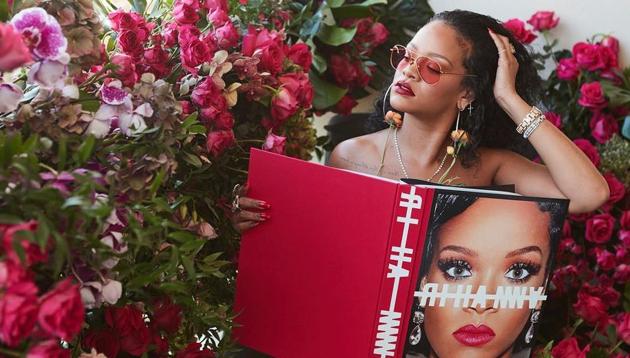 Updated on Aug 10, 2020 05:24 PM IST
Hindustan Times, Delhi |
hindustantimes.com | Edited by Jahnavi Gupta
Rihanna is an icon, on or off-screen. She has this way of leaving you absolutely tongue-tied, whether it is through her music, her fashion sense, wit, or her self-proclaimed 'bad girl' image. It is safe to say that we are yet to come across a field where she has not dominated.
Rihanna's own luxury fashion brand, Fenty, has been growing with leaps and bounds now for years. To take her brand to the next level, she has released a new line of skincare products, Fenty Skin. In a promotional video for Fenty Skin, Rihanna posted her night-time skincare routine with a leading fashion magazine.
The section is titled 'Go to Bed with Me' and it features her talking about her entire night-time makeup removal and skincare routine through which she has been able to maintain her flawless skin and it is safe to say, we are all trying to glow like that.
Here is the process that Rihanna practices every night –
Cleansing – The first step in any skin care routine is cleansing, especially after a long day of shoots and travel. Rihanna uses the 'Total Cleans'r' by Fenty which does the job of removing the make-up and cleansing the skin, all in one go. "Whether you have makeup on or not, it can remove just dirt and oil, or break all of the makeup down and remove it." says Rihanna. She also goes on to mention that this product does not dry out her skin and makes it supple instead.
Toner – The second step in Rihanna night-time skin care routine is applying the 'Fat Water' toner, which serves as a toner and serum in one. She also mentions that this serum does the job of adding moisture to your skin and closing your pores. Some of the ingredients used in it are niacinamide, Barbados cherry, and cactus blossom.
Rihanna also throws in a little tip of avoiding makeup wipes and cotton pads as they are overtly taxing on the environment. She also proudly mentions that "Fenty Skin is a clean brand, it's vegan, it's gluten free and is very earth conscious."
Moisturizer – The third step in her skin care routine is the 'Hydra Vizor Invisible Moisturizer' which also has SPF 30. It provides the skin with the perfect amount of moisture and protects it against harmful UV rays. Rihanna mentions that their SPF is completely coral reef friendly and that it does not leave a whitish cast on the skin after applying nor does it leave a lingering scent. "Whether it's face or body, I think adding good moisture to your skin and having something that you know is effective and works, is super important," Rihanna mentions in the video.
Hydration – Next, Rihanna stresses the importance of keeping your body and skin properly hydrated in order to have healthy skin. Drinking water, no matter where you are, will help in keeping your skin clear and flushing out toxins from the body. Rihanna also mentions that since she travels a lot, she carries a hydrating mist to apply on her skin when required.
Healthy Diet – Rihanna talks about how people from the most exotic places of the world that have access to natural ingredients and to some of the best environments and climate have the most healthy, glowing skin. She mentions how most of her products are made with only the best, most exotic ingredients. "One of them being very personal to me, which is the Barbados cherry … that ingredient is packed with a lot of vitamin C. More vitamin C than a whole orange, so imagine what that does for your beautiful skin."
Close Story
Personalise your news feed. Follow trending topics